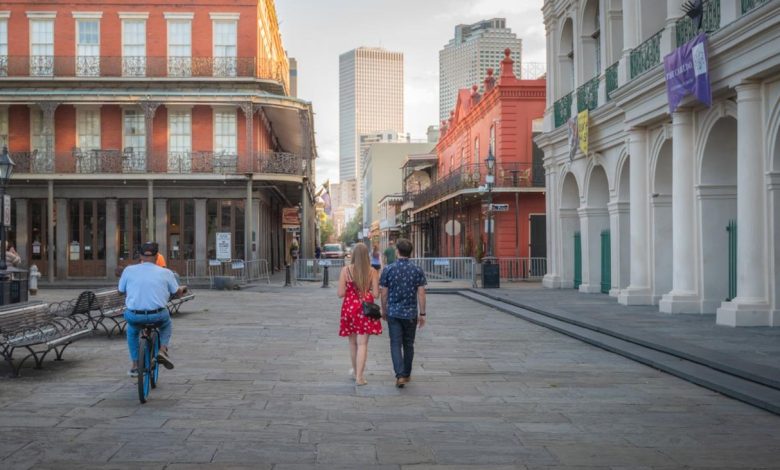 For seekers of a rollicking good time, New Orleans has everything: downhome indigenous cuisine, international eats, homespun zydeco and jazz music, a proud culture, and locals that embrace community, visitors and the pursuit of happiness. Here, one can literally dance in the streets with an adult-beverage in-hand. And for those whose libation of choice is beer, there's never been a more exciting time to imbibe in The Big Easy. What was once a wasteland for craft-beer fans is now home to a multitude of local breweries, the ales and lagers of which are infused with civic pride. Most of those operations came into being following the 2015 passage of a game-changing law allowing Louisiana breweries to operate tasting rooms at their facilities, allowing beermakers to not only make a go of things financially but also interface with customers one-on-one in spaces that, like the liquid they produce, are replete with their unique sense of style and charm. Grab your travel-ready plastic cup and enjoy this tour of NOLA's craft breweries.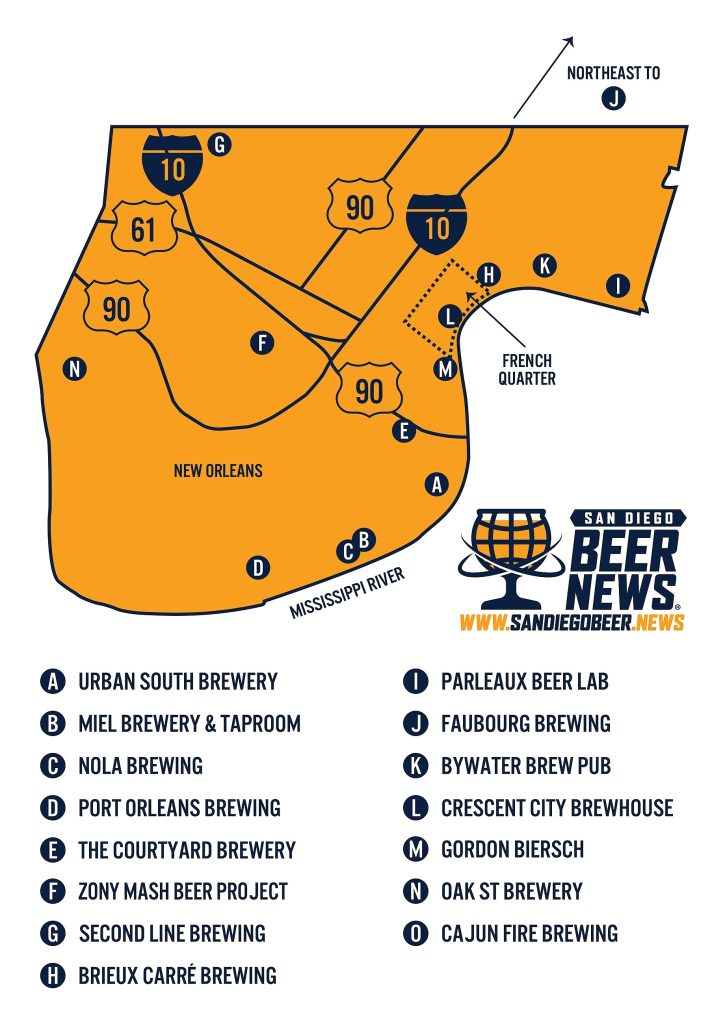 BREWERIES
West of the French Quarter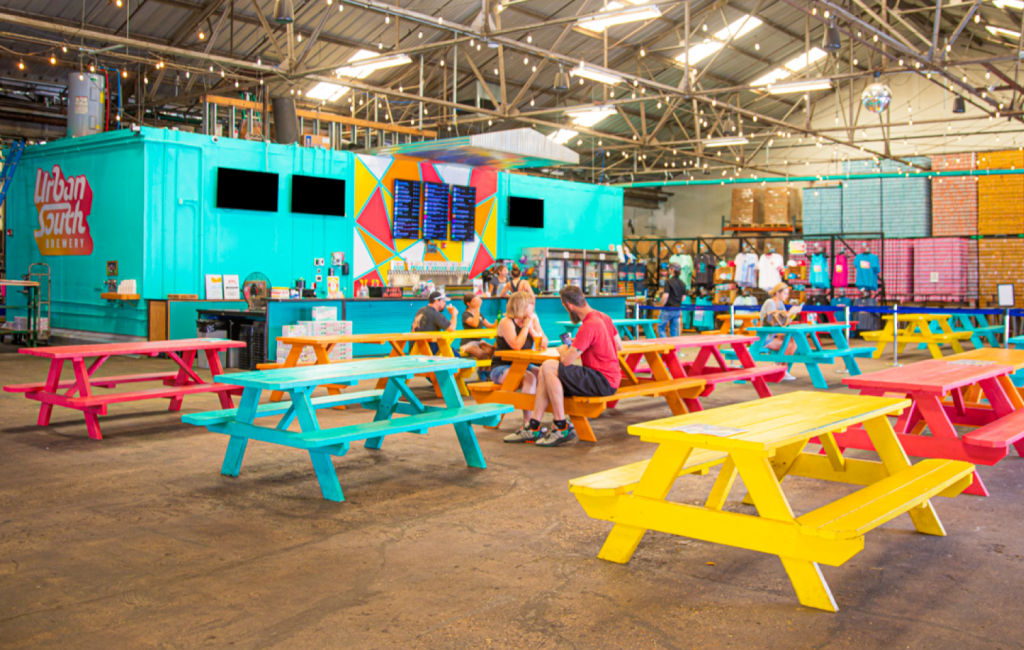 Urban South Brewery
1645 Tchoupitoulas St.
Tourists looking for a walkable beer-touring route would do well to hop on Tchoupitoulas, a street spanning west from the Warehouse District down the Riverside. A quartet of breweries dot this thoroughfare, starting with this operation. Built to go big, Urban South is New Orleans' largest brewing interest (and Louisiana's second largest). Opened in 2016 and expanded to include a Houston R&D brewpub in 2020, it's a juggernaut fueled by production of a wide variety of beer styles, the majority of which are in line with today's beer trends.
That trendiness carries through to a pastel-painted tasting room complete with an Airstream-equipped "Flamingo Lounge" based on Urban South's flagship light lager. That beer, Paradise Park, has become a NOLA suds staple, joining Holly Roller New England-style IPA (NEIPA)—which has sice spawned grapefruit and double dry-hopped variants—at high-profile bars, restaurants and events. Urban South also produces imperial, fruited, milkshake and West Coast IPAs (the latter are harder to come by in Louisiana), along with a variety of goses and other quick-sour ales, including its rotating Spilled series of fruit- and candy-infused brews.
Standout Suds: DDH Holy Roller, Double Dry-hopped Hazy IPA
Pro Tip: Also available under the Paradise Park brand is a 100-calorie lager and low-cal hazy IPA plus a line of fruit-flavored hard seltzers.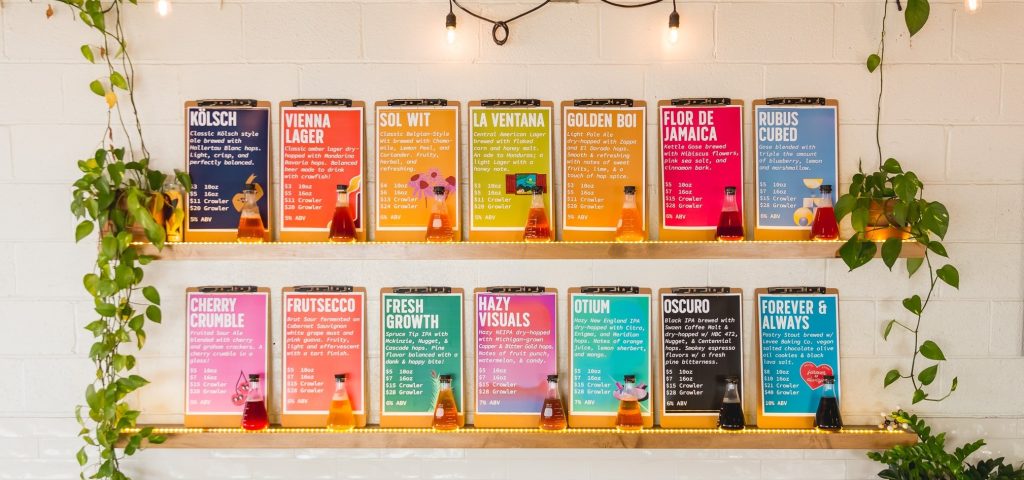 Miel Brewery & Taproom
405 Sixth St.
A husband-wife team bringing forth brewing experience (Abita, 49th State, Harpoon) and Honduran heritage opened this business in 2018, transforming a cinder-block auto shop into a hip, inviting brewery and tasting room sporting a lovely, flora-rich patio. Pops of color are provided by art, murals and Miel's beers. The latter are in beakers as part of the menu board behind the bar to show off their colors and clarity (or lack thereof). Those ales and lagers honor worldly brewing traditions while conveying inspired twists.
Miel's custom-meets-creativity MO is beautifully exemplified by Sol Wit, a Belgian-style witbier brewed with coriander, switching out lemon peel for sweet orange while adding chamomile, resulting in a unique flavor profile balanced by expected floral and bubble-gum notes. Similarly, cultural pride is conveyed in La Ventana, an amber lager brewed with corn and honey malt that's a nod to Honduras. Miel's tap list changes regularly, but stouts are mainstays, as are well-made IPAs, which range from hazy to black, but best bet beverages for Miel's patio are a hibiscus-cinnamon kettle sour called Flor de Jamaica, and Fruitsecco, a brut sour with Cab grapes and pink guava that could easily be mistaken for natural wine.
Standout Suds: Sol Wit, Belgian-style Witbier with Chamomile, Lemon Peel & Coriander
Pro Tip: If you only have one pilsner in NOLA, order it here, where Bavarian and Bohemian versions are served from a side-pull faucet.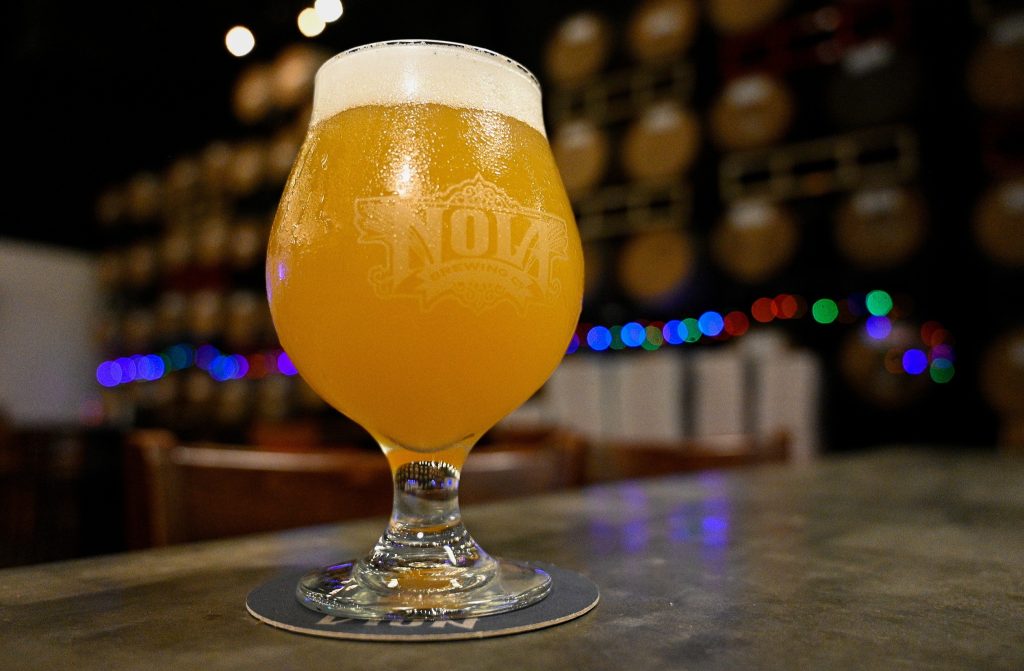 NOLA Brewing
3001 Tchoupitoulas St.
Established in 2008 to bring brewing back to New Orleans after formerly local brands outsourced production to other states, NOLA Brewing is its namesake city's longest-tenured craft brewery. When it opened, the company wasn't allowed to build its own bar, much less sell beer across it, but a lot has changed in the past 14 years. Now, NOLA's homebase boasts a large, multi-room tasting space (that's recently been expanded to include a backyard bar with a stage for live music), complete with a patio and a pizza kitchen built on dough benefitting from a two-day proof.
In the early days, NOLA led with a classic American IPA dubbed Hopitoulas. It has since followed the haze craze, leading with a Screwdriver-like "dirty coast" double IPA called Hoppy Right Infringement, plus a "Lagniappe" series of NEIPAs. A clean core lager, subtle mango wheat ale, blueberry-lemon Berliner weisse and Great American Beer Festival gold-winning Irish Channel Stout (which is actually of the American ilk) show the portfolio's range, but don't stop there. Even more variety comes care of the "NOLA Funk" barrel-aged wild ales, which includes an ambitious take on a lambic (spontaneously fermented beer).
Standout Suds: Irish Channel Stout, American Stout
Pro Tip: Show up Friday from 4 to 5 p.m. for "Free Fridays" and enjoy a free tour, free beer and free live music. Alliteration never sounded so good!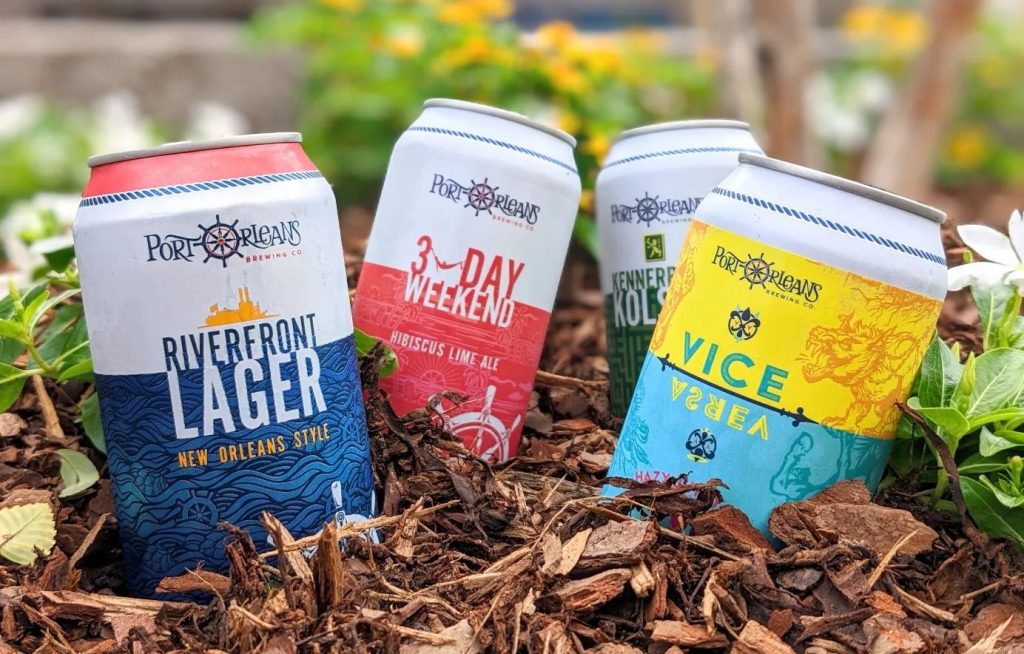 Port Orleans Brewing
4124 Tchoupitoulas St.
Equipped with a fleet of horizontal lagering tanks, Port Orleans always has a bevy of bottom-fermenting beers on tap. But lagers aren't the only en-vogue offerings at Tchoupitoulas' westernmost brewery. This operation regularly releases new beers on Fridays, keeping cool kids coming back for its outlandish sours (Strawberry Margarita Gose, 3-Day Weekend hibiscus-lime summer ale) and ever-evolving line of extra-thick milkshake-style IPAs rested on dairy-free ice cream (yes, really). The latter usually sell out in a matter of minutes.
Take a seat on a veranda-style patio to people-watch over sessionable starters like the top-selling Dorado Mexican-style lager, Kennerbräu Kölsch, Riverfront Lager or a lite "Low Tide" version of that core Helles. Flagship hazy Vice Versa tastes of mangoes and papaya. Tropicality is also the name of game with Gleason IPA, a Mosaic, Azacca and Lemondrop dry-hopped NEIPA released during football season to raise funds for ex-Saint Steve Gleason's non-profit assisting people living with ALS. Added lures come care of second-use spirit and wine barrels (bourbon, tequila, cognac, port) producing bold, boozy taproom-only treats.
Standout Suds: Riverfront Lager, Helles-style Lager
Pro Tip: Start your brewery tour with tasters here, then venture east to the other three Tchoupitoulas spots followed by the next brewery…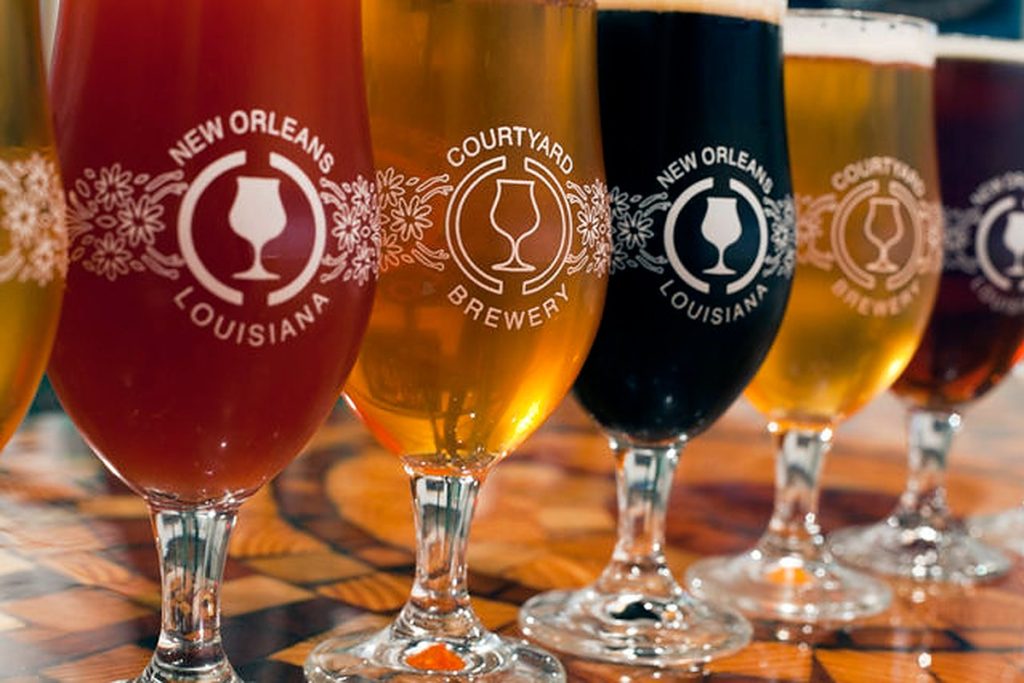 The Courtyard Brewery
1160 Camp St.
After relocating to NOLA, a San Diego expat and beer-industry vet sought to bring the Crescent City a taste of the vibrant beer scene he left behind. So, he built a three-barrel brewhouse in a less-traversed part of the city where he became known nationwide for his hoppy beers care of collaborations with the beer-world glitterati. He's since moved to the Lower Garden District, where he's transformed a mortuary's hearse garage into an eclectic tasting room that extends to a shaded, AstroTurfed driveway-turned-patio.
The Courtyard's beers are wide-ranging, ever-changing and available exclusively on-draft. IPAs remain their craft calling card. A Galaxy-hopped strawberry-nosed NEIPA called Inverse Speed Bump and cheater-hopped West Coast model called Dawn in the Western Sky are equally alluring, but the leader of the lupulin-laced pack is Baby IPA, a Citra-Simcoe ale that's abundantly lemony, grassy and bone-dry on the backend. While English, Belgian and German-style ales find their way onto the menu, lagers are not part of The Courtyard's game plan. Fortunately, there are plenty of lower-alcohol options, including golden ales, wits, sours, bitters and, recently, Canoe Beer, a thirst-quenching "American table beer" fitting snugly in the fast-emerging low-cal, active-lifestyle beer category.
Standout Suds: Baby IPA, Session IPA
Pro Tip: Looking to beat the heat on multiple levels? The Courtyard is home to Rahm Haus, a business using local ingredients to craft avant-garde ice creams.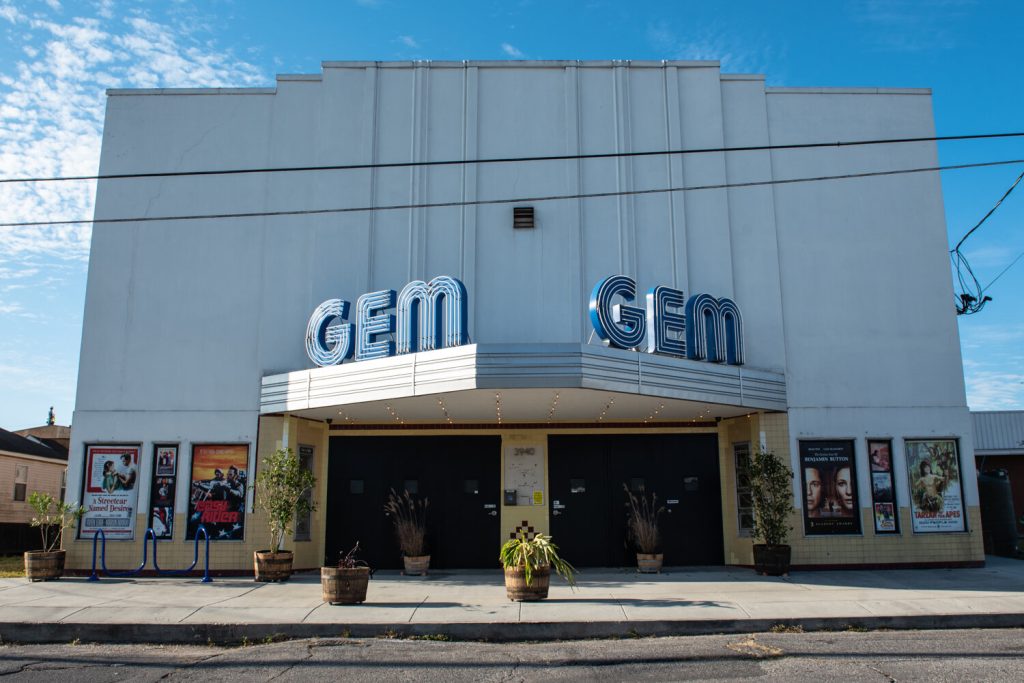 Zony Mash Beer Project
3940 Thalia St.
Installed with care and creativity in a former movie house at the tip of the Hoffman Triangle, this destination brewery is named after an album by local funk band, The Meters. The 21-tap tasting room is bordered by stocked barrel racks, giving way to a view of a brewery (which converts to an overflow area when the workday's done) and a stage for live entertainment, plus a movie screen that's regularly put to use. Beyond that is a recently added game room with pool tables, shuffleboard, pinball and more, and an expansive backyard beer garden featuring its own dedicated bar, stage and company-owned food truck.
Zony Mash has something for just about any taste, ranging from lagers to (mostly "fluffy", i.e.: hazy) IPAs, stouts, smoothie sours and mixed-fermentation farmhouse ales. A by-the-book porter named for The Meters' George Porter, Jr., is a fan-fave along with crystal-clear hoppy pils, Heart Shaped Beer. Other standouts include Catch N' Kill, a fluffy DIPA with pineapple, mango and guava essence, and the tart, tannic Egret, a mixed-ferm saison aged two years in oak and rested on black currants. And not to be missed is the tangy health-drink-meets-poolside-cocktail King of Carrot Flowers, a fruited carrot sour that's truly unique.
Standout Suds: King of Carrot Flowers, Sour Ale with Carrot, Tangerine, Mango & Lactose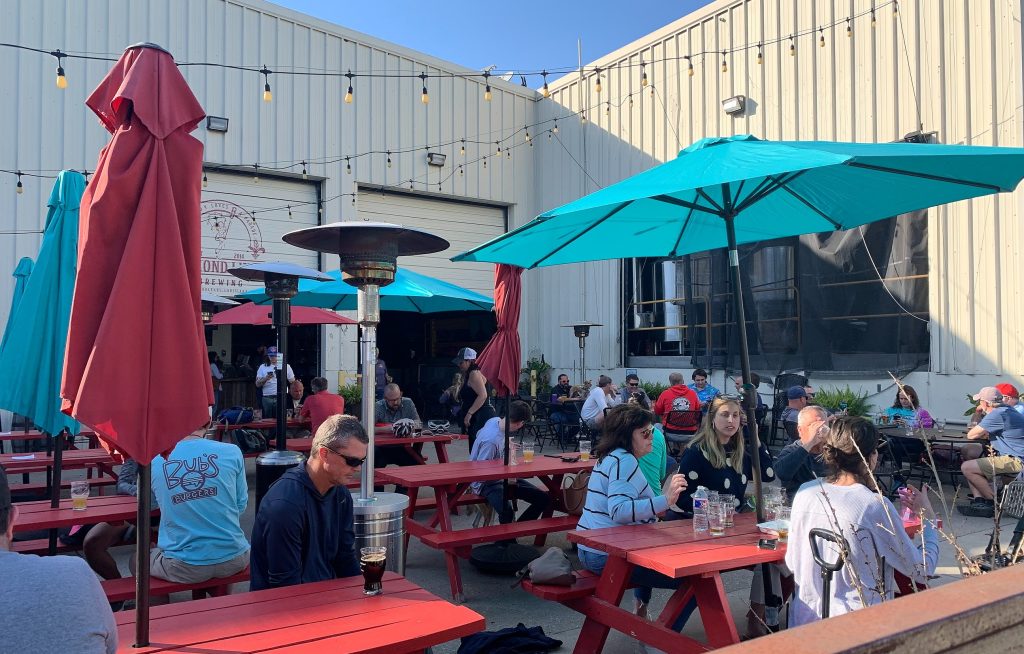 Second Line Brewing
433 N Bernadotte St.
In 2015, Louisiana's regulation relaxation led a husband and wife to relocate from Alaska to open this passion project, an early cornerstone in the ongoing revitalization of NOLA's Mid-City area. In the beginning, Second Line eschewed NEIPAs, almost defiantly brewing only West Coast-style hop-bombs, but over time its founders have come to embrace the challenge—and positive reception—modern innovations afford. As such, Second Line's 15-barrel brewhouse now pumps out all manner of hazy, sour and confectionary ales, all of which can be enjoyed from the comfort of umbrellaed picnic tables at their peaceful cul-de-sac beer garden.
On the IPA front, the Mosaic-, Citra- and Cashmere-hopped Vacation Juice NEIPA has a soft texture, flavors of pineapple and stone fruit, and zero bite, while citrus-candy and rosemary notes punctuate a simply named, C-hopped West Coast IPA. A Piña Colad-Ale (pineapple, apple, rose hips, coconut and hibiscus) and blood orange-infused Saison Named Desire make for solid sunny-weather sippers, while fans of the dark and desserty are sure to enjoy multiple takes on the house milk stout, including a chile- and coffee-infused Hot Chocolate Stout and the triple-chocolate Ka-Kow!
Standout Suds: Vacation Juice, Hazy IPA
Pro Tip: Another modern addition to Second Line's line is its Britely family of hard seltzers, which, like its beers, are made using real fruit.
East of the French Quarter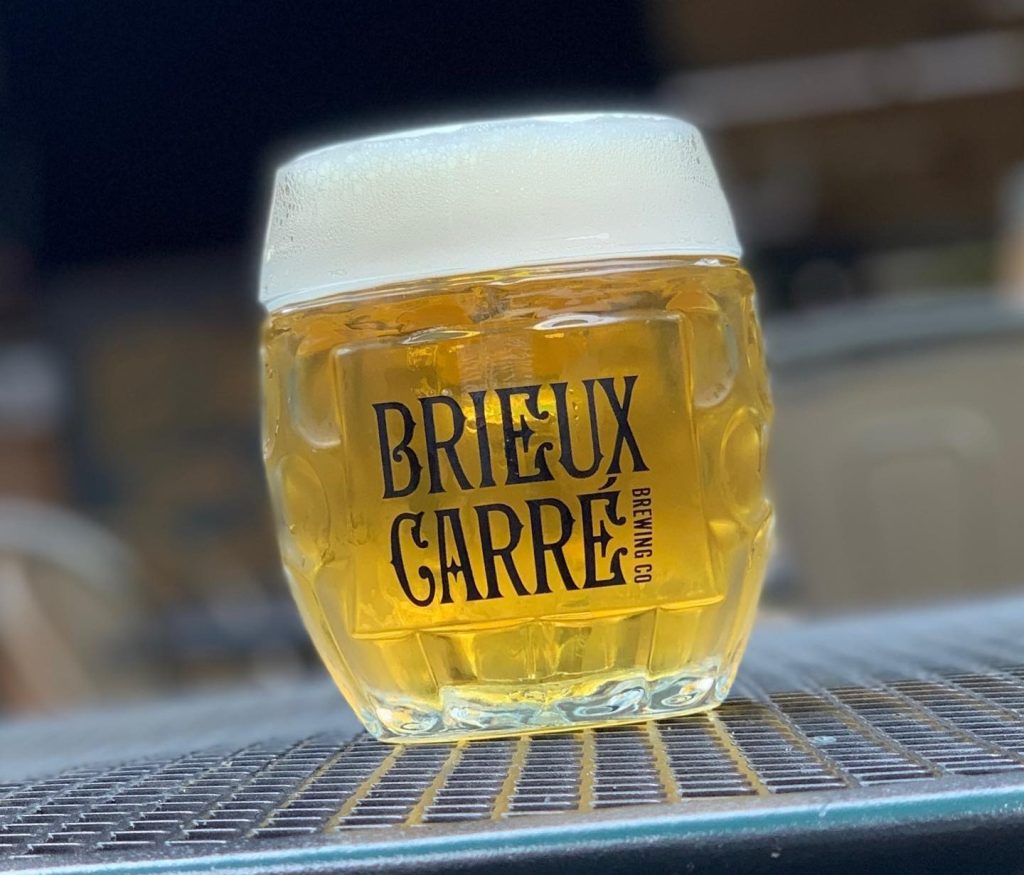 Brieux Carré Brewing
2115 Decatur St.
Beerophiles with a what-have-you-done-for-me-lately mentality will meet their match at this tiny-but-mighty, pea-gravel patioed spot on the south end of Frenchman Street. Operating in one of the smallest brewery and cellar setups anywhere (a mere 350 square feet), a team of adventurous brewers cook up all manner of ales and lagers. Craft versions of the latter weren't a thing when Brieux Carré (a play on the French Quarter's nickname, Vieux Carré) started out, but now three-to-four are typically available along with hoppy, dark, and sour ales of all types.
Though everchanging, more frequent beer-board occupants include a Citra-Mosaic hazy IPA dubbed 90s Women's Power Ballads that's as hoppy as it is juicy, and Frenchmen, a bière de garde with notes of plum, date and caramel. The here-today-gone-tomorrow sect was recently repped by a grodziskie (Polish smoked lager) with an enticing andouille-like quality, polotmavé (Czech amber lager), heather-honey grape ale and English-style barleywine. But perhaps nothing exemplifies Brieux Carré's quality across styles as a spot-on Czech pils called You Spund Me Right Round, and Charles Let Robert Brew a Beer, a boldly pastrified coconut, vanilla imperial milk stout.
Standout Suds: Frenchmen, Bière de Garde
Pro Tip: Search out rarer styles on the menu. The more obscure the beer, the more likely it is that a brewer fought to get to brew it and brew it well.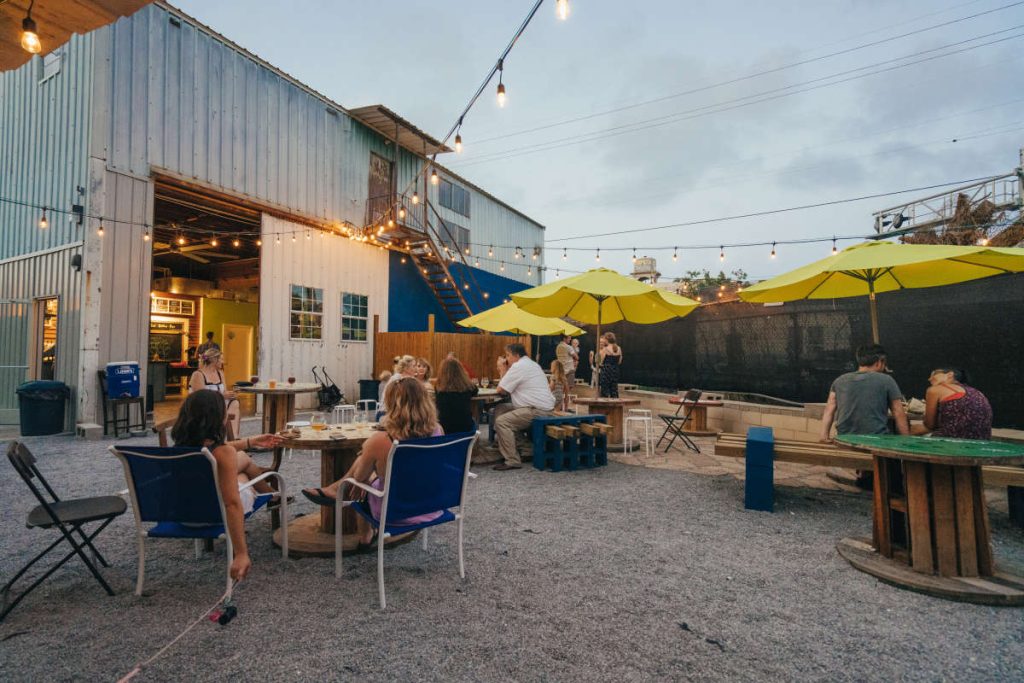 Parleaux Beer Lab
634 Lesseps St.
There's no better brewery for leisurely, family-friendly outdoor lounging than this gem at the east end of the Bywater. Here, a husband-wife team have converted a vast grass lot into an inviting backyard with a variety of seating areas, plus trees, plants and vines yielding ingredients (figs, pecans, citrus, wine grapes, herbs) for their beers. The dual-focus at Parleaux (NOLA-fied French for "by water") is on lagers and wood-aged mixed-fermentation beers, an assortment of which can only be obtained at the source from a dozen perpetually rotating taps that also include IPAs and random Old-World one-offs.
Like their like-minded friends at Brieux Carré, Parleaux rarely re-releases beers, making for an unpredictably exciting menu. A recent visit turned up a pair of mixed-ferm saisons: the lemony wine-barrel-aged 6 & 8, and Evanescent, a tart sipper infused with sage and house-grown sweetgrass. Foudres (the only ones in New Orleans) also factor in, with unlikely styles—British-style IPA, brown ale—benefitting from oak-conditioning. Lagers are delightfully soft-textured and to-style, while hazies like Green with Envy (Nelson-forward IPA with lime) and Tom Hayze (pale ale with Citra, Mosaic and Sultana) coax the best from their respective hop varietals.
Standout Suds: Evanescent Mixed-fermentation Saison with Sage & Sweetgrass
Pro Tip: Parleaux shares release dates for its new beers on social-media, but typically taps them on the downlow one-to-two days in advance.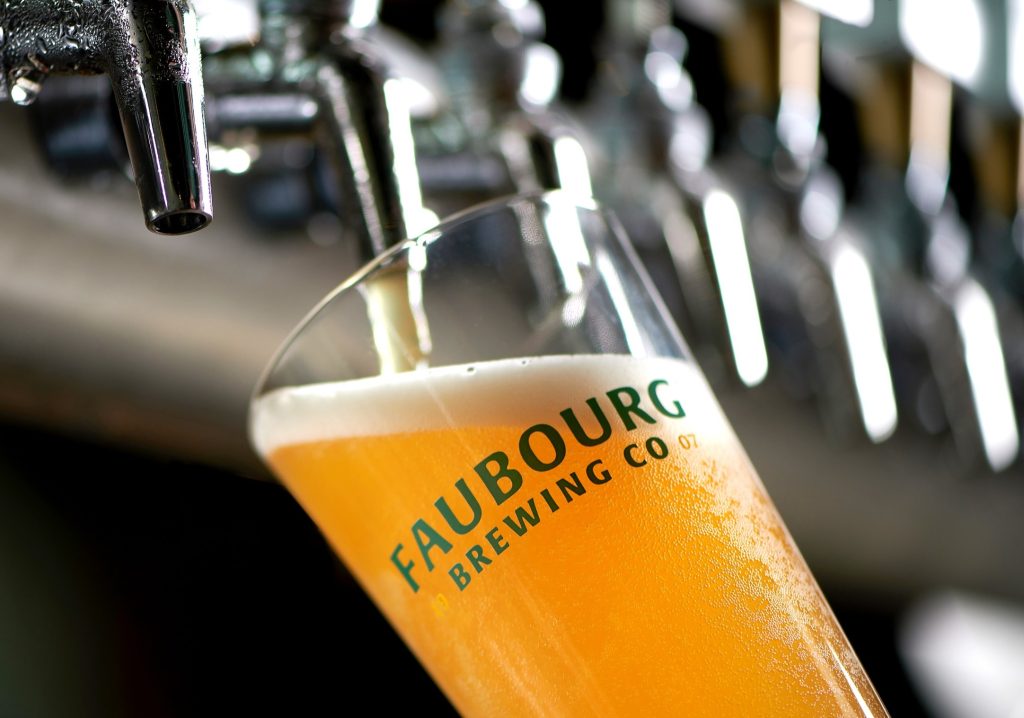 Faubourg Brewing
3501 Jourdan Rd
Founded in 1907, Dixie Beer was locally brewed until 2005 when Hurricane Katrina forced the company to have its lagers contract-brewed out-of-state. Wanting to bring the brand home and restore its glory while creating jobs for locals, famously philanthropic Saints' and Pelicans' owner Gayle Benson purchased a majority stake in the company in 2019, siting the operation in New Orleans East and rebranding it as Faubourg Brewing. But the name wasn't all that changed. A portfolio that previously consisted of just a pair of dated lagers has been greatly expanded and updated to fit modern tastes.
Faubourg's flagships include a bright and floral Czech-style pilsner and an orangey witbier called Golden Cypress. Citrus is also at the forefront in Dat'suma, a seasonal "no coast" IPA brewed with satsuma oranges that's fruity versus juicy with an alluring spice on the back end. Other seasonals include a Citra- and Motueka-hopped NEIPA called Iron Lacing, Bayou King Belgian golden strong ale and Beignet au Lait, a European Beer Star award-winning imperial blonde ale infused with local cold-brew coffee, vanilla and milk sugar.
Standout Suds: Faubourg Premium Lager, Czech-style Pilsner
Pro Tip: Faubourg offers tours of its super-sized, cutting-edge brewery as well as free local and big-name entertainment on its sprawling front lawn.
OTHER BREWERIES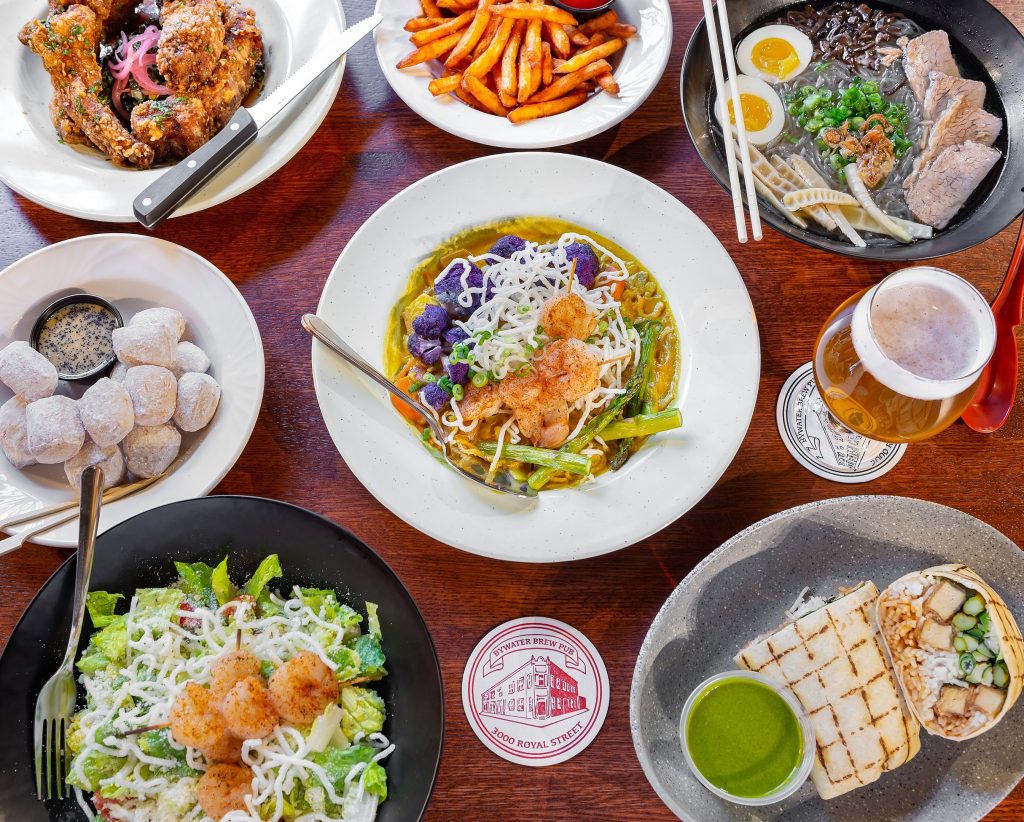 Bywater Brew Pub (pictured above)
3000 Royal St.
Located in a historical building in the heart of the Bywater, this newcomer offers a variety of ales and lagers along with Vietnamese-Creole fusion and regularly scheduled live music.
Crescent City Brewhouse
527 Decatur St.
This 30-year-old, two-story brewpub—the only beermaking operation in the French Quarter—offers a lager-heavy tap-list in tandem with casual Creole and Southern-inspired eats.
Gordon Biersch
200 Poydras St.
The New Orleanian link in a West Coast-based brewpub chain serves up its standard, Cali- and Italian-inspired food menu along with an assortment of largely German-style lagers.
Oak St Brewery
8201 Oak St.
Session-strength ales, hard seltzers, frozen Zamboozy beers and house-made Italian sodas can be found at this two-years-young family-oriented, pet-friendly spot in East Carrollton.
Cajun Fire Brewing
10555 Lake Forest Blvd, Ste 3D (not open to the public)
This black-owned brewery does not have a tasting room, but its beers are available in cans, sales of which have helped the family-run business contribute $500,000 to local charities.
BEER-CENTRIC VENUES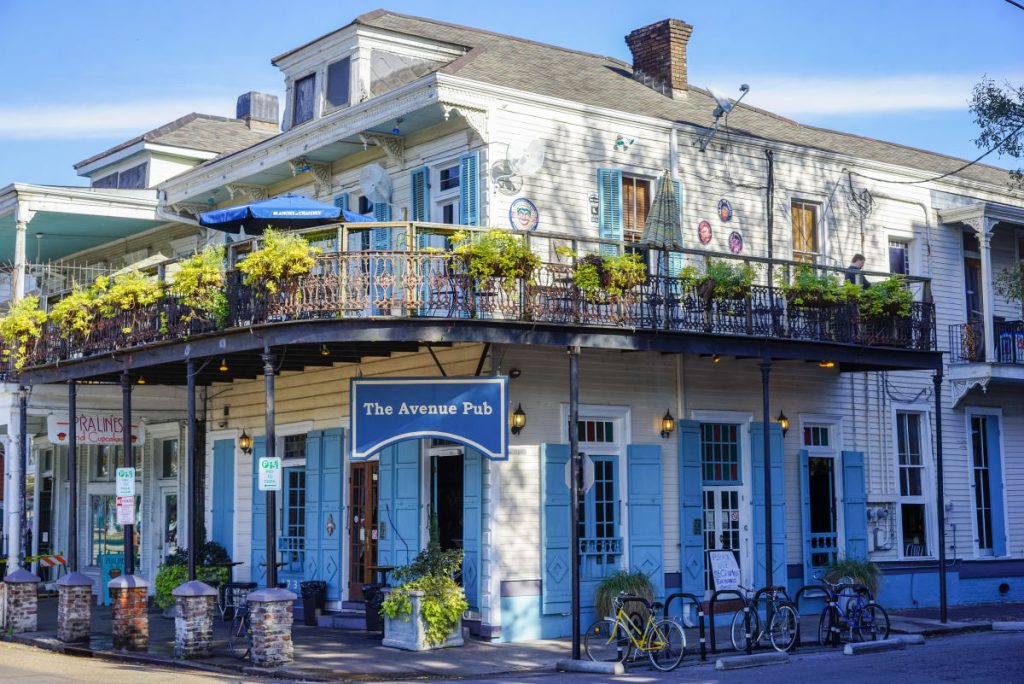 The Avenue Pub (pictured above)
1732 St. Charles Ave.
Bratz Y'all Bistro
617-B Piety St.
d.b.a.
618 Frenchman St.
Stein's Deli
2207 Magazine St.
The Tchoup Yard
405 Third St.
RECOMMENDED LODGING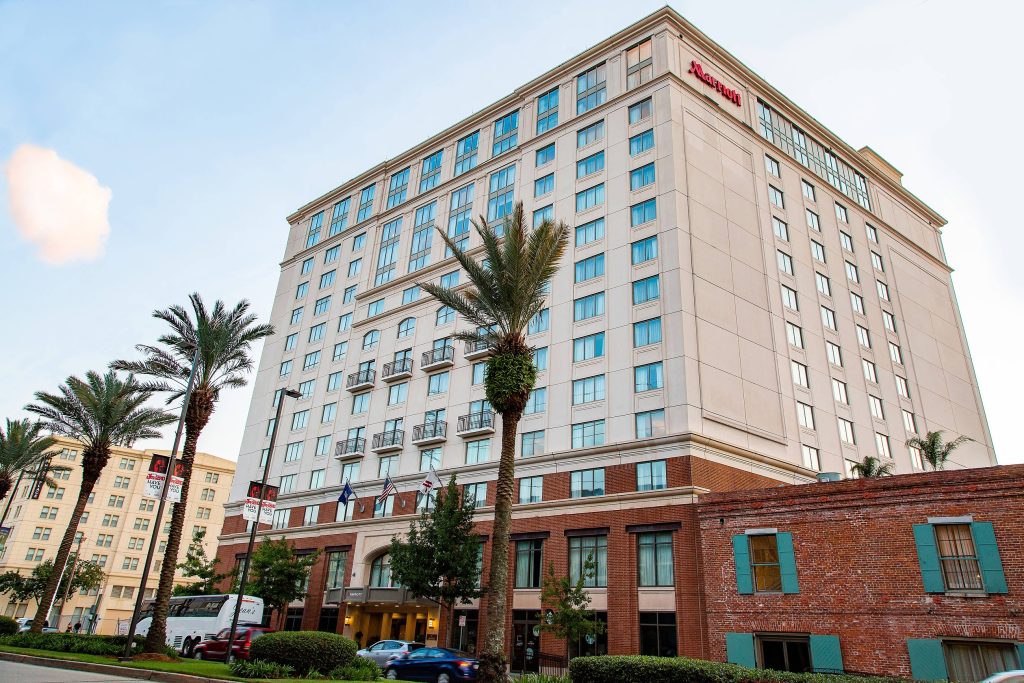 New Orleans Marriott Warehouse Arts District (pictured above)
859 Convention Center Blvd
This modern, well-appointed hotel is ideally located, allowing guests to head west for a Tchoupitoulas Street brewery run or east for French Quarter fun, live music on Frenchman Street or Bywater exploration.
Higgins Hotel
1000 Magazine St.
Hilton New Orleans Riverside
2 Poydras St.
Hotel Monteleone
214 Royal St.
New Orleans Marriott
555 Canal St.
Omni Royal Orleans
621 St. Louis St.
The Roosevelt New Orleans
130 Roosevelt Way
Royal Sonesta New Orleans
300 Bourbon St.
Selina Catahoula Hotel New Orleans
914 Union St.
Sheraton New Orleans
500 Canal St.
W New Orleans – French Quarter
316 Chartres St.