ADVERTISING
San Diego Beer News offers a variety of highly effective and economical advertising options. Our audience consists of engaged, interested craft-beer fans, event-goers and consumers as well as professionals who own and work at breweries and other businesses within the brewing industry; a valuable dichotomy unique to our outlet. We reach the exact demographics both brewing companies and their industry partners are looking to connect with. The quality, consistency and near-daily frequency of our reporting, features and other content gives our readers and followers reasons to visit our website, subscribe to our weekly email newsletter and stay connected with us via our social-media platforms, all of which provide advertisers opportunities to inform them about their products, services, events, initiatives and more.
HOMEPAGE & WEBSITE ADVERTISING
We drive traffic to our site on a daily basis and attract more than 500,000 visitors annually. San Diego Beer News' homepage is our most viewed online property, followed by our feature content. Our primary website advertising options include:
•  Homepage Banner Ads
•  Homepage Sidebar Ads
•  In-Post Banner Ads
•  Feature Sponsorship (see below)
EMAIL & SOCIAL MEDIA ADVERTISING
In addition to our master email subscriber list, we maintain an industry list for business-to-business communications. Both boast high open and click rates. We can also amplify your reach by posting your content from our social accounts.
•  Email Newsletter Banner Ads
•  Sponsored Posts & Stories
•  Targeted Email Campaigns
•  Sweepstakes & Giveaways
FEATURE SPONSORSHIPS
Part of what sets San Diego Beer News apart is its assortment of features providing up-to-the-moment information about new beers, events and career opportunities, highlighting members of the brewing industry, and providing brewery guides to local communities and far-off locales. These features are made possible by the valued partners listed below. If you are interested in sponsoring any of the vacant features below, send us an email.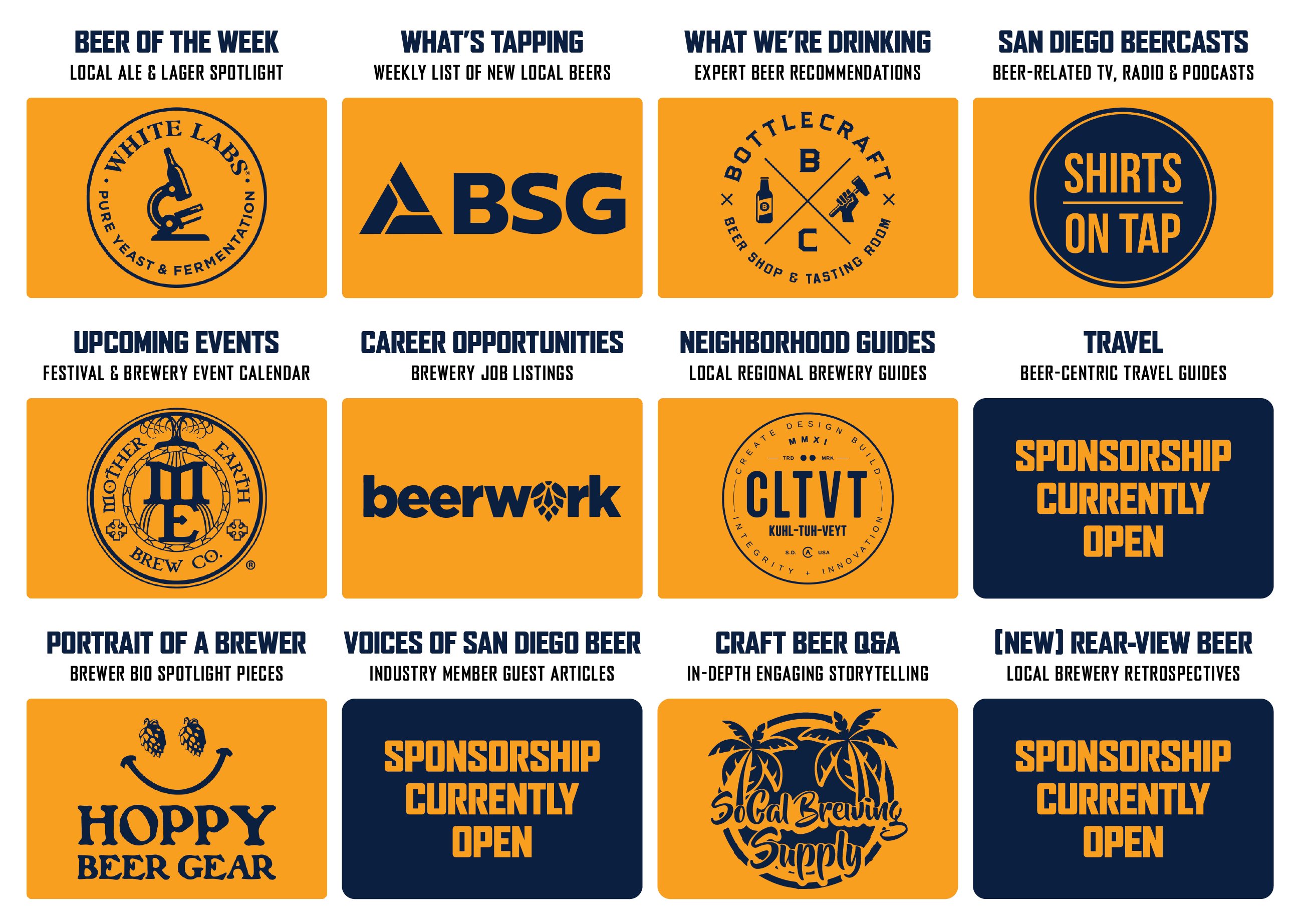 PROGRAM SPONSORSHIPS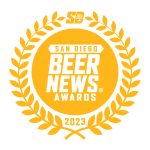 The San Diego Beer News Awards have grown into the biggest night of the year for the local brewing industry and its fans. Held at different breweries each year, it's a star-studded awards show featuring owners, brewers and staffers from local breweries, media, suppliers and members of the community, all coming together to recognize the exceptional beers, venues and people that make San Diego's craft-beer scene so special. It's a mammoth undertaking made possible by banner sponsor Yakima Chief Hops and as dozens of categorical sponsors that we count on to make this event happen. The 2024 San Diego Beer News Awards will take place the evening of Tuesday, March 26 at Stone Brewing World Bistro & Gardens – Liberty Station. Email us if you would like to discuss being a sponsor.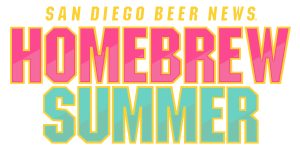 Each summer, San Diego Beer News works with amateur brewers, homebrew clubs and local brewing companies to present its Homebrew Summer program, in which homebrewers are matched with professionals from the craft-beer industry so their beer recipes can be produced and tapped on a commercial scale. To date, 36 San Diego County breweries have taken part, resulting in the brewing of a whopping 50 pro-am ales and lagers running the stylist gamut. We are actively looking for a sponsor to help keep this beloved, meaningful educational and community-building program going into its fourth year. Email us if you would like to discuss being a sponsor.