BREWERY GUIDES
BREWERY INFO
NEWS FEED
North San Marcos Brewery Guide
An inland North County burg is home to an impressive yet lesser-known walkable brewery trail featuring highly awarded operations with serious pedigree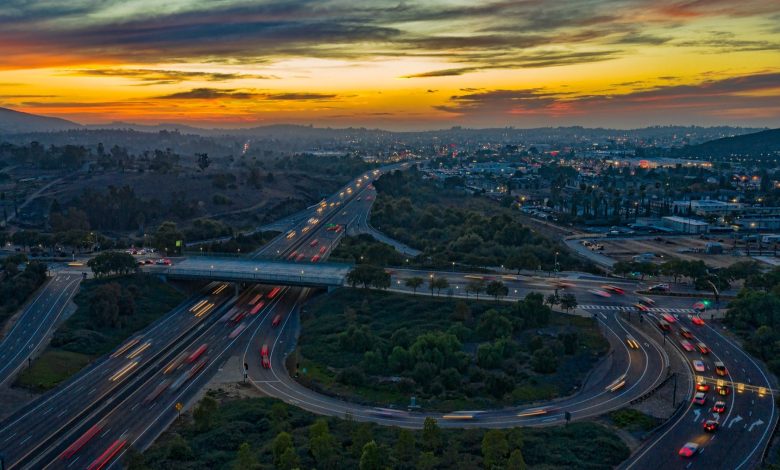 Just north of the Hops Highway (State Route 78) is a murderer's row of award-winning and otherwise outstanding breweries producing all manner of ale and lager. These local businesses are sources of community pride for San Marcos denizens, beacon-like destinations for beer tourists, solid options for students at nearby Palomar College and CSU San Marcos, and well-deserved post-appointment beverage stops for line-wearied visitors to the local DMV office. No matter what brings you to the area, there will be no shortage of high-quality beer to sate your thirst while you're there.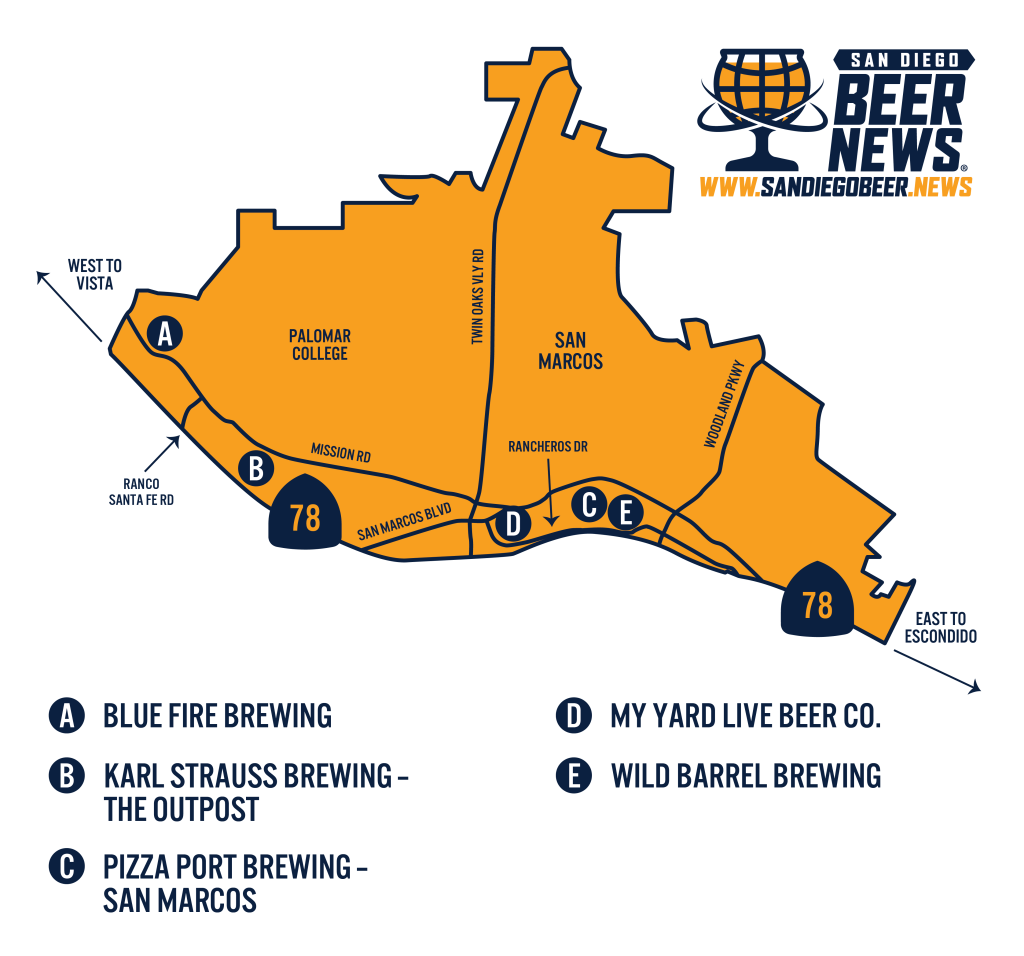 BREWERIES & BREWPUBS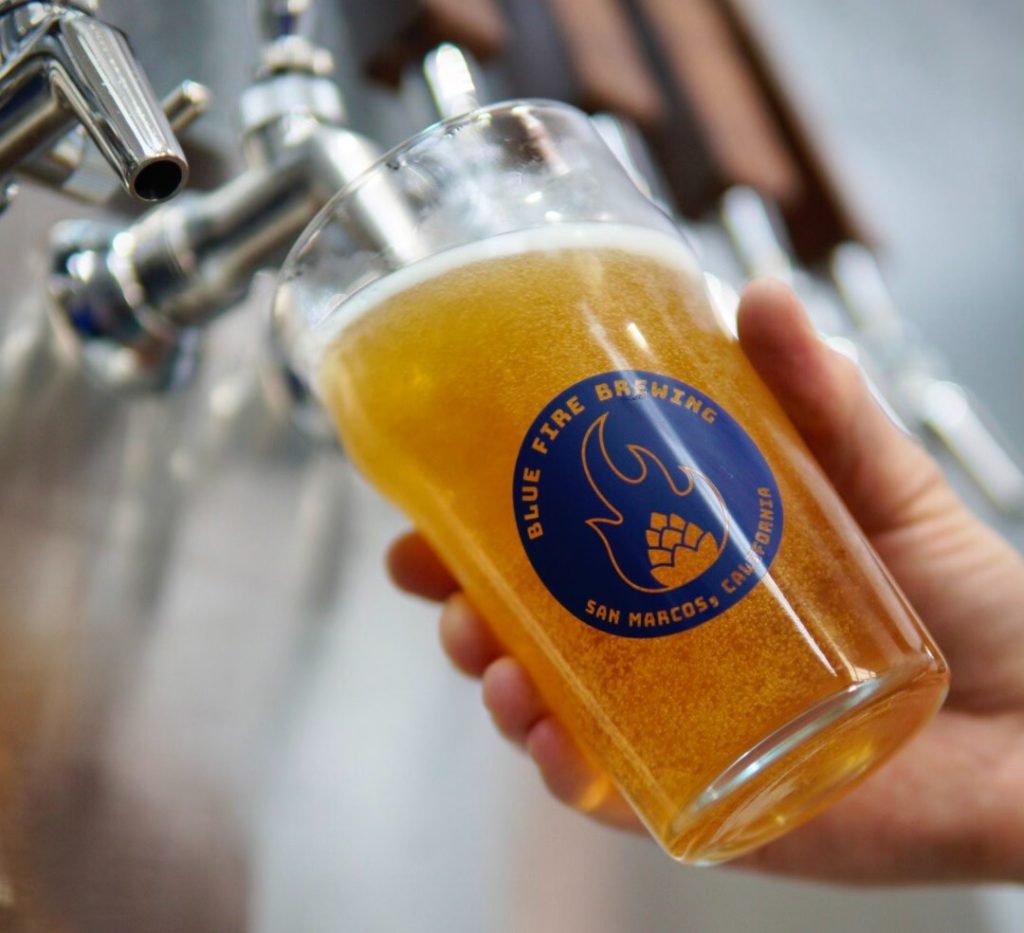 Blue Fire Brewing
2892 S Santa Fe Ave
A local family business through and through, Blue Fire Brewing is the shared passion project of brothers who graduated from nearby MiraCosta College's BrewTech certificate program. That schooling allowed Tommy and Charlie Gordon to take their homebrewing to the next level. In doing so, they have earned a cult following of North County residents who appreciate their ever-changing tap list, which is hand-written on the cold box wall and largely made up of sessionable ales and lagers.
White Sage IPA, a house favorite that's become something of a calling card, gets earthy funk and forest-floor character from herbs foraged in nearby Oceanside, while a juicy-IPA base serves as an amenable canvass for rotating hops such as Idaho 7. Blue Fire's simply named, light-drinking Noble-hopped "Lager" is always on tap, sometimes sharing tap space beside a New Zealand pilsner with an herbal midpalate giving way to a tangerine finish. Rounding things out are a mellow, tea-like English-style brown ale called Smashing, a strong blonde ale and an extra-dry, piney San Diego-style black ale called Midnight.
Blue Fire's tasting room is split into two sections, a taproom with a copper-topped bar, red vinyl booths and a view of the brewery, and a sitting room with roll-up doors giving way to an outdoor patio. Both are softened by succulents and multiple pieces of handcrafted art featuring the brewery's fiery logo. In the winter months, Blue Fire hosts a disc-golf putting league on Monday nights in addition to year-round Tuesday-night trivia and occasional cooking classes.
Pro Tip: "Sili Saturdays" are named for colorful, Blue Fire-branded silicon cups, which net their owners $5 fills of anything on tap that day of the week.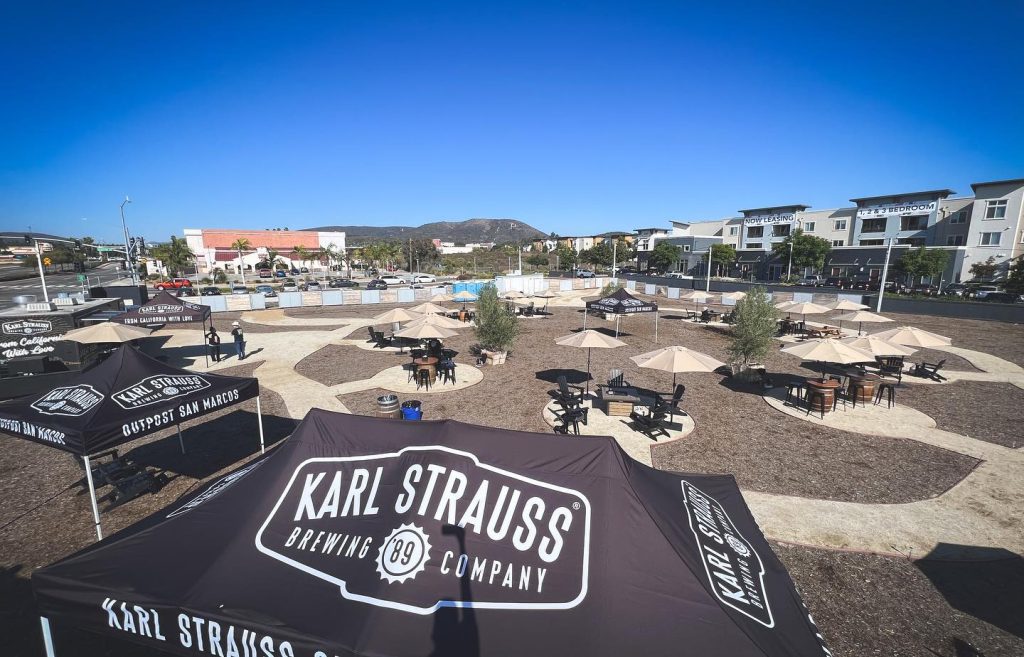 Karl Strauss – The Outpost
1293 Armorlite Dr
In 2023, San Diego's longest-running local, post-Prohibition brewing enterprise opened its first-ever fully outdoor beer garden on a two-acre lot off Los Posas Road, just north of the Hops Highway. There, visitors can order a varied assortment of Karl Strauss Brewing's core and seasonal beers as well as tacos and other snacks from the company's on-site food truck, then enjoy them from the comfort of Adirondack chairs situated around fire pits or shaded barrel tables.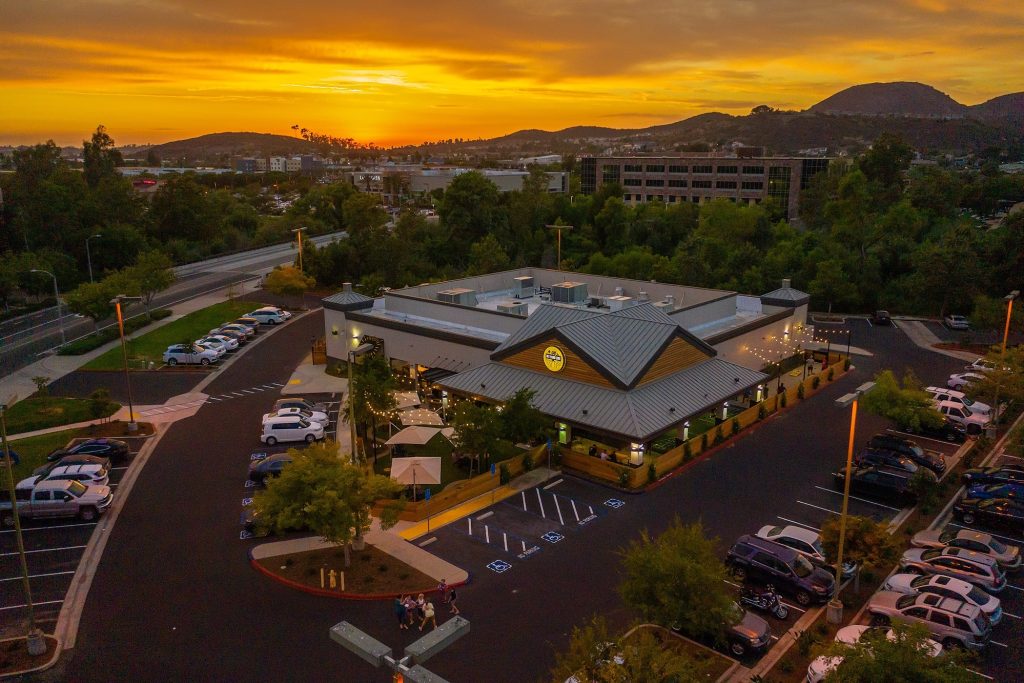 My Yard Live Beer Co.
288 Rancheros Dr
In 2019, Ben "Shaggy" Blaney, a veteran brewer and barrel coaxer with experience gleaned at The Lost Abbey and Mason Ale Works, left the latter to help open My Yard Live Beer Co. Installed in a former Hometown Buffet, the business is as focused on producing quality beer as providing myriad family-friendly activities and entertainment. Facilitating that are vintage arcade games, air hockey, Pop-A-Shot and other games, plus multiple outdoor spaces, one of which is a kids play area complete with a large tree house.
Blaney's IPA expertise soars to new heights in Flight of the Kiwis, a New Zealand-hopped West Coast with notes of guava, pineapple and passionfruit, plus the cheater-hopped (Strata, Mosaic and Nectaron) cold IPA Cooler Than Cold. On the lower-alcohol end of the spectrum, My Yard Lite is easy-drinking fuel for the warm summer months, and 1337, a San Diego-style pale ale developed with local music venue, The Music Box, is crisp, hoppy and crushable. Those brews pair with an eclectic menu of "epic sandos" (beer-BQ burger, Cuban torta, smoked Reuben, ahi poke crunch wrap), fish and chips, choose-your-own-toppings mac-and-cheese and a Yucatan pork burrito, plus separate menus for young'uns and pups.
My Yard Live's multiple stages get a workout with live music presented every Friday through Sunday. The venue also hosts numerous charity and community-geared fundraising events, including a series of seasonal beers brewed under the 4DUDESBREW handle, all of which benefit a nonprofit providing inclusive creative training for individuals with intellectual disabilities.
Pro Tip: Each July, My Yard Live holds an anniversary party combining an invitational beer fest and all-day live-music showcase.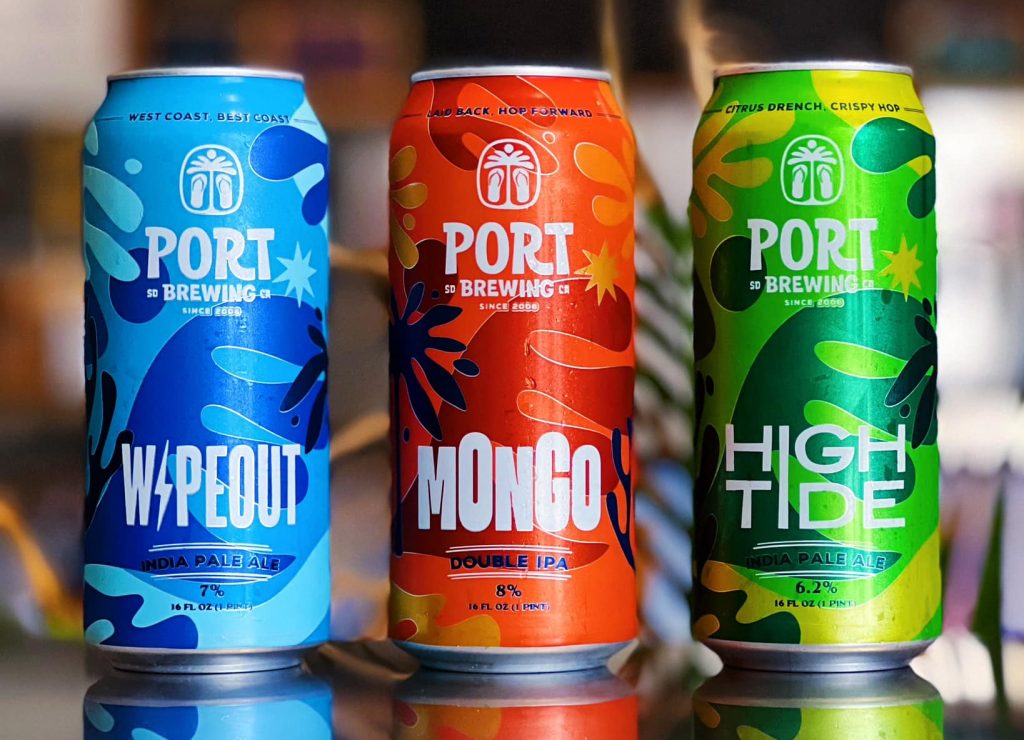 Pizza Port Brewing
155 Mata Way, Not Open to the Public
In 2023, the family-run San Diego institution that birthed spin-off operations Port Brewing and The Lost Abbey, took over the industrial-park facility where those brands' beers were produced. In doing so, Pizza Port Brewing (which now manufactures Port Brewing's portfolio of beers in addition to its own) closed down its built-in public tasting room, but that element may return in revamped, rebranded form sometime in 2024.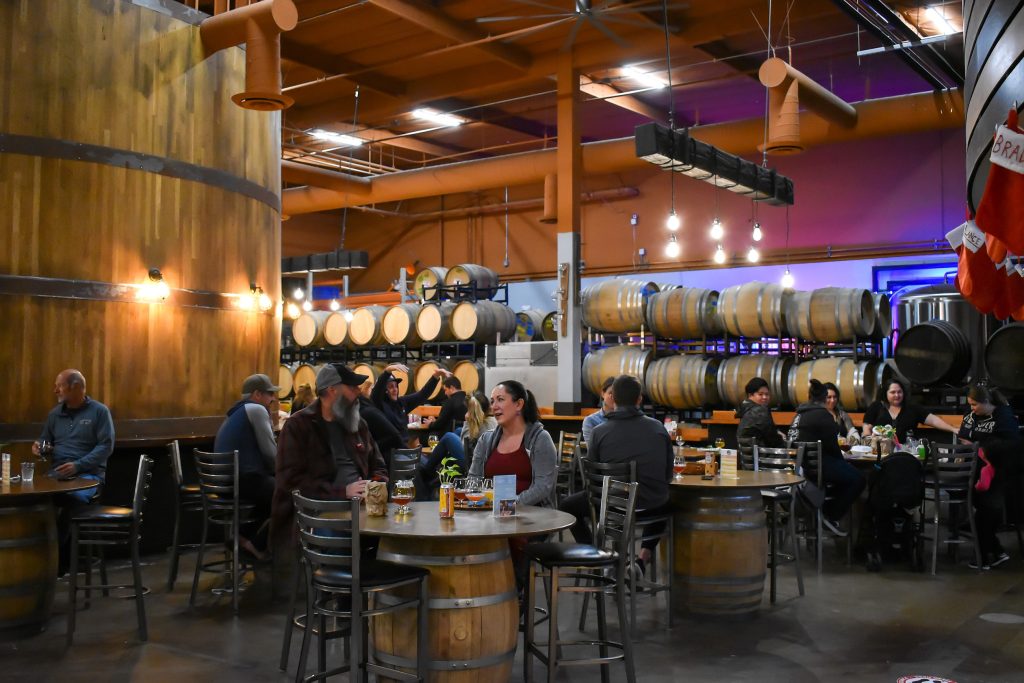 Wild Barrel Brewing
692 Rancheros Dr
Two big-screen TVs communicate 28 taps' worth of bottom-fermented, hoppy, sour and barrel-aged beers flowing at any given time at this half-decade-old operation developed by "Dr." Bill Sysak. That beer-industry legend and Stone Brewing vet lured celebrated Cascade Brewing barrel master Preston Weesner from the Pacific Northwest to head the company's oak-aged beer program. Weesner has since come to oversee all brewing, resulting in new beers, updated mainstays and plenty of reasons to pay Wild Barrel's tasting room a visit.
Lagers like Cerveza (Mexican) and Crispy Boiz (German pilsner) are balanced session-starters giving way to an elevated assortment of hoppy ales. Prince of Dankness double IPA is a Nelson-fortified standout followed closely by newcomer NEIPAs Chasing the Sun (papaya, mango, grape-skin) and Seasonal Greens (tropical-fruit salad), plus reimagined core Catch You on the Hazy Side (peach and more peach). Unaltered mainstays include two-time GABF gold-medalist Vice Sans Fruit (a base for Wild Barrel's vast line of fruited Berliner weisse), orangey witbier White Rabbit and Hipster Latte milk stout made, which is made with a custom-roasted cold-brew bean blend from Libra Coffee in Oceanside.
As the company's name (along with a seating area housed in a huge barrel structure in the tasting room) implies, barrel-aged beers are a big deal here. They include wild ales that, as with the wine-esque Aged In Oak and Saturn white donut peach-infused "White Doe" edition of a sour called Cloud Shapes, derive assertive tartness and funk from house-cultured microorganisms. Meanwhile, spirit barrels lend booziness to downright desserty numbers like Rye Bourbon Chocolate Soft Serve and a cookies-and-cream imperial stout blend that falls in line with the nostalgia of unaged pastry sour, PB and Jam.
Pro Tip: One of Sysaks' areas of expertise is beer-and-food-pairing, making events marrying beer with cheese, chocolate and donuts something special.