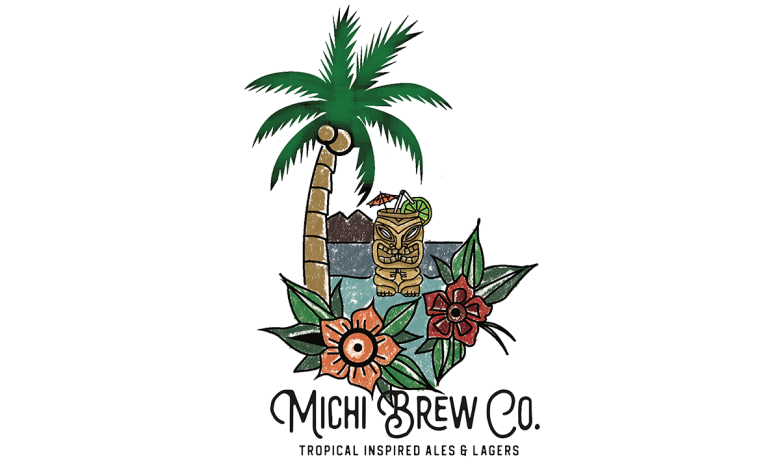 Cody Gagnon has been a professional brewer for nearly a decade. Over that span, he's worked at noted fermentationist proving grounds, Karl Strauss Brewing and Pizza Port Brewing. And served as WestBrew's original head brewer, before heading to Carlsbad Brewing to revive its in-house brewing program. Through it all, his wife, Michiko, has been by his side, providing moral support and using her adept, attuned palate to dole out unabashedly honest feedback. Gagnon loves and cherishes his number-one fan, enough that he's made her nickname the basis of his work-in-progress beer venture, Michi Brew Co.
Pronounced me-chee, it's a side project Gagnon is working on at Carlsbad Brewing, utilizing its brewhouse and cellar setup. Resultant beers will be available on draft exclusively at their brewpub of origin as well as its sister business, Encinitas Ale House. Despite the connections to Gagnon's employer, he says he will run Michi independently with the goal of developing it into a stand-alone brand. But for him, that doesn't necessarily mean securing his own production facility.
"Maybe in the future if things are going really well, but I'm really focused on creating an authentic experience. Creating a brand takes a long time, and this opportunity makes it so I don't have to rush," says Gagnon. "Creating a genuine brand is something I'm really committed to. It's not just about the beer. I care about the people who will be drinking the beer. People want to spend money on a product they believe in that tastes great and sticks to the values they believe in."
Fans of Hawaii's island style and its welcoming sense of family, 'ohana, will find common ground with Michi as both are the basis of the brand. Gagnon's aim is to produce "tropical-inspired ales and lagers" wherein traditional styles are given a twist. Those beers will include various lagers, IPAs (hazy and West Coast), stouts and fruited ales harnessing the natural flavors and aromas of tropical produce. While Michi's liquid assets will be the foundation of the brand, he hopes he can reach patrons on a higher plane.
The tradition behind the 'ohana culture is what I want to embody, and I want everyone who drinks our beer to be a part of that. It's all about the good times spent with family and friends, being present and soaking in the moments in life worth cherishing. Watching a sunset on the beach, going for a hike or swimming in the ocean; being grounded in nature and feeling connected to the Earth brings me so much peace. I think everyone can use more of it; cut out the distractions and focus on what's truly important in life."

Cody Gagnon, Head Brewer, Carlsbad Brewing & Michi Brew Co.
Gagnon says quality ingredients, thoughtful craftsmanship and authenticity are of the utmost importance as he embarks on this newest leg of his brewing journey. Rather than plan each step, he wants to let inspiration motivate his decisions, particularly where the beers he brews are concerned. Each of those creations will be produced in five-barrel batches, which will allow for experimentation and provide a good deal of variety.
Gagnon says Michi's first-draft offerings will debut around the second week of December. The first of them will be a hazy IPA hopped with Riwaka and Citra, followed by a rice lager brewed with toasted coconut. To keep up with the company's progress, Gagnon recommends following Michi on Instagram.
Carlsbad Brewing is located at 6133 Innovation Way in Carlsbad's Bressi Ranch development