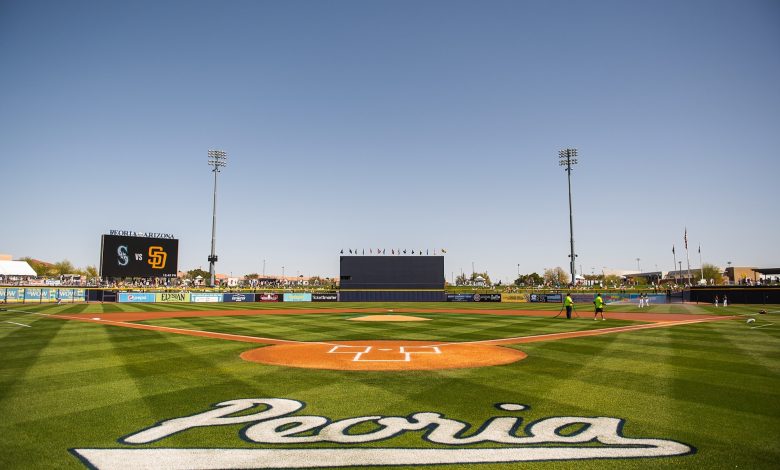 Each spring, Major League Baseball fans flock to Arizona to catch preseason games at Cactus League ballparks located throughout the greater Phoenix area. Following a decade-long brewery boom, "The Valley" now boasts an abundance of local options for pre- or post-gaming with local beer. With more than 50 breweries, brewpubs, and tasting rooms, the hardest part can be deciding which spots to add to your Spring Training itinerary. But don't fret. We've done the groundwork to provide you with a guide to the very best ales and lagers the area has to offer. Play ball!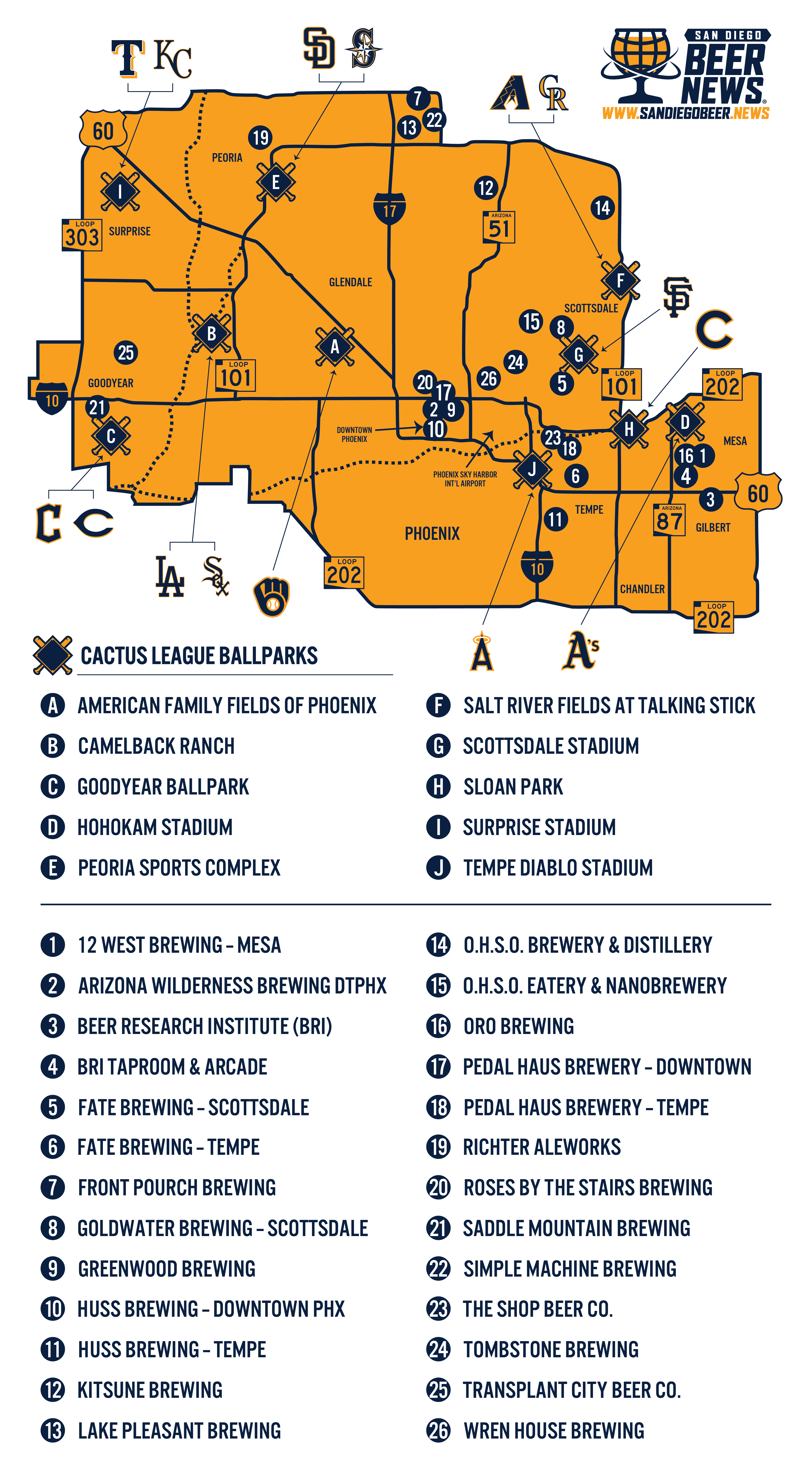 Click here for an interactive map that you can use on the go

DOWNTOWN PHOENIX
Ballpark: American Family Fields of Phoenix (Milwaukee Brewers)
Downtown Phoenix is home to a half-dozen brewery tasting rooms as well as popular beer bars Angel's Trumpet Ale House (30-plus taps and flights) and The Theodore (24 taps stocked with "it" brewery specialties). Standouts dot Roosevelt Street, an up-and-coming east-west thoroughfare packed with a mix of new and historic buildings, providing downtown visitors' best bet for a short-distance, high-density beer crawl.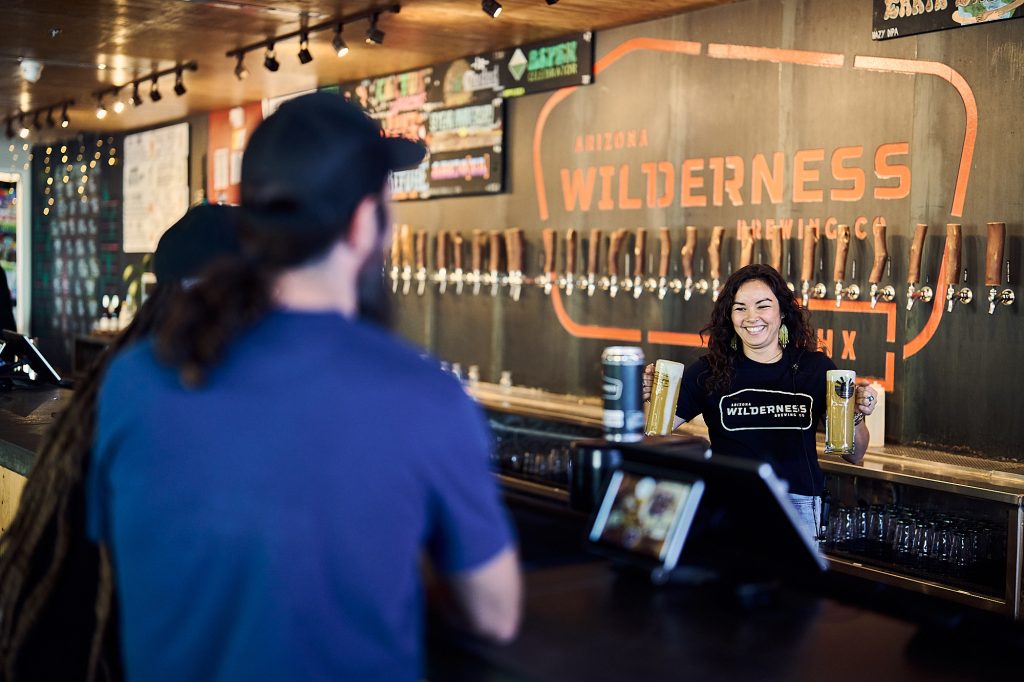 Roosevelt Row's craft-beer anchor is a taproom with an expansive beer garden operated by Arizona Wilderness Brewing, a decade-old interest based in the easterly city of Gilbert. Built with Kickstarter donations by a homebrewing window washer aiming to brew unique beers while helping save the planet through environmental practices and fundraising initiatives for sustainability-based organizations, the business has been a triumph from day one, earning Best New Brewery of the Year from RateBeer and gaining cult status in and beyond its namesake state.
A variety of Arizona Wilderness' beers are brewed using foraged items (e.g., citrus, nuts, mesquite pods) and ingredients from local purveyors, including grains from Sinagua Malt, a benefit corporation working with local farmers to replace high-water crops with barley to preserve the Verde River. This includes palate-provoking barrel-aged saisons, wild ales and spontaneous-fermentation beers from the brewery's Woodnotes Cellar. Those exotic offerings are available along with staples like earthy honey blonde ale Don't F#%k It Up! (a planet-related directive), Refuge West Coast IPA, Le Ciudad hazy IPA, and Cactus Juice, a kettle-sour infused with regionally popular add-in, prickly pear. Also noteworthy is a recently introduced non-alcoholic IPA called Arizo(NA) that holds its own care of a bright, hoppy bouquet and resinous finish.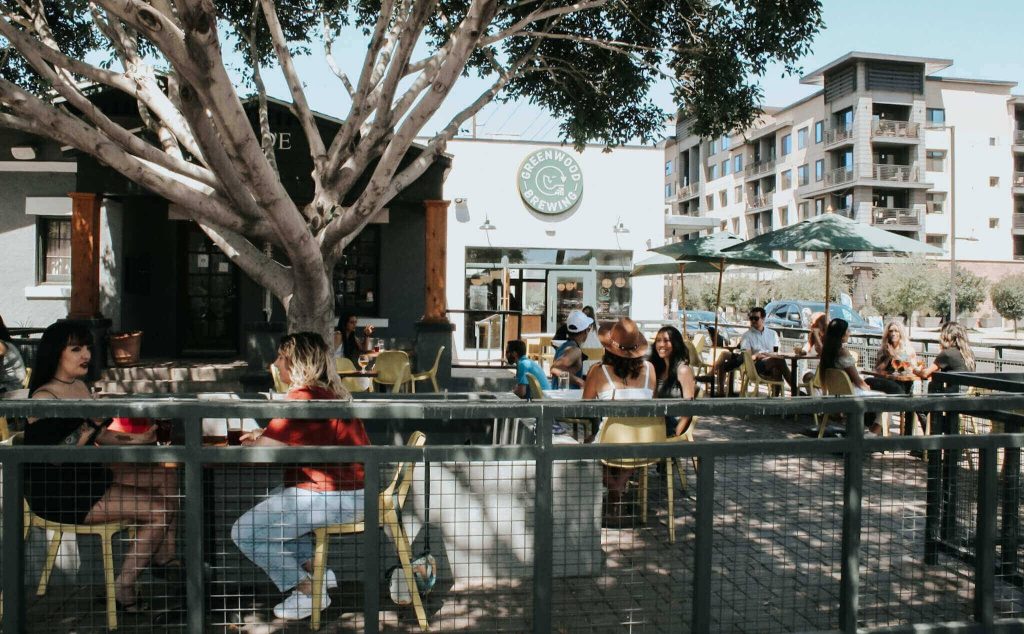 A few blocks east on Roosevelt is Greenwood Brewing, an all-woman operation that has made a name for itself challenging the outmoded (and never accurate) "female beer-drinker" stereotype by crafting a wealth of bold, flavorful styles that have been a hit with drinkers of all genders. Ditto a compartmentalized home base centered around a stylish bar blending soft woods, marble, brass, and pine-green leather to present a speakeasy feel. That luxe space is flanked by a pair of courtyards, including one with a view of the brewery.
Greenwood's liquid calling card is its rosemary IPA, the herbaceous quality of which is enhanced by Cascade and Centennial hops, but the rest of the beer portfolio is traditional and largely adjunct-free. Day-one flagship Herstory pale ale is extra-dry with a pineapple-mango nose, while passionfruit flavors dominate Mosaic- and Citra-laced hazy IPA, Warrior. A new West Coast IPA called Saturn Returns tastes of guava and Satsuma orange, while bursts of back-palate hoppiness punctuate Purpose Czech-style pilsner and Lulu's Light Lager.
Over the past decade, what started as a single-suite brewery in an industrial park has grown into Arizona's third-largest beer company, That enterprise, Huss Brewing, now operates a trio of locations throughout The Valley, but hangs its hat on its downtown brewpub. Equipped with a quick service to-go counter serving up smash burgers, bratwursts, and "other goodness", plus its balanced, easy-drinking beers, including an assortment of fruited wheat ales.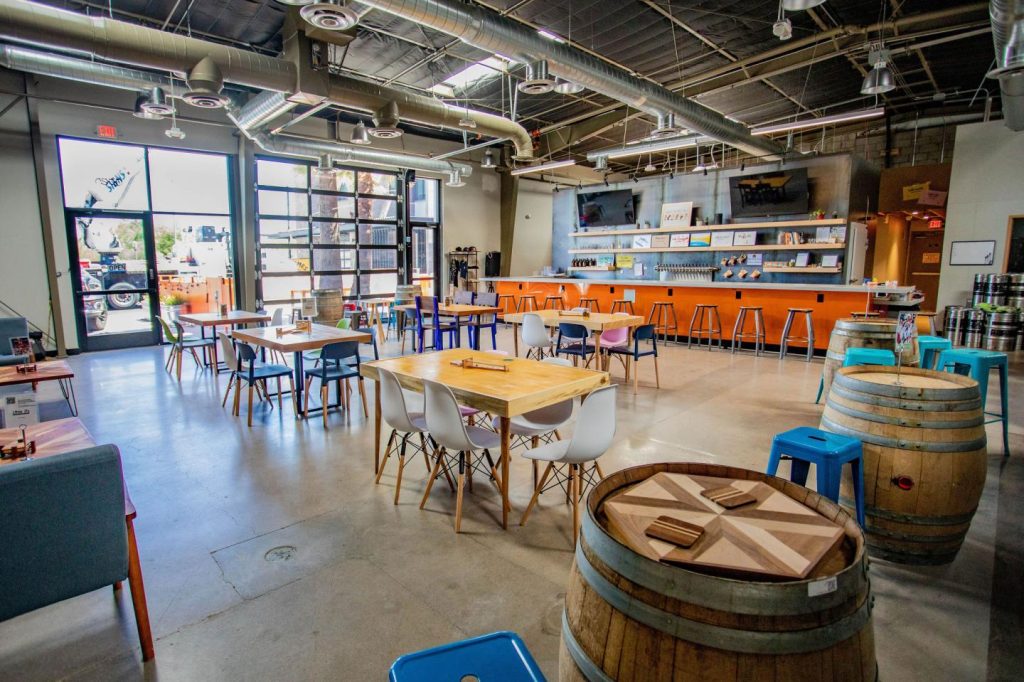 Though downtown beer venues abound, it's worth going a few blocks north to check out new arrival Roses by the Stairs Brewing. With a name culled from Blink-182 lyrics and an aim to celebrate farmhouse-style beers, this family-friendly 1% for the Planet business was birthed by a husband and wife in 2022. Its construction-orange façade gives way to an inviting tasting room furnished with tables fashioned from salvaged basketball-court hardwood and backroom couches boxed in by barrels and a foeder. Time-intensive beers utilizing that cooperage have yet to debut, but unaged saisons JoJo (bubble gum, lemon thyme, white pepper) and Wanderers in Overcoats (mint, green grape, cucumber, banana peel) are promising precursors. Ditto house hazies, which add variety while helping to fund the brewery's farmhouse projects.
Downtown Phoenix Breweries
Arizona Wilderness Brewing DTPHX, 201 E Roosevelt St; Pedal Haus Brewery – Downtown, 214 E Roosevelt St, Ste 4; Greenwood Brewing, 922 5th St; Huss Brewing – Downtown PHX, 225 E Monroe St; Roses by the Stairs Brewing, 509 W McDowell Rd
EAST PHOENIX & SCOTTSDALE
Ballparks: Scottsdale Stadium (San Francisco Giants); Salt River Fields at Talking Stick (Arizona Diamondbacks, Colorado Rockies)
For beer-loving game-goers, the drive to Scottsdale can be as exciting as the action on the diamond thanks to exceptional breweries sited along the way.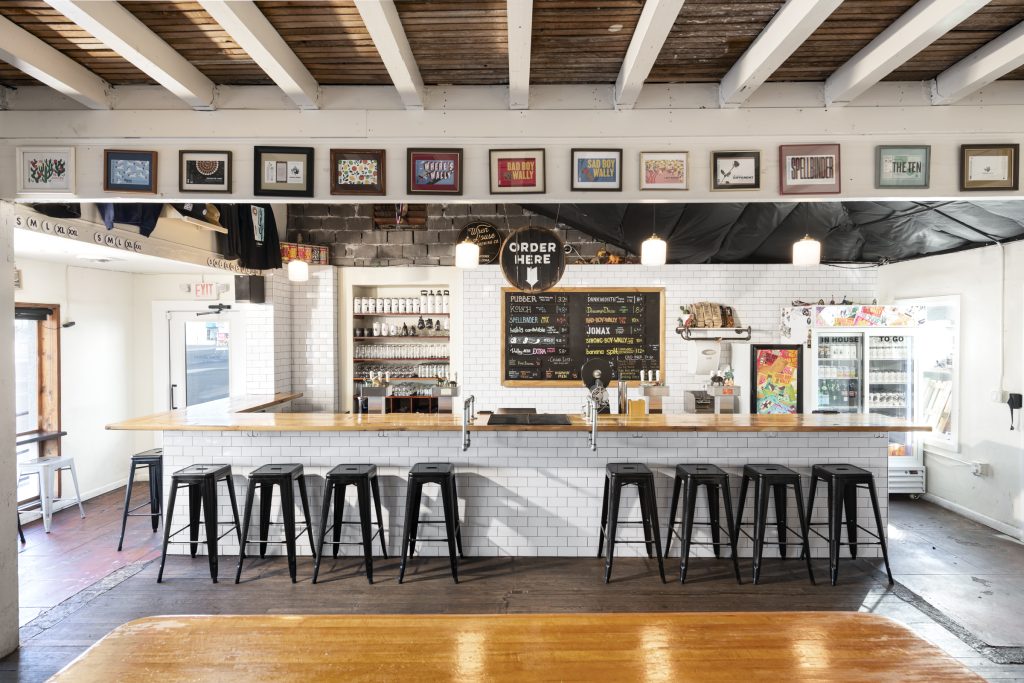 When asked which Arizona brewery best reps the Grand Canyon State, industry insiders point to Wren House Brewing. Opened in an inauspicious white bungalow in 2015 by a trio looking to help build a craft-beer culture similar to that of Meccas like Portland, Oregon, the company has helped do just that, not only by winning awards at prestigious brewing competitions but by championing passage of brewer-friendly legislation that has made opening and running Arizona breweries far more feasible. All that and it's the brewery closest to Sky Harbor Airport, making for an ideal start or finish to a Spring Training adventure.
Quality and variety are keys to Wren House's success. No beer style is off limits here, so just about anything can find its way onto the menu. Year-round standouts include a pair of Great American Beer Festival (GABF) medalists, the insanely drinkable Citra-Mosaic hazy IPA, Spellbinder (gold, 2020), and slightly citrusy, there-then-gone American lager, Valley Beer (silver, 2019). Nelson Sauvin dry-hopped pilsner Big Spill features lovely notes of gooseberry and Sauvignon Blanc, as does Nelson- and Mosaic-hopped hazy double IPA, Sonorasaurus. And when pillow-headed Czech lager Prasna Brana is on the side-pull, it's a must-have.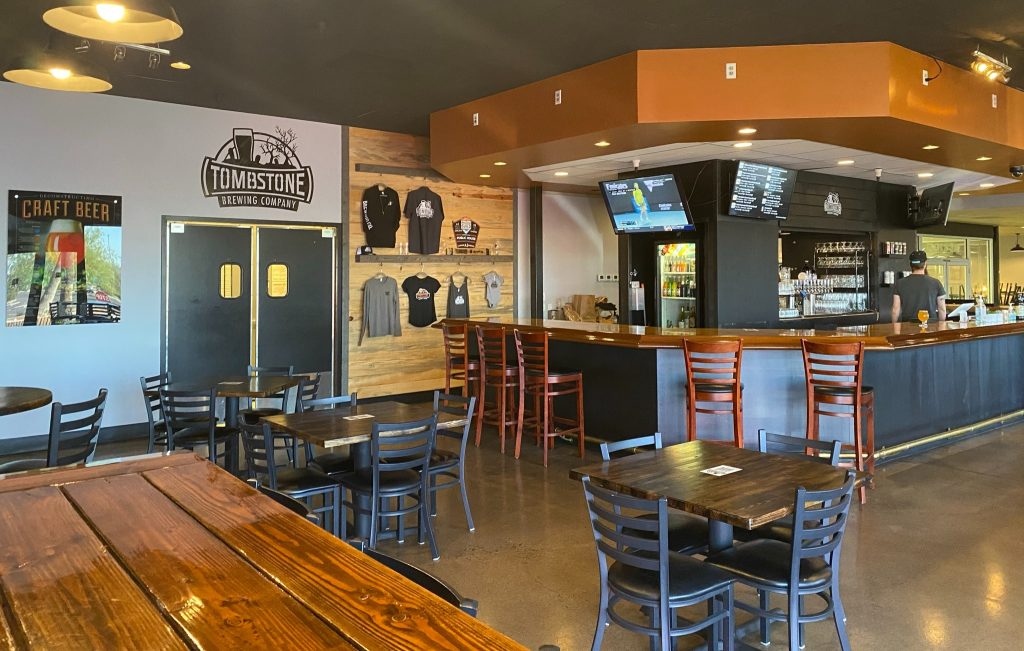 Before hitting Scottsdale, make a stop at the spacious split-level Phoenix offshoot of Tombstone Brewing, a seven-year-old concern based in the historic Arizona town of the same name. While living on the East Coast, its owner witnessed the haze craze first-hand and made New England-style IPAs (NEIPAs) his business' bailiwick from day one. Over time, and especially since bringing on a veteran from nearby Helton Brewing to head Phoenix brewery ops, Tombstone's menu has expanded to include a little bit of everything with a focus on brewing to-style.
Flagship Tombstone IPA is hopped with Citra, Amarillo, and Comet, smells of navel orange and pot, and offers flavors of pineapple, black currant and grapefruit pith. Its imperial Strata-packed West-Coast sibling, Oregon Lots II is deceptively quaffable with notes of pineapple, passionfruit, and honeydew melon. On the lighter side, Tombstone serves up a splendid Mexican-style lager, succinct Czech pilsner, and a tangy raspberry-infused Berliner weisse, all of which stand in stark contrast to Tombstone's array of tasty but dangerous imperial stouts and barleywines coming in at 12-16% alcohol-by-volume (ABV).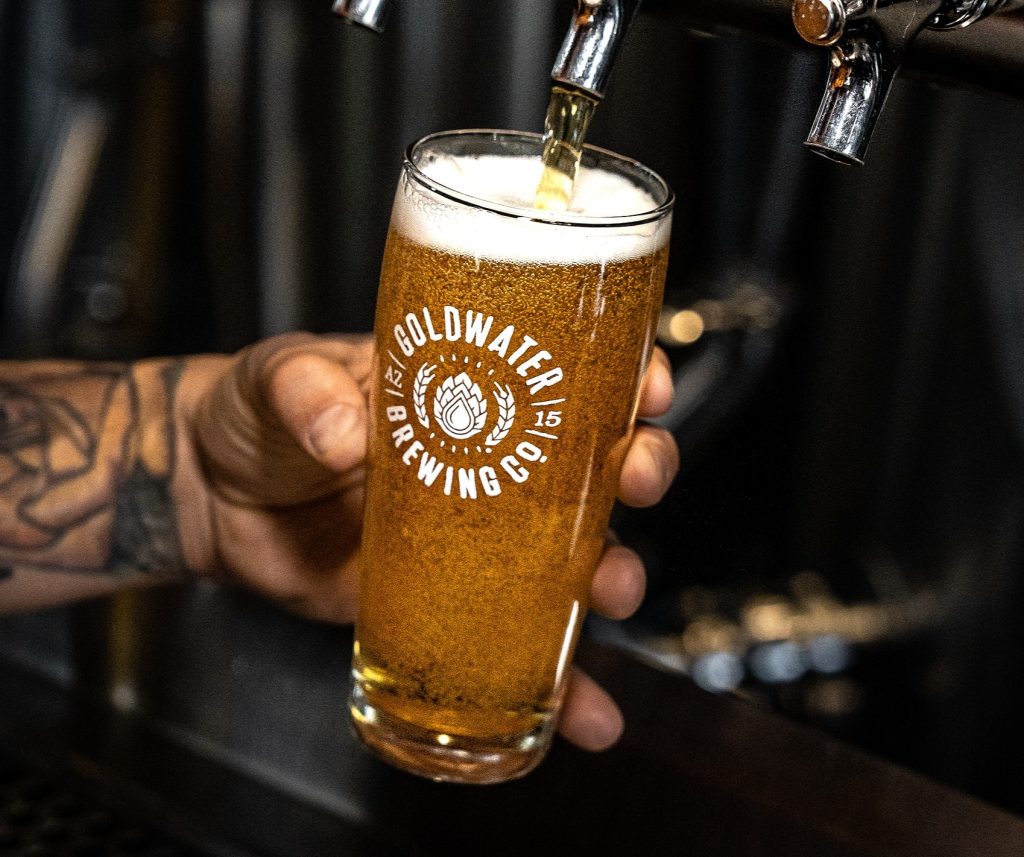 Beyond the convenience factor of being just a quarter-mile from Scottsdale Stadium, Goldwater Brewing also happens to be one of The Valley's most respected breweries. Opened in 2016 by a pair of brothers who grew up homebrewing with their father before bringing their old man's vision for a family brewery to life, it is installed in a corrugated metal building on the business' namesake boulevard. That space led multiple previous lives as a garage, feed store, auction house and firearm supply outlet.
A nutty, biscuity GABF bronze-medal-winning American brown ale called Machine Gun Teddy pays homage to the building's gun-store past, while Goldwater's most popular beer, Hop Chowda NEIPA, celebrates modern-day trends with lemon, melon, peach, and mango hop expression. Desert Rose Cactus Kölsch is a prickly-pear-infused revival of one of dear old dad's 1989 homebrew recipes while West Coast IPA, Birthday Suit, harkens back to the early-2000s with Chinook-borne overtones of orange and Douglas fir. Enjoy any or all of the above from a copper-topped bar with a brewhouse view or a sunny outdoor patio with a second-story perch.
O.H.S.O. Brewery, which operates five locations, including its original nanobrewery in east-Phoenix's Arcadia neighborhood, a distillery in Scottsdale, and a concession inside Sky Harbor Airport, is widely credited as the innovator of the multiple location approach a number of the region's brewing companies have emulate. Quality has been key to that model working for O.H.S.O., which has been crafting consistent beer running the stylistic gamut since 2011.
East Phoenix Breweries
Wren House Brewing, 2125 N 24th St; Tombstone Brewing, 3935 E Thomas Rd; O.H.S.O. Eatery & Nanobrewery, 4900 E Indian School Rd
Scottsdale Breweries
Goldwater Brewing – Scottsdale, 3608 N Scottsdale Rd; Fate Brewing – Tempe, 1312 N Scottsdale Rd; O.H.S.O. Brewery & Distillery, 15681 N Hayden Rd, #112
TEMPE
Ballpark: Tempe Diablo Stadium (Los Angeles Angels)
A whopping half-dozen breweries are a short drive from Tempe Diablo Stadium, which is conveniently located just 10 minutes from Sky Harbor Airport. The following are the finest of that sextet.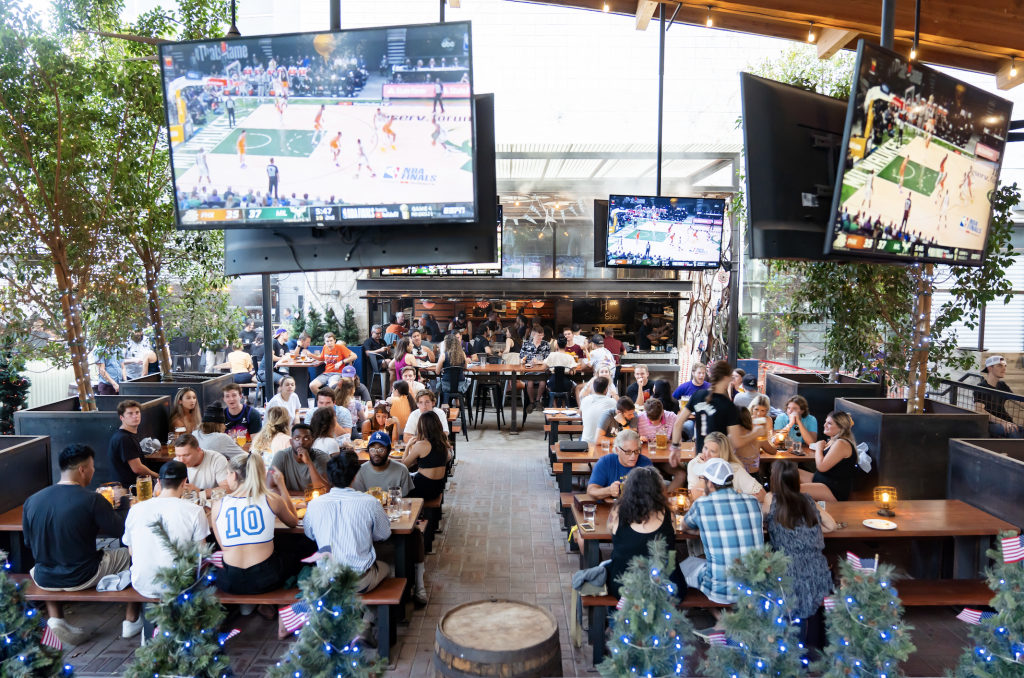 With a motif celebrating bikes and beer Pedal Haus Brewery is the king of The Valley's multi-venue beer companies. A trio of well-appointed eateries (with a fourth on the way, see below) offer eclectic food menus with extensive gluten-free and vegan options, plus Wednesday Pretzel Fests (brewer's boards and steins of beer) and English breakfasts on the weekend. As if that weren't enough, brewing operations are directed by The Valley's most respected fermentationist, a kindly 25-year veteran that local brewers call whenever they have questions or need a hand.
Pedal Haus is best known for its lagers, and they are outstanding. A German-style pilsner is crisp and clean, while two typically ho-hum styles, a Mexican amber lager and a light lager dubbed Day Drinker (a 2017 GABF silver medalist), are stunners worth writing home (or a travel article) about. Equally impressive and well-suited for the region's trademark dry heat is a lemony witbier called Bière Blanche that took top honors at GABF in 2018. On the hoppy end of the spectrum, the "haus" IPA conveys big citrus flavor and evergreen undertones, while hazy cousin, White Rabbit, tastes of pineapple and papaya with a touch of coconut from Sabro hops.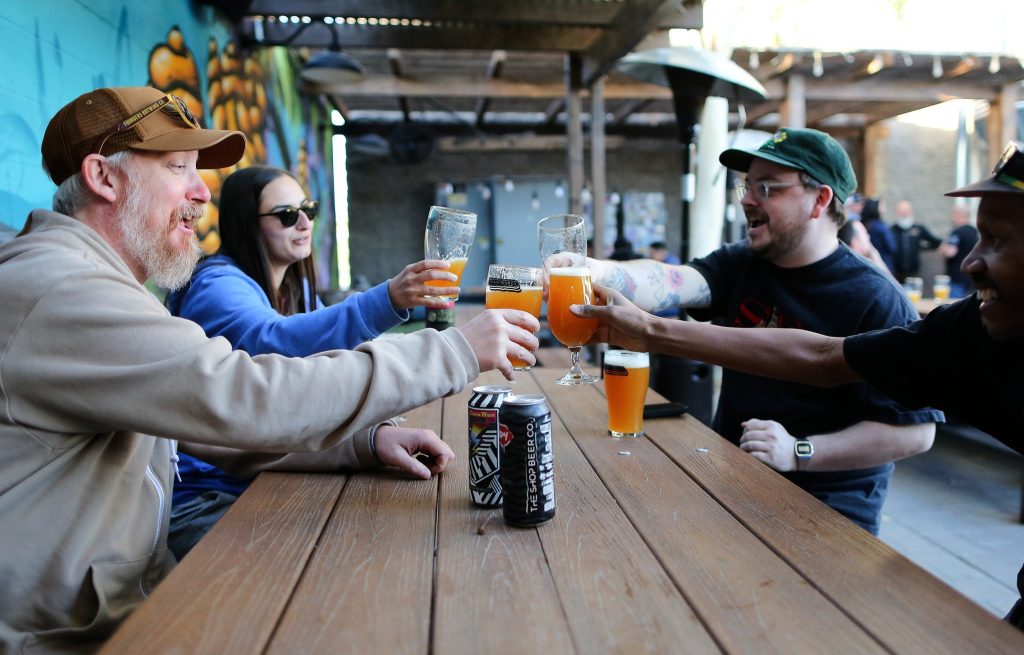 Tempe is also home to The Valley's fastest-growing brewing company, The Shop Beer Co., which started as a side project of entrepreneurs brewing beer as a value-added for their chain of coffee venues, then evolved into an undeniable passion meriting its own entity. In 2016, the trio took over a small historic house, updating its interiors while preserving its domestic warmth, and fashioning a large courtyard with an abundance of seating options and colorful murals building on the brewery's eclectic, lighthearted branding.
The Shop's founders revel in brewing styles they haven't tackled before. As such, the ever-changing tap list usually has something for just about everyone. Low-ABV stars include a blonde rice lager named Crispy, Little Ditty Zwickelbier, and a dialed-in Berliner weisse called Was Ist Das (which is served with a shot of woodruff or other assorted syrups). Top-selling Church Music hazy IPA mimics pulpy OJ, while imperial IPA, F.Y.I.T.M. (pronounced "fight 'em"), is dank, citrusy, and unapologetically alcoholic. Meanwhile, fans of darker beers have high-octane, barrel-aged specialties to choose from along with a session-strength, low-roast nitrogenized nut-brown ale made with Central American coffee.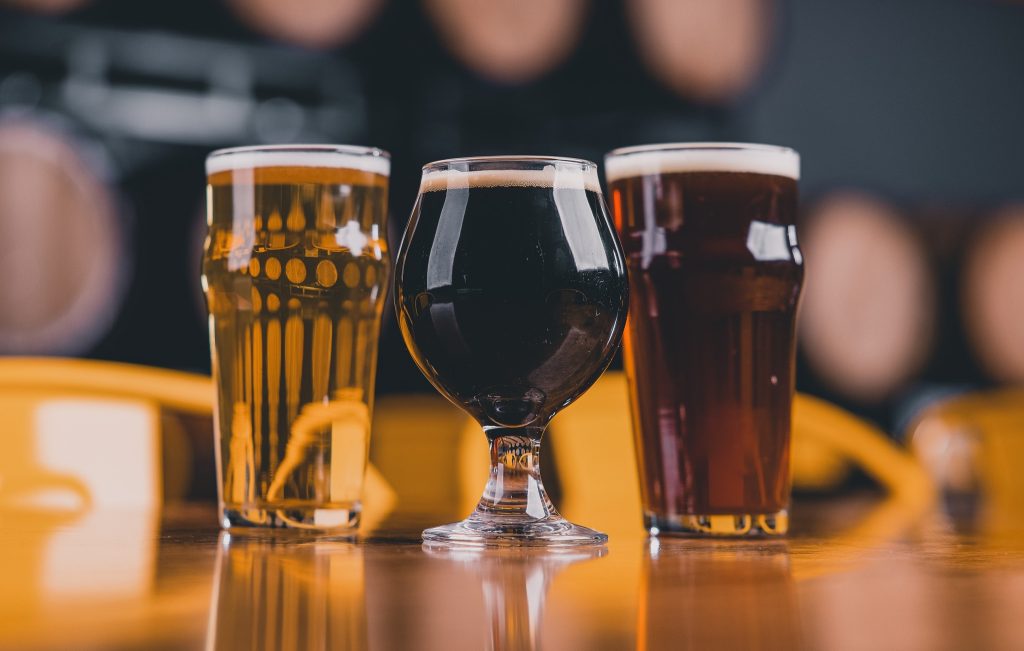 Fans looking for beer and a bite would do well to pay a visit to Fate Brewing, which is known for tasty shareables (flatbreads, jalapeño cornbread fritters, crispy wings), burgers, sandwiches, and mains (Hawaiian salmon, chicken tinga tacos, chili mac-n-cheese). Beer production is overseen by one of The Valley's longest-tenured veterans, who turns out hoppy fare like piney throwback, Fateful IPA, and citrus-forward double IPA, What Would Jesus Drink? On the opposite end of the spectrum is a nutty, chocolaty Candy Bar Milk Stout and the GABF bronze-winning Hatch Chile Gatos golden ale.
Tempe Breweries
Pedal Haus Brewery, 730 S Mill Ave, #102; The Shop Beer Co., 922 W 1st St; Fate Brewing – Tempe, 201 E Southern Ave, #111; Huss Brewing – Tempe, 1520 W Mineral Rd, Ste 102
MESA
Ballparks: Hohokam Stadium, Mesa (Oakland Athletics); Sloan Park, Mesa (Chicago Cubs)
Not only is Mesa home to two ballparks. The easterly city is also experiencing explosive growth best illustrated by its downtown area. Main Street (which is easily accessible by Valley Metro light rail system) boasts a trio of breweries and the storied Chupacabra Taproom. The latter is installing a brewery on Main, as is Pedal Haus Brewery (ETA: 2024). Those new additions will combine with existing ale-and-lager venues, a cidery, and coffee roasters to establish a formidable artisanal-beverage hub with the highest concentration of breweries located within a mile of one another in all of Arizona.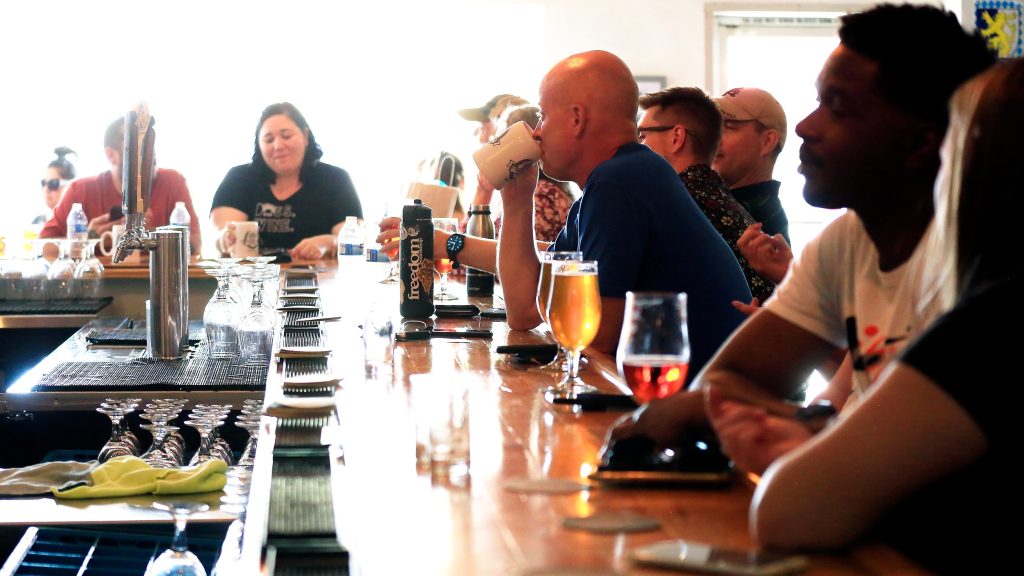 The reigning champion of Mesa's beer scene is Oro Brewing. Described by many as a Cheers-like neighborhood bar, it's an endearing haven flush with world-class beer. Proof of that quality comes in the form of numerous awards earned at prestigious local, national, and international brewing competitions. Oro's head brewer, a Mesa native who cut his teeth at nearby SanTan Brewing and Flagstaff's Wanderlust Brewing, credits respect for stylistic parameters and constant recipe refinement as keys to racking up all those accolades.
2022 was a big year for Oro. Not only was the company named the Brewery of the Year at the Arizona Craft Beer Awards. The business also nabbed WBC silver for its vibrant tangerine wheat ale, Trigo Suave, and a GABF gold medal for Café Oro. The latter is a coffee blonde ale that smells like walking into a Starbucks but exhibits great restraint with light roast and subtle java character. Both of those award-winners are core beers, along with Boot the Brits hazy IPA (pineapple, peach), Saison d'Oro (jasmine, lemon), and smoked foreign export stout Give Peat a Chance. Rotating brews skew heavy into U.K. territory, but also include lagers such as a seasonal kölsch called "I Wish I Was a Cool Kid", which is released each year at the onset of Spring Training.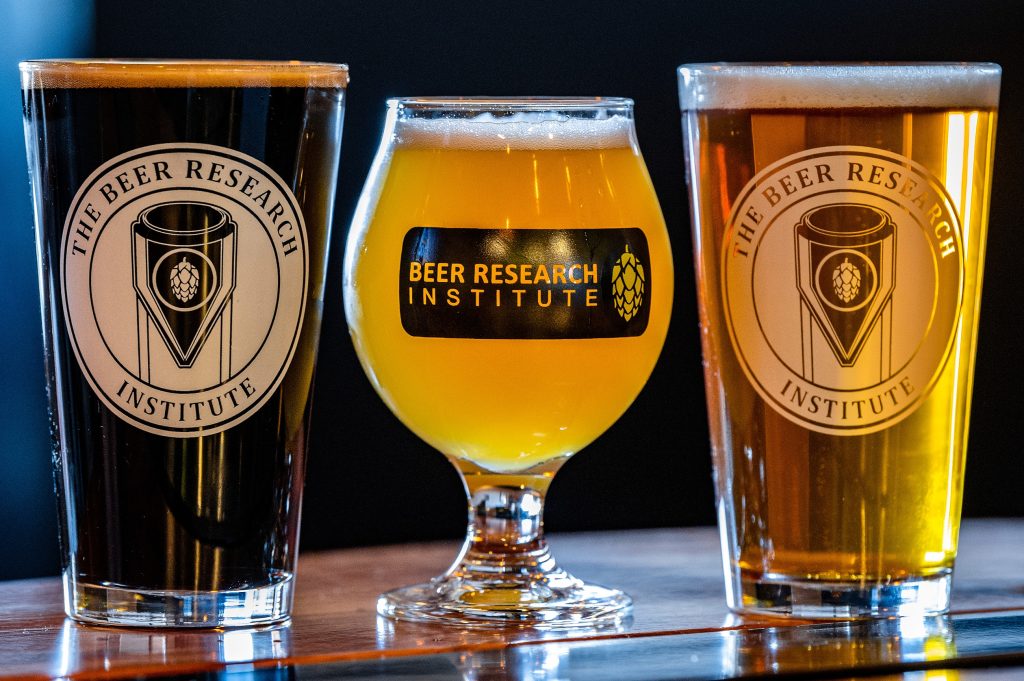 Crossing Main Street will take you from gold (Oro) to gold-colored tokens at a combo taproom and arcade from Mesa's Beer Research Institute (BRI). Packed with more than 50 vintage video-game cabinets and pinball machines, it bleeds nostalgia, as does the Amarillo- and Simcoe-hopped house IPA, 480G, with its old-school flavors of orange candy, resin, and grapefruit rind. More Old-World than old-school is Lolli, a Belgian-style blonde ale with entrancing floral and kitchen-herb (thyme, marjoram) notes and an imperial ABV (8.2%) that will sneak up on you if you're not careful. Consider tempering your session with the lower-alcohol, almost-year-round house Märzen, Unnecessary Ümlaüts, or add food to the equation at BRI's brewpub just off Interstate 60, where all the same beers are on tap.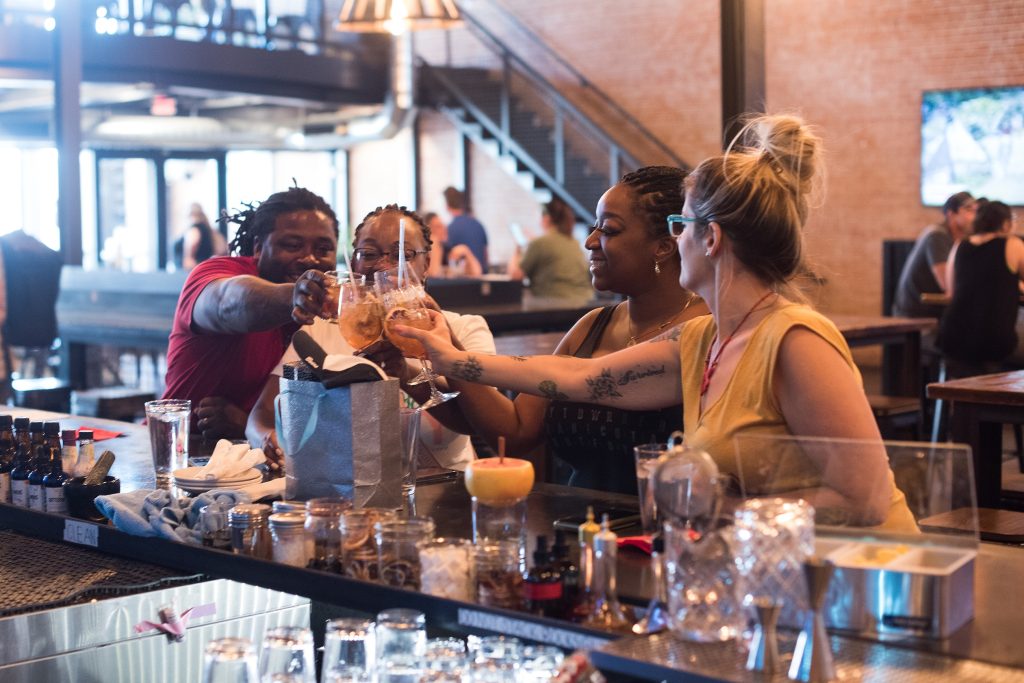 Another quality beer-and-food option is 12 West Brewing, a king-sized red-brick hall restaurant with multiple bars, a mezzanine, shaded patio, and subterranean craft-cocktail speakeasy dubbed Downtown Underground. While there's a lot more than beer going on here, the house ales and lagers are solid. The tap list changes with great regularity, but consistently speaks to current consumer trends, with orangey, catty Front Side West Coast IPA, and pineapple-cocktail stand-in, Cirrus Haze NEIPA sharing space with easy-drinking lagers, kettle-sours, over-the-top stouts of the pastry and barrel-aged ilk, and occasional oddities like Gummi Frenzy, an IPA brewed with gummi sharks. Baseball Fan Bonus: 12 West is the official post-game home of the Oakland A's and operates a beer deck at their spring-training venue, Hohokam Park.
Mesa Breweries
Oro Brewing, 210 W Main St; BRI Taproom & Arcade, 213 E Main St; 12 West Brewing – Mesa, 12 W Main St; Beer Research Institute, 1641 S Stapley Dr
WEST VALLEY
Ballparks: Peoria Sports Complex, Peoria (San Diego Padres, Seattle Mariners); Surprise Stadium (Kansas City Royals, Texas Rangers); Goodyear Ballpark, Goodyear (Cincinnati Reds, Cleveland Guardians); Camelback Ranch, Glendale (Chicago White Sox, Los Angeles Dodgers)
While the west side is home to nearly half of Major League Baseball's spring-training venues, it is far lighter on local breweries. Craft beer hasn't taken off as it has in and east of Phoenix, but there are still some reliable spots for pre- and post-game suds.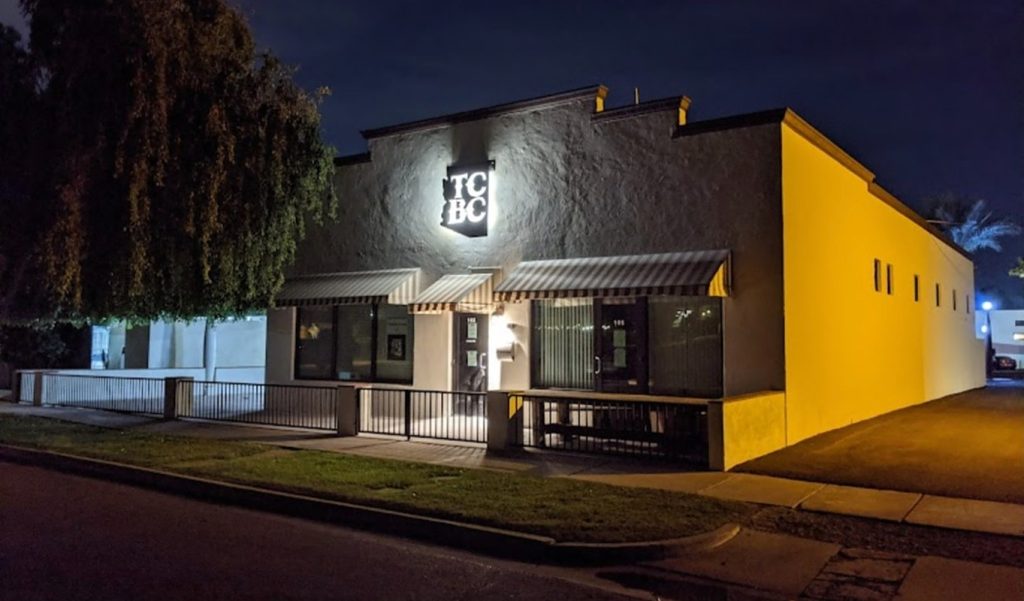 For fans driving in from the west on Interstate 10, Saddle Mountain Brewing is the first chance for local beer, and a fine one at that. Located two miles north of Goodyear Ballpark, the brewpub offers a menu of decadent bar food with house-made corned beef, pastrami, beer cheese and chile verde. It also has one of the most awarded beers in Arizona, or anywhere. That Scottish-style ale, Taildragger Clan-destine, struck GABF gold three years in a row from 2017 to 2019, then again in 2022, while also earning a silver at the 2018 WBC. This overachiever fits in nicely with a beer board largely populated with U.K., German and Belgian styles.
Further north in Litchfield Park, five miles west of Glendale's Camelback Ranch ballpark, is an off-the-beaten-path brewery worth finding called Transplant City Beer Co. (pictured above). Neon-colored paintings of rock-and-roll icons brighten up an intimate space frequently filled with regulars who've fallen for this house of West Coast-inspired ales and lagers over its half-decade in business. Cashmere's Beards IPA bursts with flavors of papaya, orange and lemon-candy, while a black IPA called Booze Hound (which has a coconut-infused sister beer) layers hop-derived citrus and pine over a deep, roasty backdrop. Lagers, fruited sours and darker ales are also available along with "beermosas" and wildly popular from-scratch micheladas made with guests' choice of different house beers.
Up in Peoria, a born-and-raised native of that community has spent seven years building a following for his family business, Richter Aleworks. From the get-go, he wanted to stay small and concentrate on servicing his neighbors. He also wanted to brew mostly U.K. styles and serve a number of them in firkins, but listening to his clientele led him to deviate from that plan to the point where over a four-year span he never brewed the same beer twice. Regulars' favorites include a sour ale called Disco Superfly, Mad Villainy IPA and Schnitzngiggle pilsner, plus an assortment of multi-colored hard seltzers. (NOTE: Unless equipped with a very thick skin, this spot is not recommended for Dodgers fans.)
West Valley Breweries
Saddle Mountain Brewing, 15651 W Roosevelt St, Goodyear; Transplant City Beer Co., 103 W Honeysuckle St, Litchfield Park; Richter Aleworks, 8279 W Lake Pleasant Pkwy, #109, Peoria
NORTH PHOENIX
Though there are no ballparks located in Phoenix's northern expanses, a trip there will provide a taste of what some of the Valley's newest breweries are adding to the beer scene.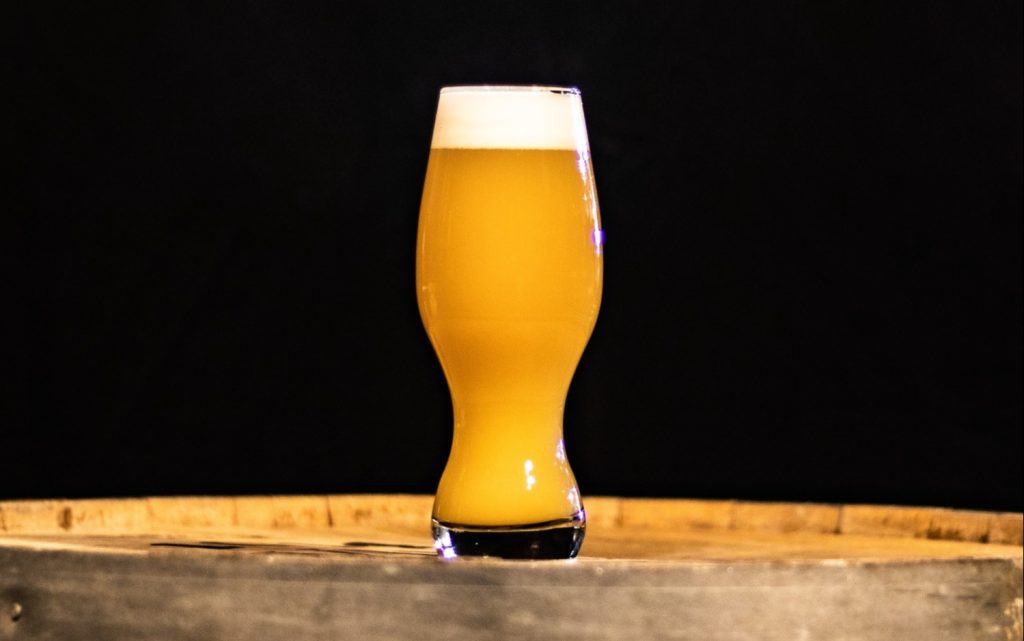 The current darling of the new-kid class is Kitsune Brewing, a black-owned business with a motif honoring Japanese culture and a beer menu leaning heavy into cutting-edge styles such as a weekly-released series of smoothie sours that typically sell out less than 24 hours after hitting the tasting room's quartz-backed taps. On the more traditional side, Shuna Shuna rice lager and Galaxy-, Mosaic- and Citra-hopped flagship NEIPA Forager win high marks.
Before opening a brick-and-mortar last year, Kitsune contract-brewed at Simple Machine Brewing. That three-years-young business took over a Deer Valley auto shop, converting it into a brewery with a sprawling taproom and dog-friendly patio. NEIPAs (including Helical Haze, pictured above, and 7th Inning Quench, a haze-bomb brewed especially for Salt River Fields ballpark) built a name for the business, which has delved into lagers in a big way of late, producing crisp, refreshing fare like thirst-quenching American light lager, Blueprint.
The first Valley suds stop for travelers driving in on Interstate 17, Front Pourch Brewing has been wowing beer fans since 2019. This product of North Phoenix residents who purposely bucked the trend of opening a brewery in a densely populated urban neighborhood has formed a connection with denizens of Norterra, Cave Creek, and Anthem who are happy to have Front Pourch's dichotomic mix of easy-drinking sunny-day beers and high-gravity ales as their local options.
Shuffleboard, cornhole and arcade games up the atmosphere at minimalistic neighborhood brewery, Lake Pleasant Brewing, where an assortment of IPAs (West Coast, New England, rye) are augmented by all manner of German beer, quick-sours, and whatever else the brewing team finds themselves in the mood to create. During their first year in business, that crew has won over their local industry contemporaries in a big way.
North Phoenix Breweries
Kitsune Brewing, 3321 E Bell Rd, Ste B-5; Lake Pleasant Brewing, 1950 W Rose Garden Ln, #130; Simple Machine Brewing, 701 E Deer Valley Rd, Ste 1; Front Pourch Brewing, 1611 W Whispering Wind Dr, #7