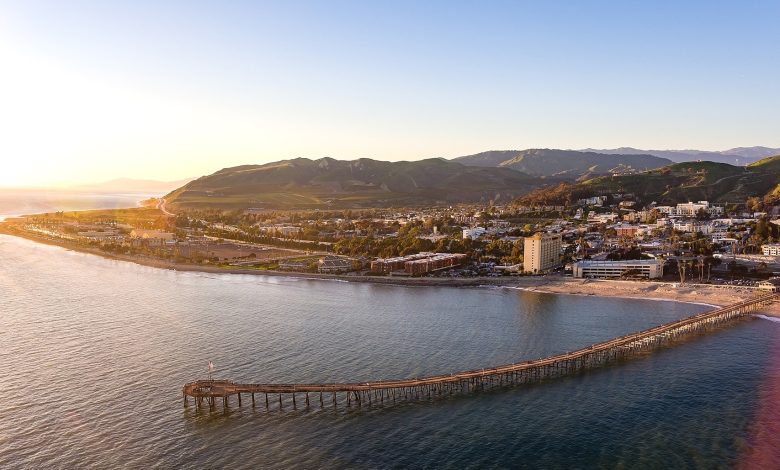 Sandwiching a stretch of U.S. 101 between La La Land and Santa Barbara is the city of Ventura. A somewhat quirky, fully conscious coastal community, its beachy vibes lend light and texture to a thriving art culture, the vibrant colors of which have bled into a burgeoning local-beer scene. Headed by a pair of young, fast-growing flag-bearers, Ventura's close cadre of craft breweries have a great deal to offer, from surf-and-sand-friendly lagers to hop-forward ales and even USDA-certified all-organic brews. It's SoCal-style suds sans big-city hustle and bustle.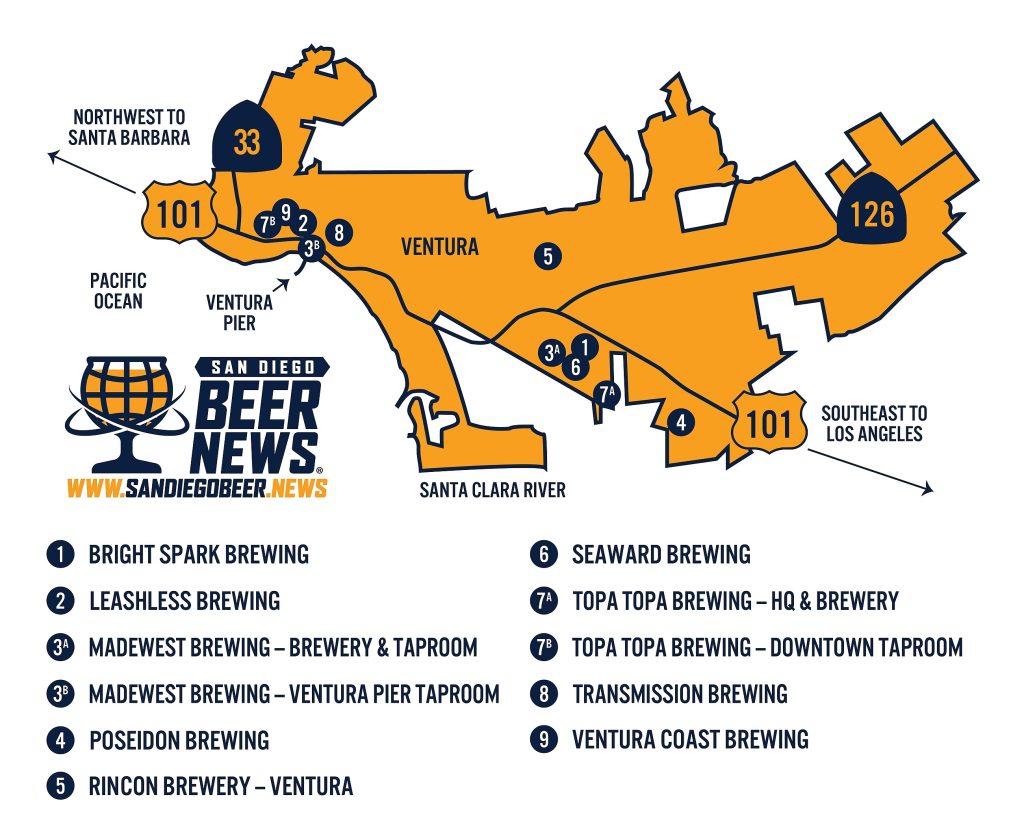 BREWERIES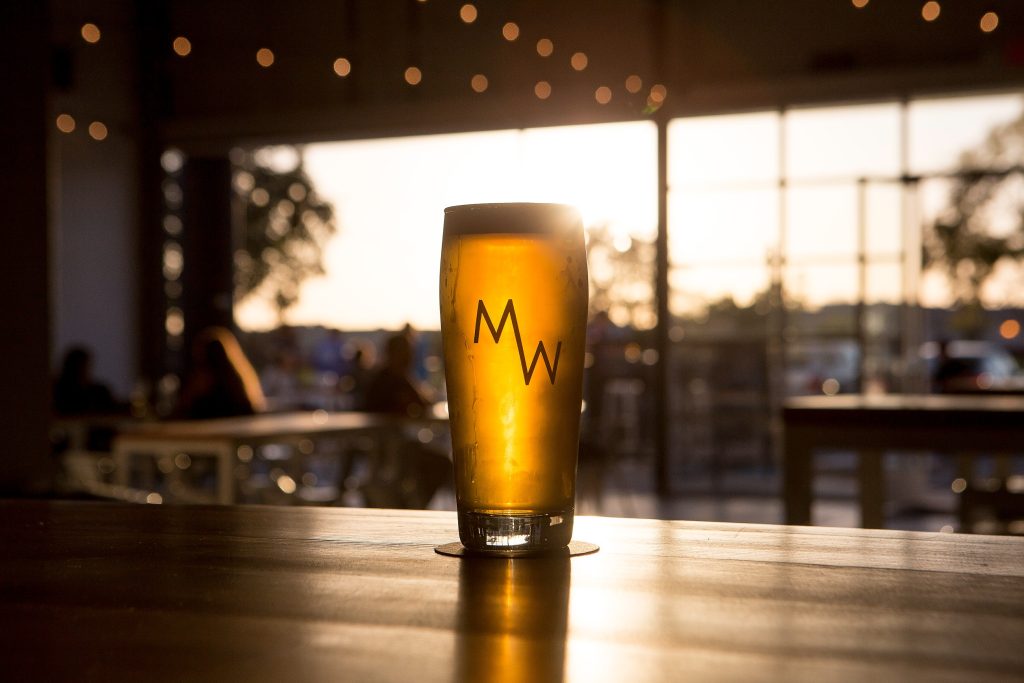 MadeWest Brewing
Brewery & Taproom: 1744 Donlon St | Ventura Pier Taproom: 668 E Harbor Blvd
The first business to bring a sizable, distribution-geared brewery to Ventura, MadeWest was founded by natives Seth Gibson and Mike Morrison, friends since childhood who attended college together at San Diego State. While in that craft-beer mecca, they developed a passion for homebrewing and befriended staff at the iconic Home Brew Mart (the business that birthed Ballast Point Brewing), including future pro brewers who shared invaluable advice with the duo when they returned home to build their brewery.
MadeWest has gone on to win prestigious awards while opening an ocean-view taproom on the Ventura Pier featuring a minimalist, modern motif with whimsical black-and-white cartoon art punched up by the company's colorful cans. Similar art, including a diagram of the beer-production process, adds character to the tasting room at MadeWest's industrial-park headquarters, while a wrap-around sail-shaded deck allows for imbibing in the salt-water breeze.
Pronounced hop presence and restrained bitterness are what MadeWest beer is all about. That MO is best illustrated by flagships Pale (pineapple, guava, orange pith), IPA (tangerine, peach, resin) and a thiol-rich hazy dubbed Jawing (intense pineapple, mixed citrus). Thoughtful craftsmanship extends to everyday styles ranging from Ventura Light, a crushable everyday drinker with far more flavor than its archetypal contemporaries, the verdant and lemony Standard Blonde, and Waxing and Waning, a flawless Bohemian pilsner with a hint of mint that, like its blonde sibling, struck gold at the 2020 Great American Beer Festival (GABF).
Standout Suds: Waxing & Waning, Czech-style Pilsner
Pro Tip: Come January, MadeWest rolls out various anniversary events featuring specialty beers, live music and more.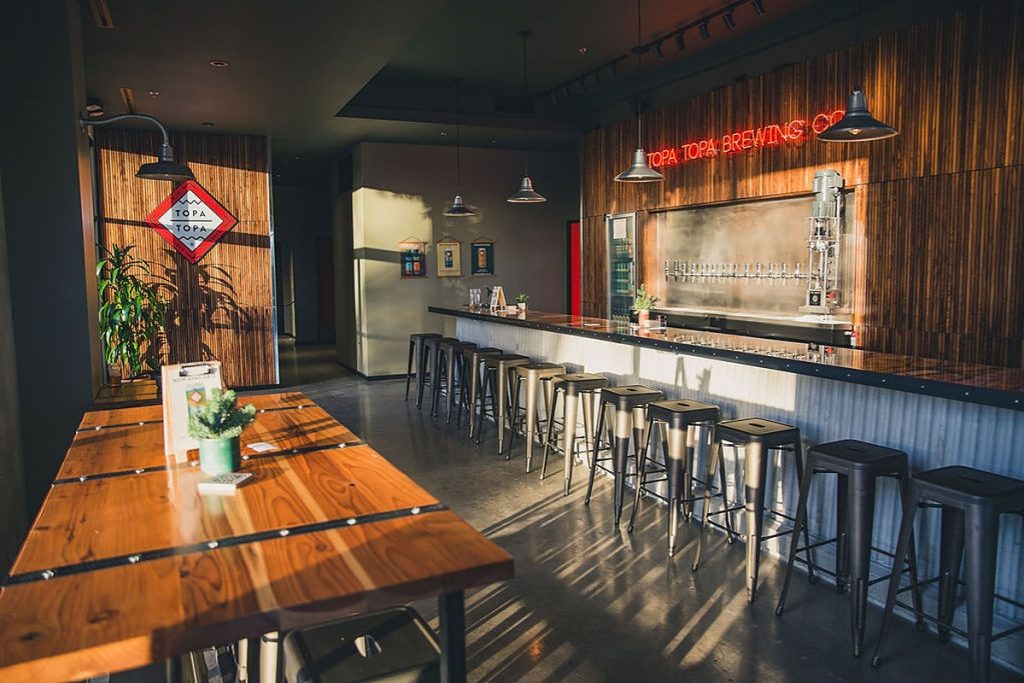 Topa Topa Brewing
Ventura HQ & Brewery: 4880 Colt St | Downtown Tasting Room: 104 E Thompson Blvd
In 2015, a pair of San Diegans that included a Stone Brewing up-and-comer, relocated to Ventura to open a small but mighty brewery on the south edge of downtown. Their aim was to become a regional powerhouse and they've succeeded, making a name for their Topa Topa Brewing beyond their home base through out-of-market distribution and establishment of satellite taprooms in Santa Barbara, Camarillo and Ojai.
Along the way, they took over a former Patagonia warehouse, transforming it into a stylish wood-and-metal tasting room with an offshoot arcade and a sprawling, oasis-like outdoor area with a raised patio, drought-tolerant landscaping, shaded picnic tables, cornhole and a bar fashioned from shipping containers. In addition to a variety of fundraisers supporting community causes, Topa Topa's HQ is the site of seasonal keystone events, including its June Anniversary Party and autumnal OkTOPAfest.
Galaxy-driven flagship West Coast IPA, Chief, earned Topa Topa its fast fan base, but its extensive tap-list goes beyond hoppy styles to display wide-ranging proficiency. Mexican-style lager Dos Topas garnered GABF silver last year, Citra hops bring depth to a crystal-clean lager made with jasmine rice called KQ Express, and a citrusy "pub ale" served on nitro is a favorite of brewers across Ventura. Other GABF award-winners include the wood and orange-candy Level Line Pale Ale (gold) and a chocolaty, slightly leathery schwarzbier named Dozer Line (silver). The latter is brewed each August in honor of a local firefighter who lost his life in a motorcycle accident.
Standout Suds: Dos Topas Mexican-style Lager
Pro Tip: With 24 taps it can be hard to decide what to drink. Ask the bartenders what they're excited about to access the latest and greatest.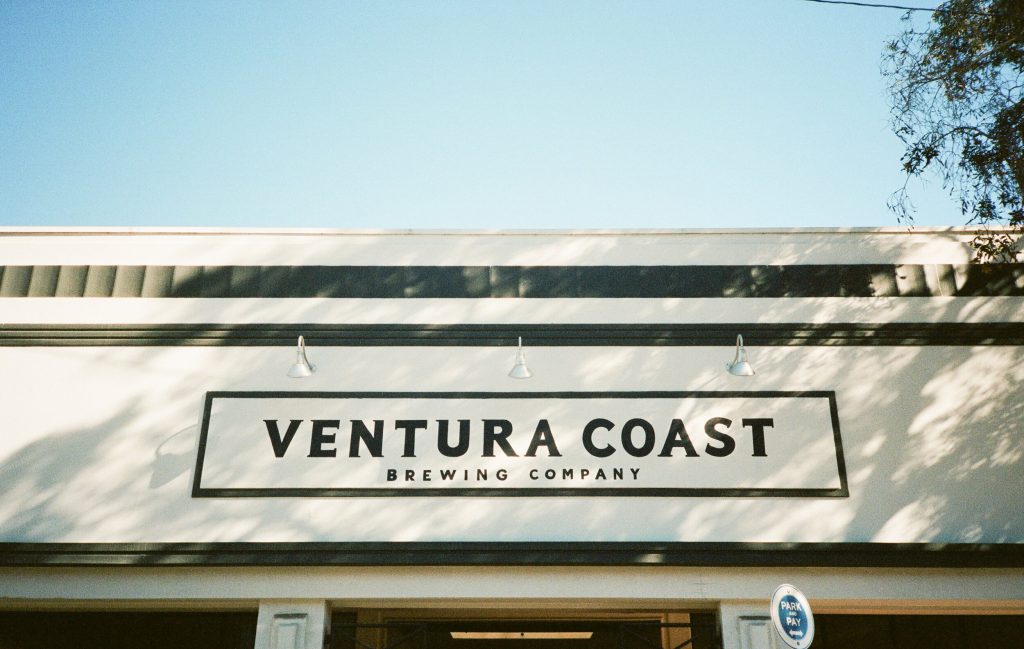 Ventura Coast Brewing
76 S Oak St
Ventura local Kyle Thille made it his mission to provide his beloved hometown with an approachable brewery where locals could enjoy unpretentious beers over conversations with friends and neighbors. The brick-and-mortar embodiment of that ambitious goal, Ventura Coast Brewing (referred to as VCBC in town), opened in 2016 and has become one of its namesake region's most popular beermaking operations.
Eighteen taps dispense a varied lineup incorporating rotating West Coast and hazy IPAs with a blonde and pale, plus of-the-moment dark, mid-level malty and fruited sour ales. VCBC has done very well for itself at GABF. Gold-garnering Beachscape American pilsner is the perfect start to any VCBC visit, while silver-winner Raspberry Plum Sour's salted-fruit character and rose-water nuance are uniquely delightful. Silver-medalist Neighborhood Pale Ale has an evergreen bouquet with notes of oregano and sage giving way to a piney palate, while NEIPA Mono Loco smells of pineapple and marjoram and tastes like tangerine, passionfruit and lemon thyme.
Soft wood and plant life perk up the black-backed bar in the main tasting room. Additional seating is offered in an abutting sunroom and outdoor patio that is most patrons' preferred imbibing option during the sunny months (i.e., most of the year). VCBC hosts a number of art-centric events, including fundraisers for charities and causes, many of which are nominated or headed by brewery customers.
Standout Suds: Beachscape, American Pilsner
Pro Tip: Stop by during quarterly "pint-sized art shows" where patrons can vote on potential designs to adorn VCBC beer cans.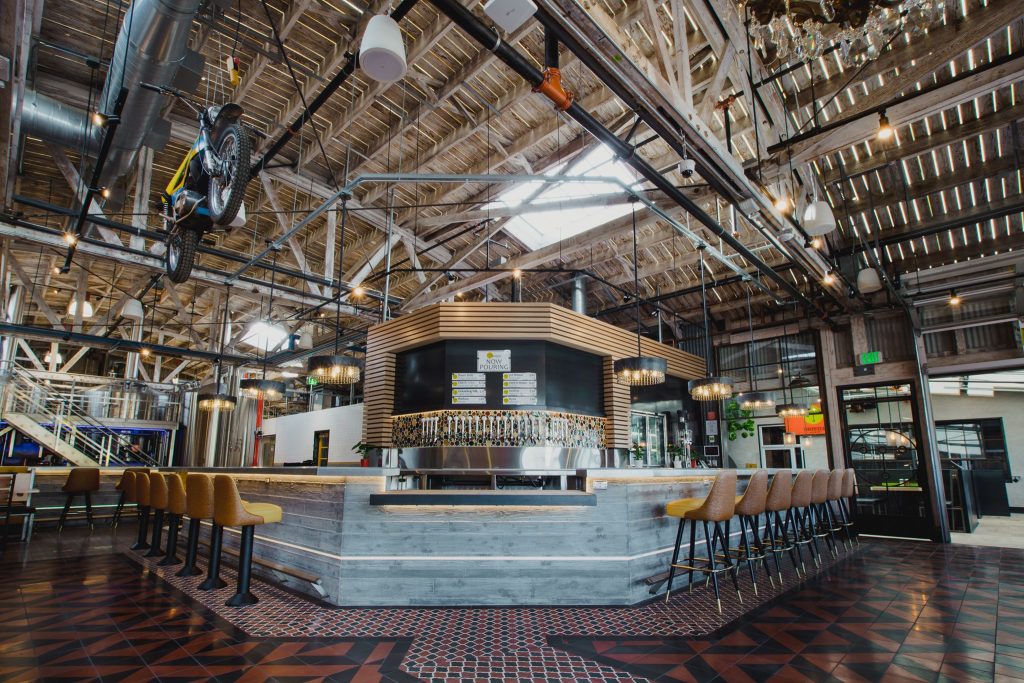 Transmission Brewing
1098 E Front St
In 2019, the family behind popular local chain, Topper's Pizza, installed Transmission Brewing in the shell of an old auto shop next door to its bustling downtown location. Items speaking to the building's previous life, the most obvious of which is a dirt bike suspended over the bar, mesh with modern elements (wooden slats, tilework, chandeliers) at this beautifully appointed venue offering an abundance of seating options, from booths and a club-like back lounge to barstools and tables bathed in natural light.
Co-founder and Head Brewer Carey Jonker's "shift perception" MO aims to add complexity to styles primarily known for their easy-drinking nature. Examples include Transmission Light, a rice lager with a honeysuckle aroma that took a World Beer Cup bronze and a Mexican lager brewed with lime and Pacific Ocean sea salt called Sal Buena Limetura. Rife with toasted hazelnut notes, Mudflap is a bold take on a brown ale, while the piney, caramely Redline is a punchy, old-school imperial red ale (AKA: "red IPA"). Pales and IPAs are also well-crafted, as are seltzers made with real fruit such as pixie tangerines from nearby Ojai.
With the brewery established and thriving, Jonker and his family have moved to expand their hospitality compound, which extends from the shared courtyard between Topper's and Transmission to a spiral staircase leading to a sky bar with panoramic views of Ventura and the Pacific. Currently in the works is a large open-air outdoor-entertainment area that will lend yet another facet to this already amenity-rich locale.
Standout Suds: Sal Buena Limetura, Mexican-style Lager with Lime and Salt
Pro Tip: Don't sleep on the refreshing slushie-style house Margaritas, which use Transmission's hard seltzer as a base.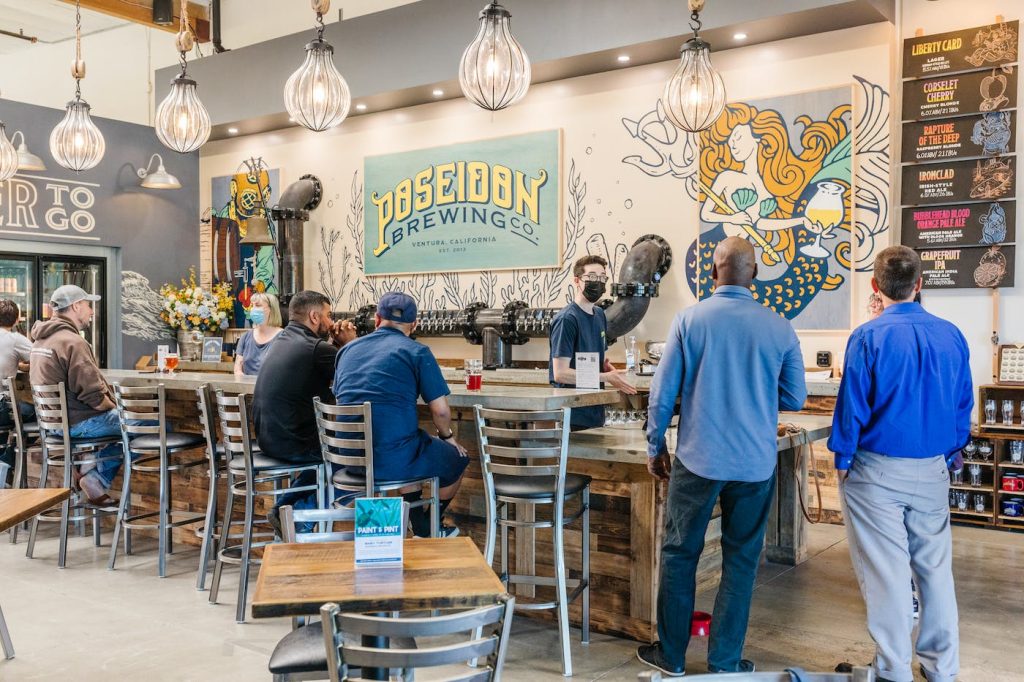 Poseidon Brewing
5777 Olivas Park Dr, Unit S
It was nearly a decade ago when retired Navy Sea Bee Brian Oliver debuted one of Ventura's first breweries in a southerly industrial park. Founded on the motto "ales with depth", its hall-like tasting room is outfitted in a subaquatic thematic drawing on Oliver's undersea-construction background. Bulbous light fixtures hang from rope-tethered hooks, illuminating a bar backed by a nautical mural complete with Poseidon's mascot, a mermaid sporting a harpoon and a beer goblet.
Beers pour from a large pipe that looks as though it's been pulled straight from the hull of a freighter, while a wall of multi-colored placards tell of the corresponding ales and lagers flowing from that apparatus. Wide-ranging and in many cases quite adventurous, they are in line with Oliver's "screw it, brew it" motto. Those creations fit into base categories (e.g., IPA, dark, fruited) and series such as the Spindrift line of SMaSH (single-hop and single-malt) beers.
Locally sourced ingredients make it into a bright and bitter Grapefruit IPA, the nicely balanced Blue Barpoon blueberry-rhubarb blonde ale and a blood-orange pale ale dubbed Bubblehead. Though imported, Canadian Fanny Bay oysters lend a minerality that combines with notes of baker's chocolate to make Sea Warrior Stout sing. Also impressive is the deep-caramel Sea Monkey Scottish Red and a piney 100% Cascade wet-hop IPA. Almost anything can be found on tap at any given time, and specialties (including barrel-aged beers) are released as part of special events, including Brews & BBQ, Oktoberfest and "12 Casks of Christmas".
Standout Suds: Sea Warrior, Oyster Stout
Pro Tip: On Thursday, active-duty military and Armed Forces retirees receive a 10% discount, while beer-industry vets get 15% off on Tuesdays.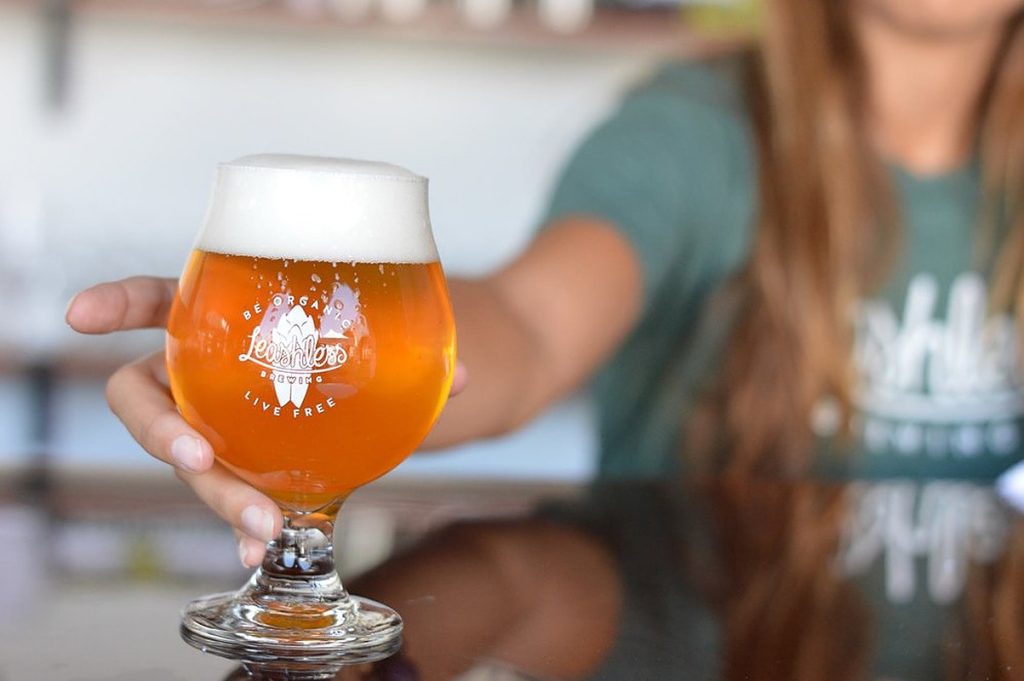 Leashless Brewing
585 E Thompson Blvd
Inspired by The Omnivore's Dilemma and Food, Inc. and guided by the belief that everyone should be able to enjoy good beer, John Gonzales opened Leashless Brewing in a circa-1920 Goodyear tire-repair shop in 2017. That historic structure's garage now houses a brewery and cellar pumping out all-organic ales, many of which are also gluten-reduced. Those USDA-certified brews can be sipped and savored in a vaulted-ceiling tasting room with a beachy, nature-driven motif salt-and-peppered with paraphernalia plucked from Gonzales' recreational pursuits—a surfboard, skateboard and paddleboard oar.
Leashless' tap list is split between Gonzales' beloved Belgian styles and the hoppy, hazy ales consumers crave. The former include a citrusy blonde ale, peppery saison, semisweet tripel and a floral, estery Belgo take on a pilsner. Hop-sect standouts include a pair of double dry-hopped West Coast IPAs, Beach Vibe (navel orange, mango, black tea) and V-Town (tangerine, pineapple), and a tropical, coconutty hazy dubbed Coco Man.
In addition to using all-organic ingredients, Leashless eschews Styrofoam and other unsustainable items, company-wide. Even its apparel and merchandise are made from organic cotton, hemp and responsibly sourced materials. Gonzales sees his business as a vehicle for advancing organic beer into an everyday product. It will take time and energy to make that happen, but he is in it for the long haul.
Standout Suds: Sunrise, Belgian-style Blonde Ale
Pro Tip: Enjoy organic beer with a side of live music on Leashless' outdoor patio, Friday through Sunday.
Seaward Brewing
1920 Goodyear Ave, D
Tucked away between tall buildings, Seaward Brewing's shaded picnic-table and cornhole-equipped patio area brings an unexpected après-ski air to the heart of a business park. Inside, vintage items—blown-up photos of the Seaward Pier of yesteryear and an arcade packed with '80's video-game cabinets—combine with coastal elements and a laidback staff to present a post-surf hang. At the heart of it all is one of the city's most nouveau tap lists, featuring multiple hazy IPAs, pastry creations and lagers, including lesser seen bottom-fermented fare like a Vienna-style lager and schwarzbier. It's a place for the youthful and young-at-heart.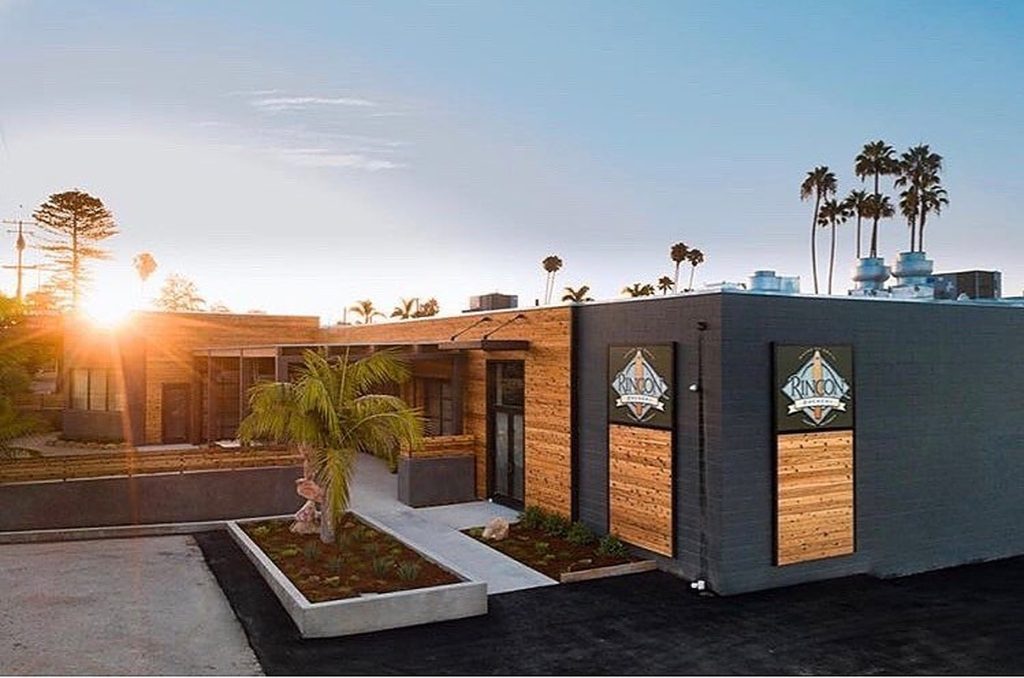 Rincon Brewery – Ventura
4100 Telegraph Rd
Opened in 2016, this is the lone brewery-owned venue in Ventura's northeast College Area and the largest of Carpinteria-based Rincon Brewery's three locations. A sprawling restaurant with a lengthy, inlaid-wood bar and roll-up doors giving way to a concrete patio, it's adorned with art and photography, sales of which benefit charities such as the Ventura Land Trust. Community-based efforts extend to fundraisers for local non-profits and the brewing of numerous charity beers. The tap list is lengthy and made up mostly of light-bodied lagers (Mexican, international, Bohemian pilsner), West Coast IPAs and hazies. Those brews are meant to pair with a menu of apps, salads, sandwiches and Southwestern fare.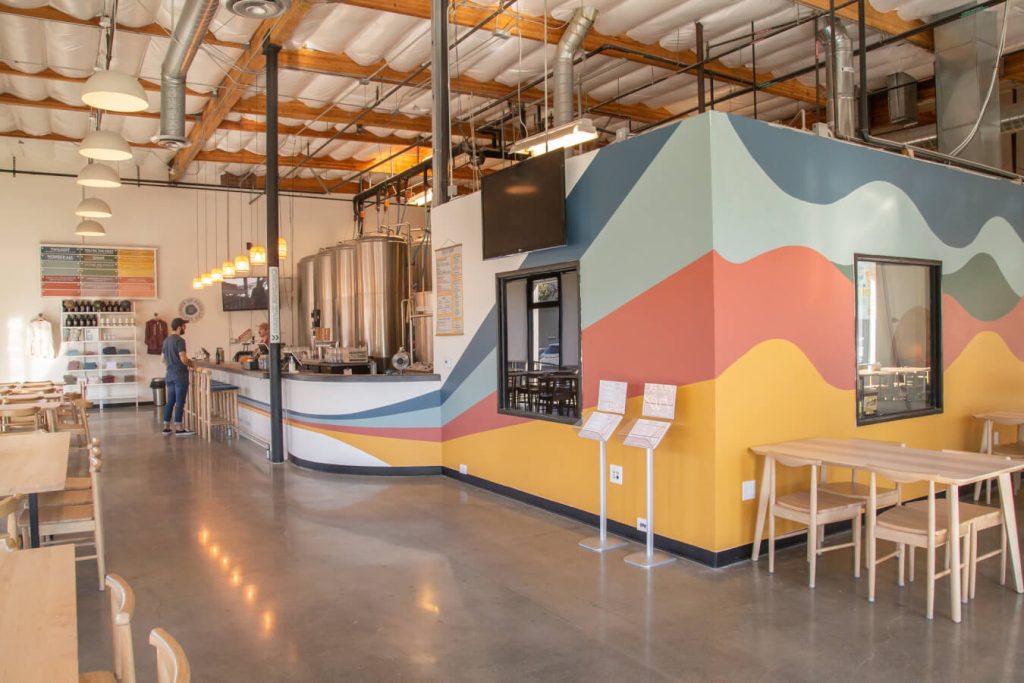 Bright Spark Brewing
4561 Market St
Ventura's newest brewery is one of its most stylish and family friendly. Installed in the longtime home of defunct Surf Brewing, Bright Spark is equipped with a book- and game-stocked kickback space called "the alley", a "solarium" seating area with outdoor views and a stage-equipped eatery serving up bar snacks and pizzas rimmed with deeply caramelized cheese. The latter are the pride and joy of co-founder Linzy Mahoney, the former publisher of Edible Los Angeles Magazine, while the beers (light lager, pale ale, IPAs, red rye ale and robust porter) are the work of her husband, Tim Harbage, who brewed for Rock Bottom, Golden Road, Smog City and Figueroa Mountain for 10 years before going into business for himself.
RECOMMENDED LODGING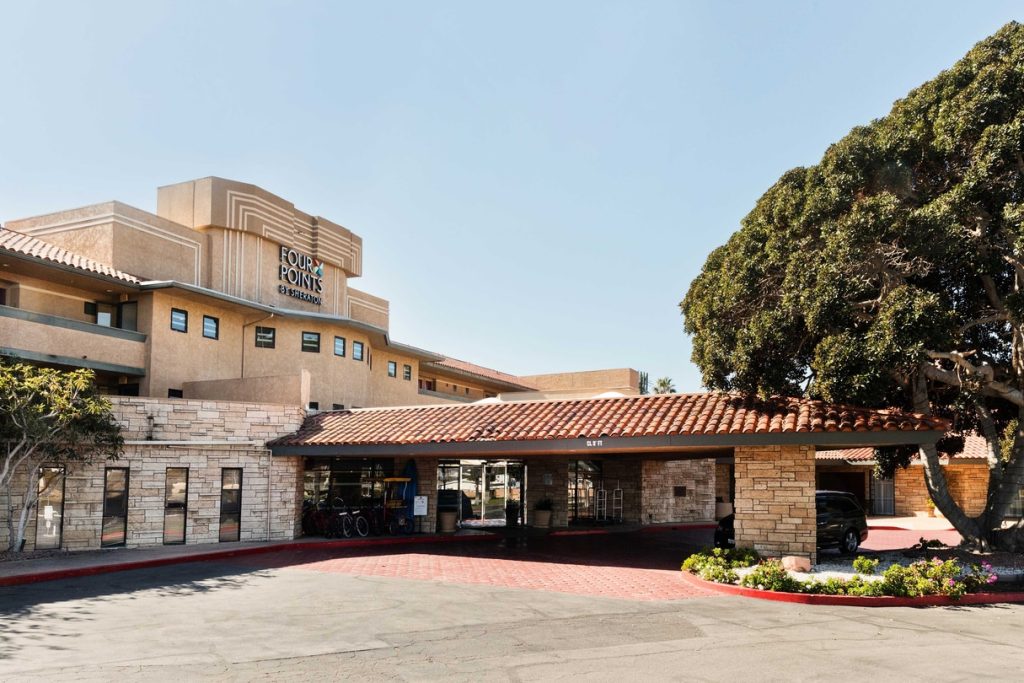 Four Points by Sheraton Ventura Harbor Resort
1050 Schooner Dr
With expansive, green grounds including a wealth of amenities (pool, jacuzzi, tennis and basketball courts) and a lobby bar serving up local beers, this is a welcoming harborside homebase that's equal distance from downtown's taprooms and the easterly inland breweries.
Amanzi Hotel
298 S Chestnut St
Crowne Plaza Ventura Beach
450 E Harbor Blvd
Ventura Beach Marriott
2055 E Harbor Blvd
Waypoint Ventura Vintage Trailer Hotel & Campground
398 S Ash St, Unite E