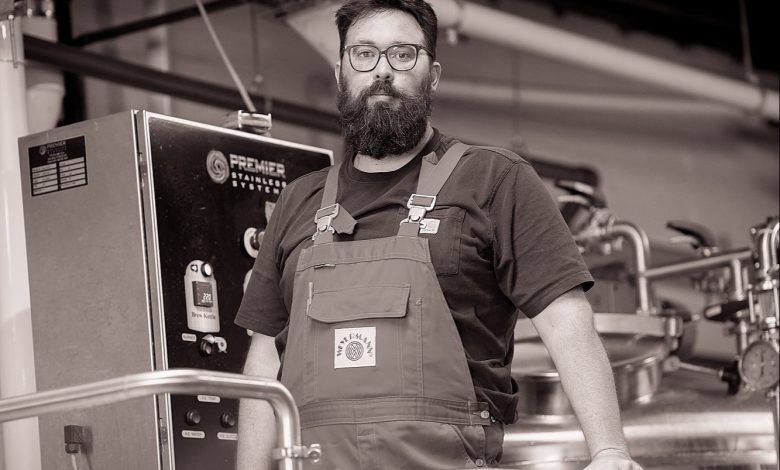 The idea for South O Brewing was born out of co-founder Trevor Whitehead's garage in the company's eponymous neighborhood. Less than two years later, the business, which is sited in a lease-to-brew Brewery Igniter at the corner of Morse Street and Coast Highway, is regularly packed with a lively neighborhood crowd. Whitehead and business partner, Joel Steinmetz, are happy with the foundation they have laid with an atmosphere that jibes with the community they so love and beers those locals appreciate. Yet with South O poised for growth and ready to take the next step, they believe it's time to evolve.
To date, South O's beer line-up has consisted mostly of traditional styles—IPAs and pale ales, lagers, fruited kettle-sours and stouts—but the partners want to venture out to the cutting edge to offer patrons a taste of more of-the-moment and experimental types of beers. To do that, they have made a change in the brewhouse, bidding adieu to original head brewer, Maurey Fletcher, and bringing on Kyle Boruff, an award-winning brewer from San Clemente-based Delahunt Brewing.
"While we believe South O has been heading in a good direction, we felt a change was needed," says Whitehead. "We've made small mainstays of core beers from our St Malo Pilsner and Graves House West Coast IPA to our Oside Bogan Australian Pale Ale, however, moving forward we will be keeping only a small portion of our menu and moving in a new direction that will include production of innovative and collaborative beers."
Ownership's drive to grow the company and expanding its offerings to include styles produced using fresh ingredients and contemporary brewing techniques was a key motivator for Boruff when interviewing with South O. So, too, he says, was the company's solid connection with the community; something that was important and rewarding for him, not only at Delahunt, but while gaining early industry experience working for brewing companies in San Diego's North County (Stone Brewing) and the Temecula Valley (Black Market Brewing).
"Being a part of the growing San Clemente beer scene was awesome," says Boruff. "It really brought me back to the early days in Temecula, where the brewers there seemed like a tight family."
Boruff has preexisting relationships and a positive reputation with numerous local brewers. With 16 other breweries, brewpubs and tasting room in his new home city of Oceanside, many of which regularly collaborate, there will be plenty of opportunities for him to add branches to his industry-based family tree.
For now, he is in the process of planning out new releases, which will include a West Coast Pilsner as well as a new extra pale ale. Both will utilize modern hopping techniques to extract maximum aroma and flavor.
"Kyle is a student of the industry, as he is always looking at the future and innovative concepts," says Whitehead. "He has brewed great, innovative beers and built strong relationships throughout the industry. We are very excited to be going in a few fun directions with South O and to have him leading that charge."
One of the first opportunities to try some of Boruff's new beers will be at the brewery's two-year anniversary, which will take place Saturday, December 2 at South O's tasting room. Tickets are available online.
South O Brewing is located at 1575 South Coast Highway in Oceanside