BREWERY GUIDES
BREWERY INFO
NEWS FEED
Little Italy Brewery Guide
Add local beer to the list of alluring food, art and cultural assets coloring one of downtown San Diego's most popular and walkable communities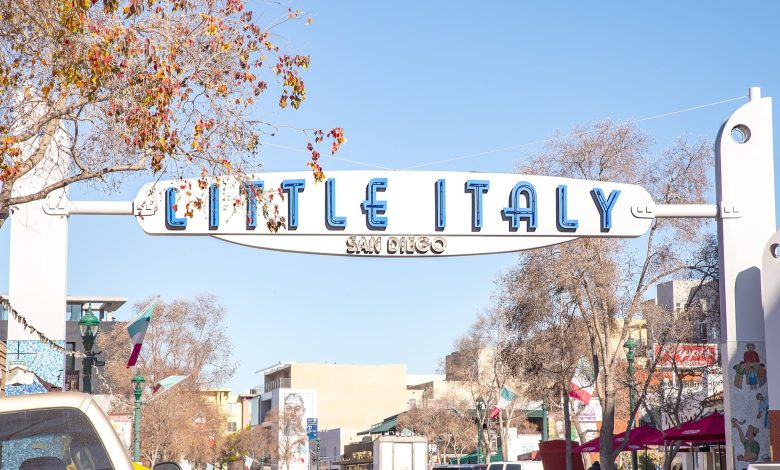 With eateries packing its walkable streets, downtown San Diego's Little Italy is a destination for local and out-of-town epicures. From pasta to osso bucco, negronis and vino Italiano, it's easy to get an authentic taste of the nation for which neighborhood is named. And thanks to a handful of brewery tasting rooms, it's just as easy to indulge in a purely San Diego drinking experience. So, whether you're en route to or from the airport, on the way downtown for a Padres game, or in Little Italy to take in its wealth of culture or perhaps peruse its Wednesday and Saturday farmers' markets, local craft beer options abound.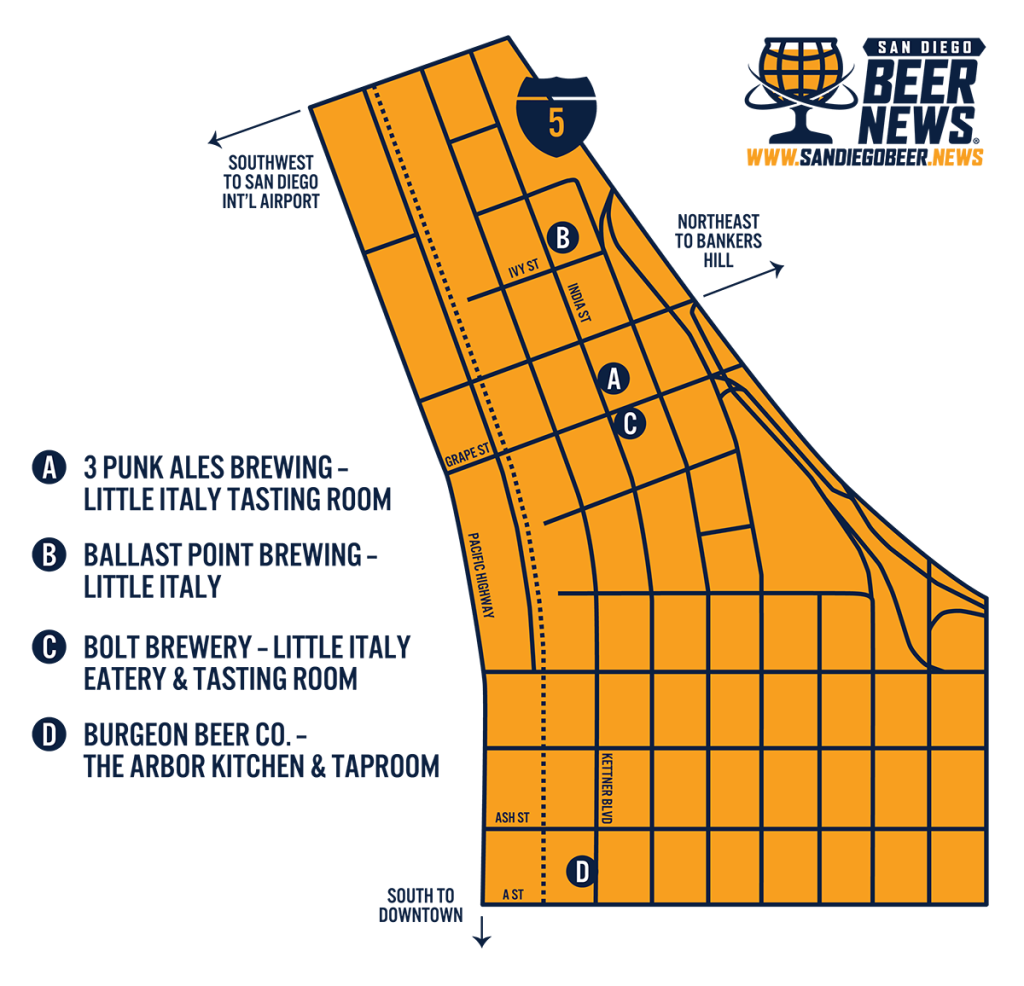 TASTING ROOMS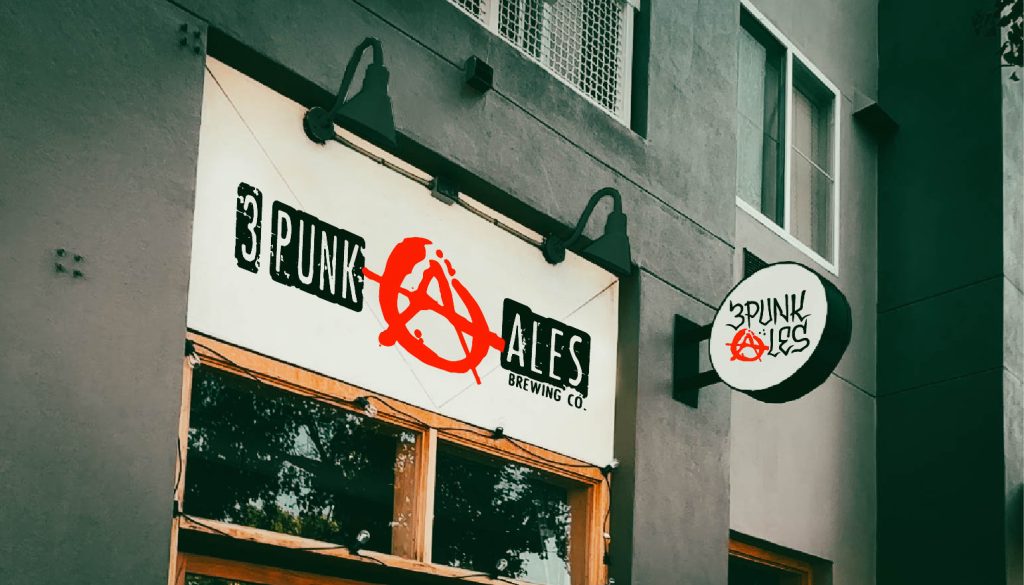 3 Punk Ales Brewing – Little Italy Tasting Room
2021 India St
After building a fervent fan base in Chula Vista behind a dual-pronged thematic celebrating Hispanic culture, vintage punk acts and the South Bay, the team behind Thr3e Punk Ales Brewing eagerly snapped up a taproom vacated by international beer op Mikkeller in 2022. That space now features wall-to-wall mural work and 18 taps dispensing the company's wide-ranging mix of ales and lagers, including a special Italian-style pilsner dubbed Don Fanucci (after a character from The Godfather franchise) that's available exclusively at the Little Italy satellite. Al fresco sidewalk imbibing is en route, but for now you'll have to venture inside to get an authentic taste of "the South in your mouth".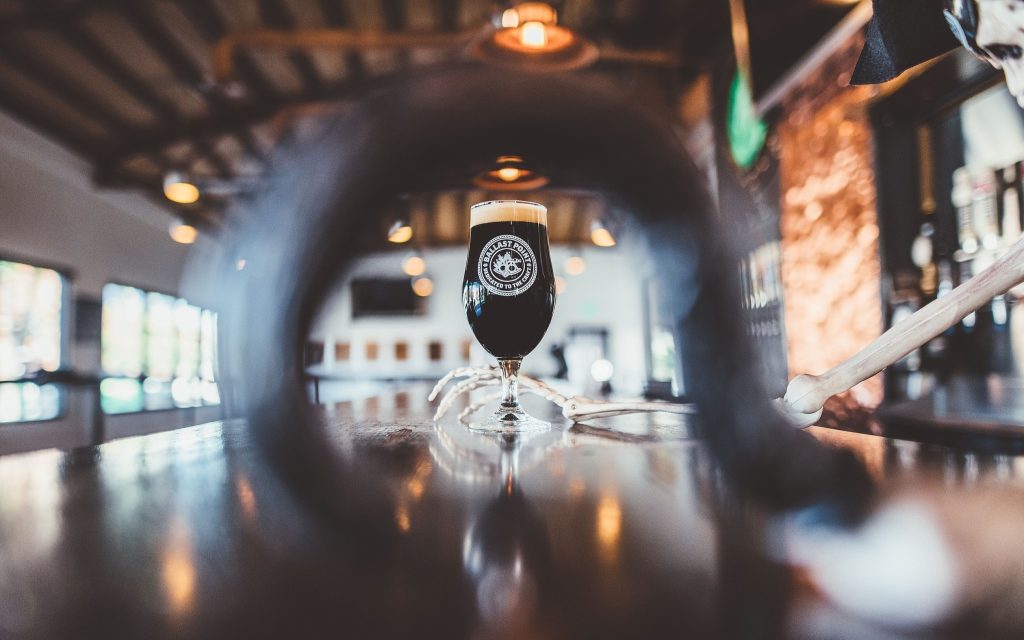 Ballast Point Brewing – Little Italy
2215 India St
In 2013, Ballast Point became the first local brewery to hammer down stakes in Little Italy, opening a combo R&D brewery, taproom and kitchen at the intersection of India and Ivy. Guests can enjoy the company's core beers and seasonals along with a consistently varied and voluminous array of small-batch and experimental creations, most of which are brewed onsite and go far beyond BP's standard portfolio. Those beers can be enjoyed indoors or on a cabana-lined patio along with casual fare, including sharables (mango-shrimp ceviche, smoked pepper-garlic chicken wings, fries both truffled and "dirty"), salads and burgers, as well as a dedicated kids' menu.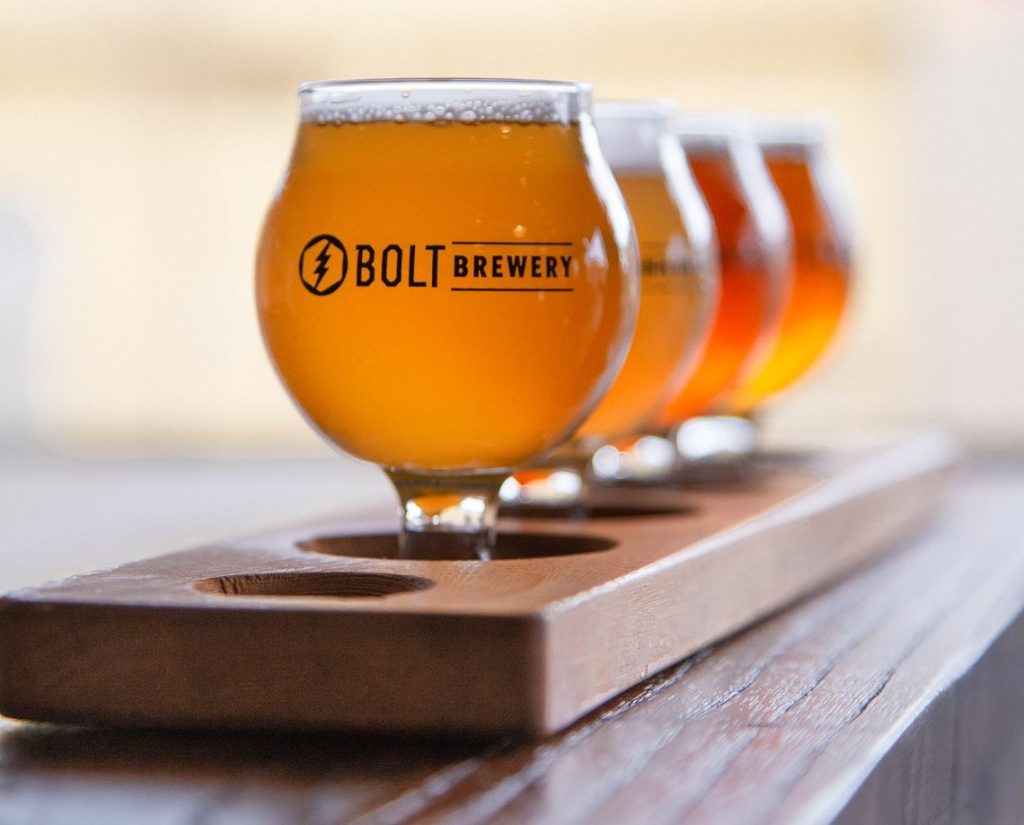 Bolt Brewery – Little Italy Eatery & Tasting Room
1971 India St
Just two months after reviving one of San Diego's eldest craft-beer brands in La Mesa, Bolt Brewery's owners were presented with an downtown expansion opportunity they couldn't pass up. Almost a decade later, their kitchen-equipped taproom and cocktail bar on the corner of India and Grape continues to expose imbibers in San Diego proper to their company's lagers, IPAs and family of fruit-infused ales. Those brews pair with an extensive menu of burgers, sammies, burritos, tacos, salads and signature "spicy pickle fries". Pro Tip: Flights of four are just $8 on Thursdays and happy hour goes all night on Tuesdays.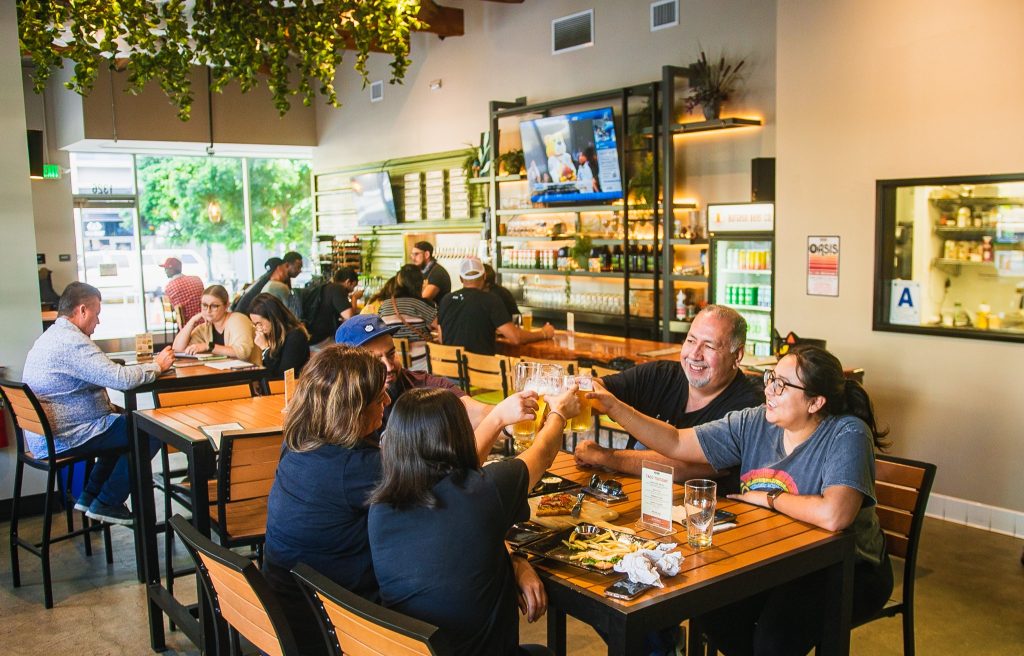 Burgeon Beer Co. – The Arbor Kitchen & Taproom
1326 Kettner Blvd
In 2021, North County brewing op, Burgeon Beer Co., transported its popular beers, earthy aesthetic and eco-friendly ethos to Little Italy via The Arbor, a satellite tasting room conveniently located near Santa Fe Depot and Waterfront Park. Eighteen taps dispense the Carlsbad-based company's regularly rotating West Coast and hazy IPAs, lagers and occasional outliers, while a from-scratch kitchen serves up seasonally changing snacks (birria flautas, "surf & surf' tostadas, buffalo wings), wraps, sandwiches and burgers, including vegetarian and vegan options (buffalo cauliflower, Impossible burgers). A dog-friendly patio and beyond-beer beverage options (wine, cider, kombucha) further increase the venue's all-around appeal.