BREWERY GUIDES
BREWERY INFO
NEWS FEED
Escondido Brewery Guide
Stone Brewing put this North County municipality on the map, but small breweries with big heart have added depth and variety to its beer scene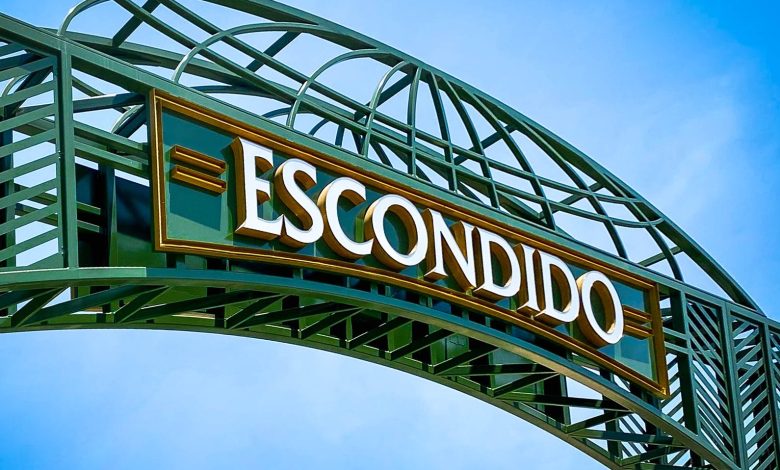 The inland North County city of Escondido has been a major destination for craft beer since the county's largest producer, Stone Brewing, established its base of operations there in 2006. While that illustrious locale remains a must-visit, a host of smaller operations await beer tourists venturing to the area. From taprooms situated along downtown's main drag to relaxing craft compounds nestled on the fringe, these operations are unique in their offerings and experiences. Join us as we veer off Interstate 15 and take a good look around at what Escondido has to offer in the way of local ales and lagers.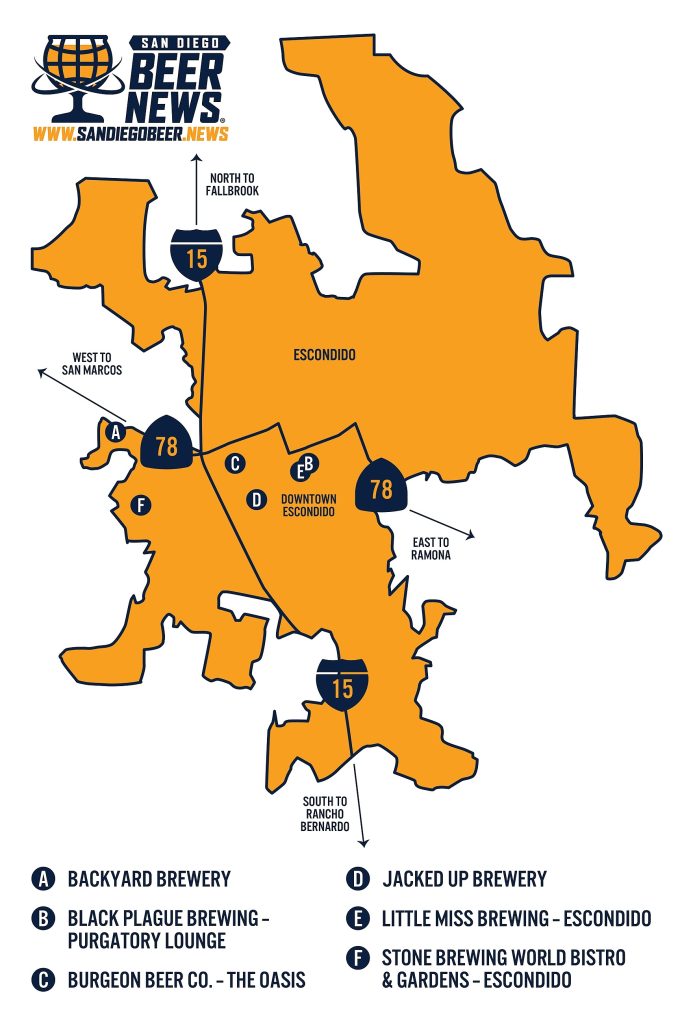 BREWERIES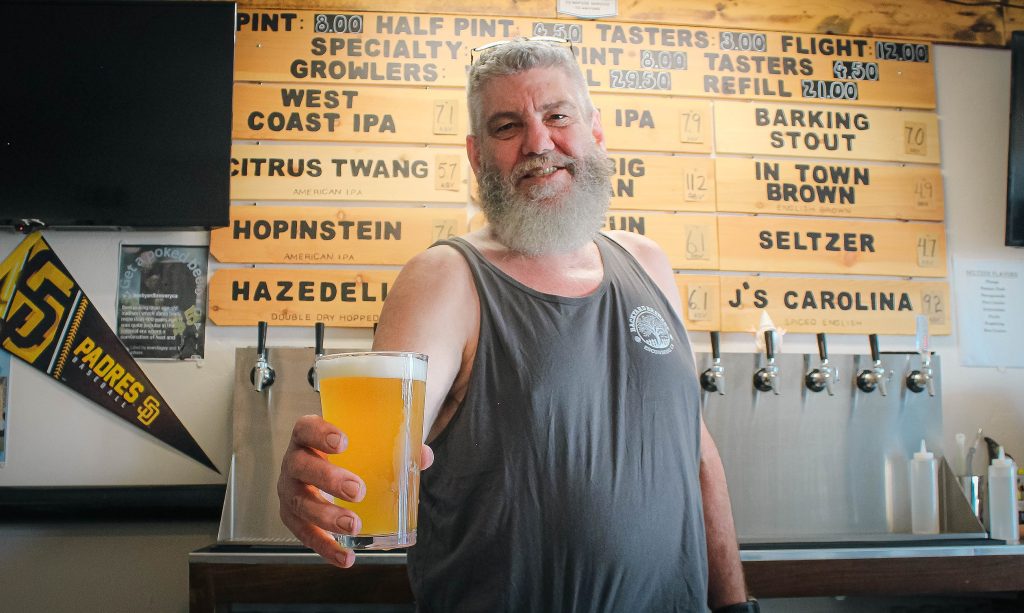 Backyard Brewery
2229 Micro Pl
After homebrewing for over a quarter of a century, an Escondidian maintenance mechanic working a literal stone's throw from Stone Brewing secured a spot down the hill from that summit spectacle in which to open his own craft-beer haven. Intimate and homey, it's built for kicking back with friends—including those of the four-legged variety—and decorated with colorful murals painted by a talented beertender as well as scores of ceramic gnomes tucked away here, there and everywhere by regulars.
Backyard's rarely changing beer board consists solely of scaled-up versions of ale recipes from owner Bill Carter's amateur days, and fall into three categories: American, English and Belgian. The latter is highlighted by Bill's Big Belgian, a strong dark ale with deep dark-fruit and caramel notes, and its popular pale-hued polar-opposite, More Fun Blonde. A West Coast IPA blends classic "C" hops with highly uncommon varietal Sorachi Ace, while Mosaic, Galaxy and Lemondrop combine to bring big citrus and tropical-fruit character to New England-style IPA, Hazedelic. Belly up to the bar and you're likely to be served the above by Bill, himself.
Earlier this year, Escondido amateur-brewing outlet, Wild West Homebrew Supply, closed its doors after a car rammed into its front window, rendering the space a complete loss. The store has since reopened in Backyard's backroom, providing North County homebrewers with a spot to get the ingredients and supplies they need in tandem with local beer.
Pro Tip: On request, Bill will place a hot iron in glasses of his namesake Big Belgian to add an extra degree of caramelization on the spot.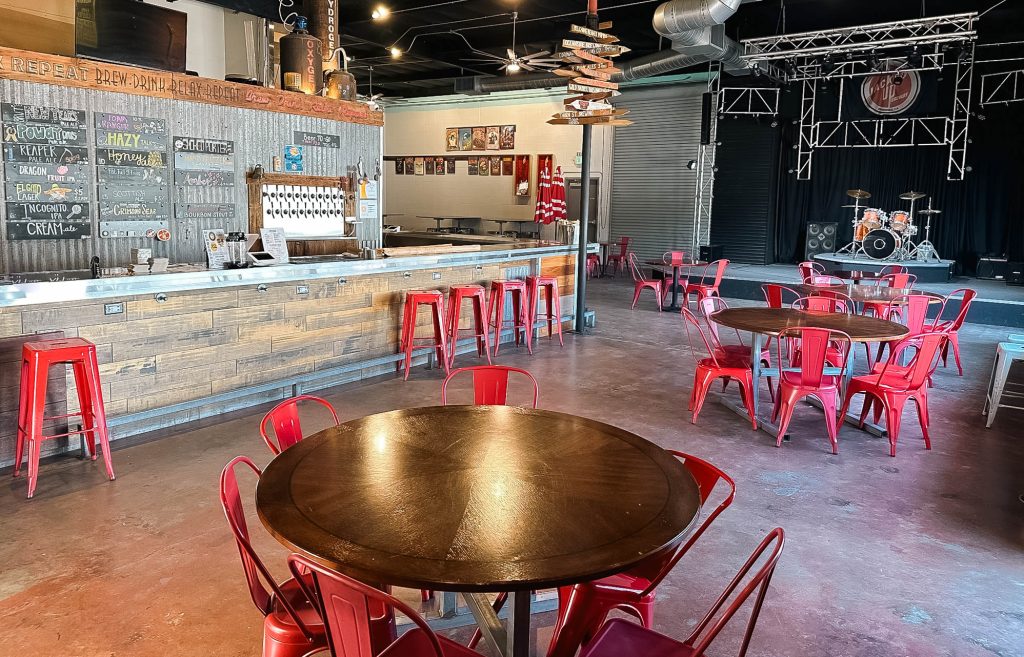 Jacked Up Brewery
800 W Grand Ave
This business celebrates the dual passions of the tightknit family behind it: brewing and music. Over the past eight years, Jacked Up has become a popular gig stop for local musicians as well as touring acts. From blues jams and open-mic action on Wednesdays to rock, indie and tribute bands on Friday and Saturday nights, the stage-equipped tasting room is regularly packed. Ditto Sundays when tables are cleared out to make room for boot-scooters as seasoned callers lead country line-dancing sessions.
On the beer front, expect a mix of straightforward styles as well as the occasional anomaly. Case in point, Jacked Up's Incognito IPA is a favorite of visiting hopheads, but the brewery's just as well-known for its unique dragon-fruit-infused IPA. But perhaps the most distinct differentiator is the abundance of malt-forward styles, including a year-round Scottish-style ale, honey beer and multiple pale ales such as the tawny-hued Freedom Rings, a 100% Amarillo award-winner that previously went by the hyperlocal handle, Poway Days. Many of those formerly draft-only brews are now available in cans following a recent brewery upgrade that translated to greatly increased production capabilities.
In addition to blues and brews, Jacked Up has an on-site kitchen pumping out an assortment of pizzas and warm specialty sandwiches served on bread from Rancho Bernardo op, Natalia's Artisan Bakery. The business also boasts a homebrew-supply retail operation in its second suite, just north of its tasting room.
Pro Tip: Patrons who join the brewery's Society of Jacked Up Individuals get $4 pints on Wednesdays.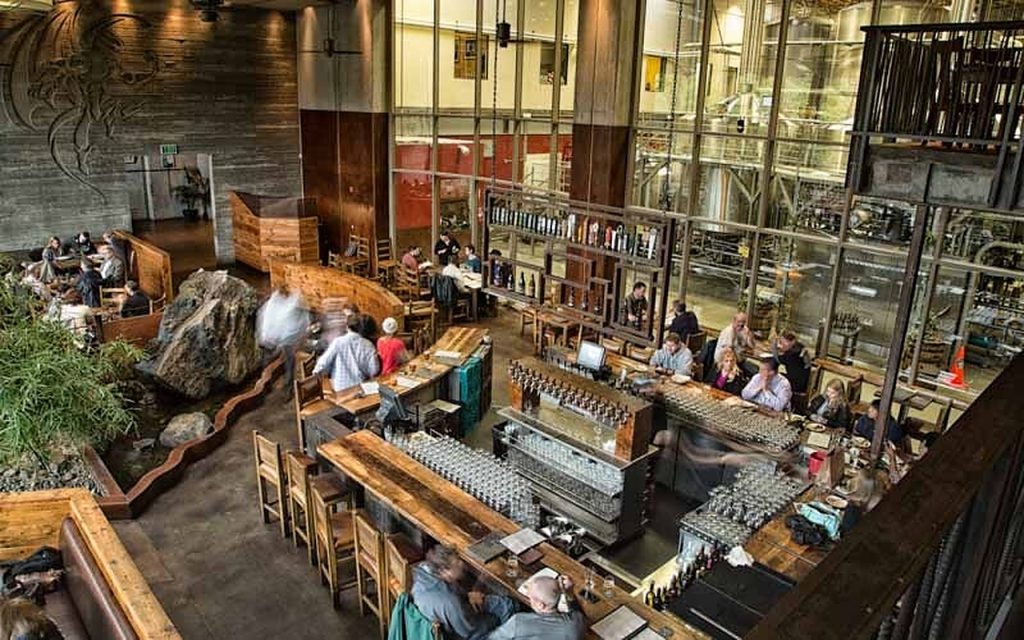 Stone Brewing World Bistro & Gardens – Escondido
1999 Citracado Pkwy
Described by many as "the Disneyland of craft beer", Stone Brewing's majestic World Bistro & Gardens bar and restaurant is a one-of-a-kind destination that inspired many San Diego breweries to up their public-venue game when it debuted and continues to inspire nearly two decades later. Castle-like in its stone, wood and iron composition, its interior comprises a bar with floor-to-ceiling views of Stone's flagship brewery, a company store offering all manner of be-gargoyled merchandise, a base-level dining room and mezzanine segueing to an outdoor balcony. That perch allows one to take in a sprawling outdoor area with an abundance of seating, a dedicated bar, water and fire features, a shaded pea-gravel lounge, lush grassy area and trails winding around a tree-canopied lagoon.
Stone's al fresco expanses are ideally suited for hosting myriad festivals stocked with plenty of the 27-year-old interest's beers, as well as those of breweries from near and far which share the company's ethos for quality. That same variety applies to the beers available on Stone Brewing World Bistro & Gardens' everyday menu, the food portion of which is made up of elevated casual fare infused with culinary creativity and house beer.
While many locals and tourists are familiar with Stone's core and seasonal offerings, this is the place to taste the impressive breadth of adventurous, experimental and just-plain-fun ales and lagers produced at its nearby pilot and small-batch breweries, including special-edition, collaborative and test-batch beers.
Pro Tip: October's bayou-themed Beer & Cigar Dinner and November's Stone DRK Festival (rare, dark and barrel-aged beers) are coming up.

SATELLITE TASTING ROOMS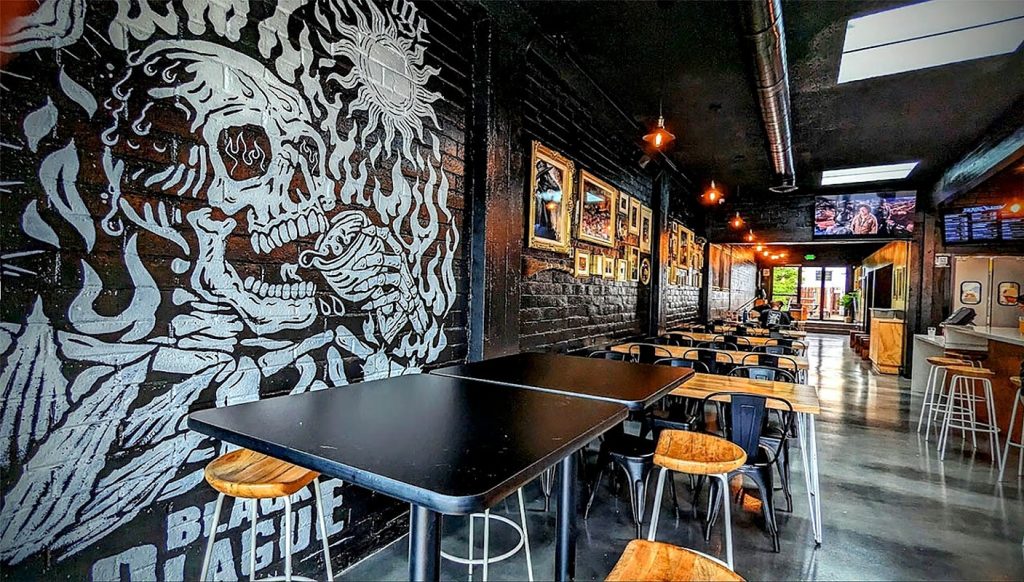 Black Plague Brewing – Purgatory Lounge
239 E Valley Pkwy
Jet-black walls are perked up with skeletal mural work and framed art of the eclectically odd ilk. Take both in along with crushable lagers, hoppy fare and more at this inland offshoot of a popular Oceanside-based brand urging fans to thumb their nose at the concept of death while living life to the fullest. Visitors may do so within the cavernous, shotgun "lounge" or a shaded backyard while tempting fate and the Grim Reaper with over-the-top decadent carnivore fare from Black Plague's longtime culinary partners, Full Metal Burger.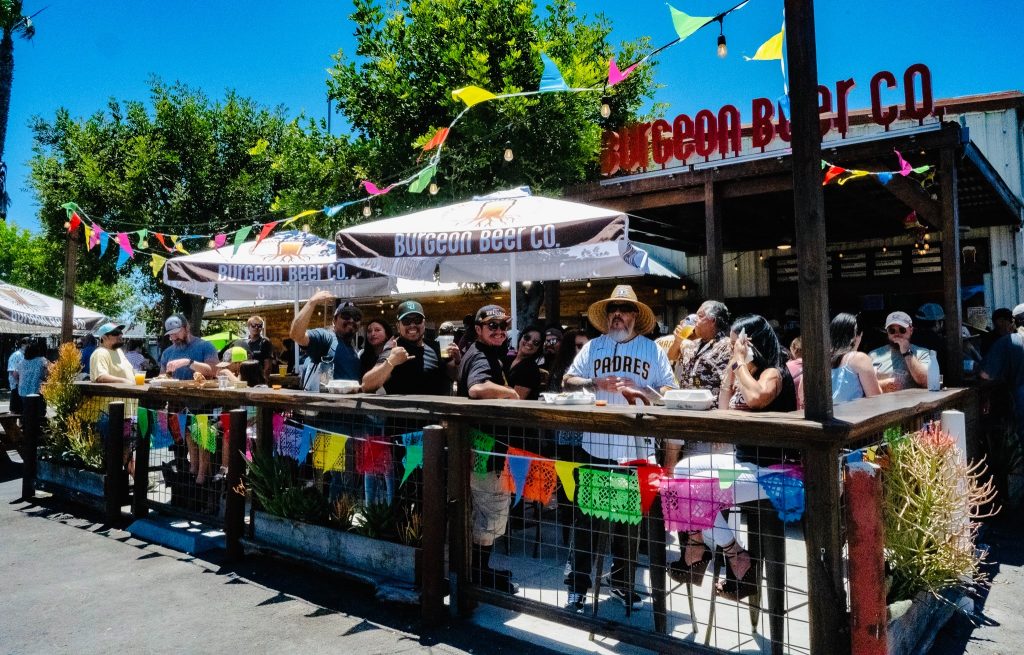 Burgeon Beer Co. – The Oasis
649 Rock Springs Rd
An enclave to an animal feed store, this nano-est of setups was taken over by Burgeon in 2020, following the closure of original tenant, Escondido Brewing. While the Carlsbad-based producer of IPAs, pales and SoCal-suited lagers has made the all-outdoor venue its own, it has also worked to honor the business that came before as well as the devoted, mostly local members of its fanbase who continue to flock to this tucked-away neighborhood gathering place to kick back over cold ones, including annual reincarnations of Escondido Brewing's Hopcondido IPA.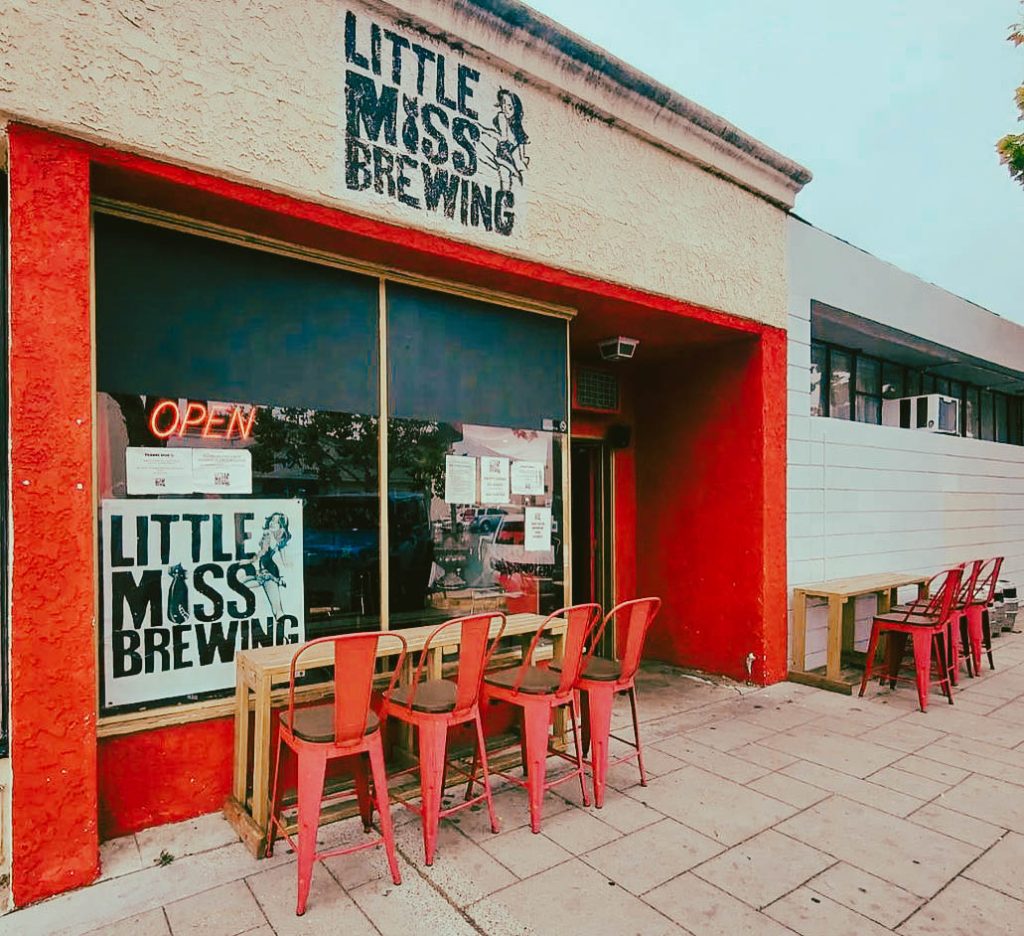 Little Miss Brewing – Escondido
132 N Kalmia St
Back in 2019, Little Miss Brewing was the first out-of-town beer concern to install a satellite venue in Escondido. In doing so, it followed its MO of instituting an interior-design scheme celebrating an Allied Nation from the World War II era, in this case, the former Soviet Union. A sickle-and-hammer flag hangs behind a bar with that iconography etched into its surface, while Russian nesting dolls stand sentinel atop the register. Grab a beer then head to a back-alley patio decked out in wall-to-wall scarlet, to take in a graffiti-style portrait of Stalin.