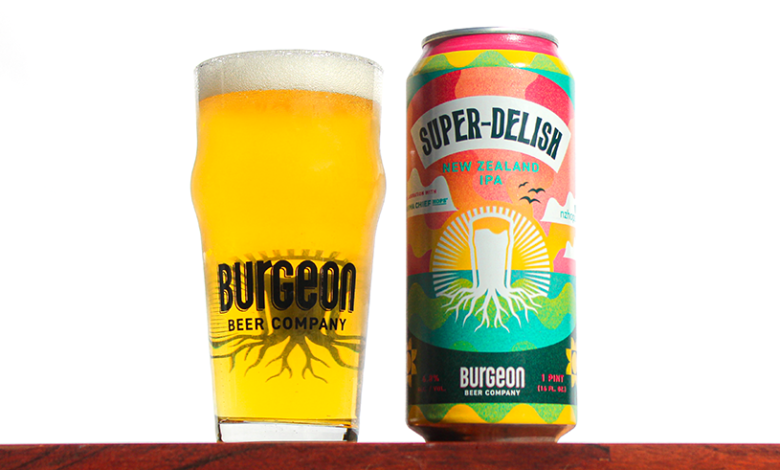 Hops grown in Europe and North America are fantastic. The time-tested former impart largely earthy characteristics that are the foundation of beer's historic styles, while the latter bring forth myriad fresh, piney, fruity flavors and aromas. That said, there's just something about the hops grown in the Land of the Long White Cloud. That's New Zealand for those unfamiliar with the nickname of the lush green, intriguingly eccentric Oceanic nation. Over the past two decades, its unique hop varietals have become some of the most sought-after in the world. Enough that new and existing growers have banded together to increase production to meet intense demand for the likes of Nelson Sauvin, hops with white-wine notes similar to the Sauvignon Blanc grapes with which they share common soil, and Nectaron, a more recent addition to the Kiwi class offering intense stone-fruit flavors and aromas. Both of those fan-faves are prominent in this week's featured beer, Super-Delish New Zealand IPA from Burgeon Beer Co. But that Carlsbad-based operation didn't limit its Southern Hemispheric exploration there. Instead, they teamed with the hop purveyors at Yakima Chief Hops and NZ Hops to incorporate a newcomer with red-berry, sweet-citrus and tropical-fruit appeal called Superdelic, which is coming on strong after roughly a decade of development. This was my first encounter with Superdelic, but it won't be my last. Burgeon's bone-dry base IPA recipe allows one to really get a feel for sensory aspects of the multiple New Zealand varietals that are expertly married in this beer. The bouquet presents notes of peach, mango and lingonberry with a faint hint of Phish show. The front-end is dominated by nectarine and underripe white peach, segueing to a bold finish flush with Kush, petrol and black-pepper spiciness. Packed with flavor, it's easy to drink, even easier to love – especially for fans of New Zealand-hopped IPAs – and, indeed, super-delish!
We teamed up with Yakima Chief Hops and NZ Hops to brew a unique New Zealand IPA utilizing some fun new hops: Superdelic, Nectaron and Nelson Cryo. We started with a light base of Pilsner malt and flaked wheat, then layered in Superdelic and Nelson Cryo on the hot side. For the dry-hop, we did a big charge of Superdelic and backed it up with Nectaron and a pinch of Nelson Cryo. It carries notes of sweet candied fruits, tropical and stone fruit, and a kiss of New Zealand dankness."

Anthony Tallman, Co-founder & Head Brewer, Burgeon Beer Co.
Superdelic…where do I start? What an amazing time to be in the craft-beer world. There's so much work that has been put in over the last 20-to-30 years on the agricultural side of hop-growing. That fruit (pun intended) is now paying huge dividends for brewers all across the globe when it comes to new-world flavors and aromas. The launch of Superdelic (along with Nectaron) has enabled our NZ Hop co-op to become one of the most sought-after places in the world to receive extraordinary hop varieties. This hop has brought forth new flavors in beer like we've never seen before, from candy and red lollipop to berry and bubblegum, it's full of magic and wonder. It takes a team though, an entire global team to make this hop come to life. And for that, I'm thankful to be a part of the impact that is being made on the hop community worldwide."

Spencer Ploessl, Global Brand Manager, NZ Hops Ltd